Director

Cast

Matthew McConaughey

,

Édgar Ramírez

,

Bryce Dallas Howard

,

Timothy Simons

,

Corey Stoll

,

Toby Kebbell

,

Bruce Greenwood

,

Bill Camp

,

Macon Blair

,

Craig T. Nelson

,

Stacy Keach

Rated

R

Runtime

121 min.

Release Date

12/30/2016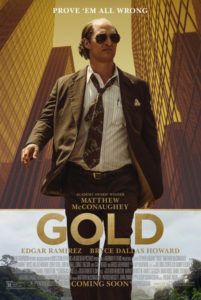 Stretching the "based on true events" label to its limit, Gold takes a kernel from a real-life story and, in true Hollywood fashion, builds a complete fiction around it. An all-star cast assembles for a picture that producers at The Weinstein Company intended to dangle as Oscar bait. Alas, no one's biting on the lure, despite a performance from Matthew McConaughey that screams "Notice me!" Stephen Gaghan, best known for writing Traffic (2000) and writing-directing Syriana (2005), helms a film that is far more stylish than his earlier, comparatively low-key efforts. But Gaghan's natural sensibility for probing and deliberately-paced material clashes with Gold's boldfaced qualities—namely, McConaughey's cartoonish acting and the film's obvious stylistic attempts to enliven dull financial talk, in the same way achieved by Wall Street (1987) and The Wolf of Wall Street (2014).
Screenwriters Patrick Massett and John Zinman based their story on the fate of Bre-X Minerals, a Canadian mining company that, in the mid-1990s, discovered what they thought was one of the largest gold deposits in history. David Walsh, founder and CEO of the Calgary company, enlisted the help of Michael de Guzman, a troubled geologist with experience exploring sites for similar companies. After their new find, Bre-X Minerals signed huge deals with major U.S. mining entities that would make them millionaires; however, de Guzman had his own agenda. The screenplay shifts the story's setting to the U.S. amid the ridiculous excess of the 1980s, while Walsh, an average-looking white businessman, is represented by McConaughey's character, named Kenny Wells. Having put on forty pounds for the role, McConaughey also thinned his hair, looks perpetually greasy, always has a drink in his hand, and wears a single (distracting) buck-tooth that he accentuates by lifting his upper lip at every opportunity. Why Gaghan and McConaughey felt the portrayal needed to be so pathetic is a curiosity.
Ever down-on-his-luck, the desperate and enthusiastic Kenny runs a mining operation out of a seedy bar, where his girlfriend, Kay (Bryce Dallas Howard), doubles as a server. One night in a drunken haze, Kenny dreams about gold in Indonesia and, after he comes to, frantically calls Michael Acosta (Édgar Ramírez), a famous miner who has also seen better times, to locate a digging site in an Indonesian jungle valley. Kenny and Michael soon establish a site with the help of local workers, spending every penny on additional core samples in their search for precious gold. Only after Kenny nearly dies of malaria does Michael find the mother lode, a site that is worth hundreds of millions. The rags-to-riches-to-rags trajectory of the story revels in Kenny's time on top of the world, only to reveal him as an avaricious, sometimes cruel, and decidedly uncharismatic character who falls under the spell of gold—much like the characters in The Treasure of the Sierra Madre (1948), a clear source of inspiration. Because he's not a very likable guy, it's equally unpleasant to watch Kenny both rise and fall.
Wells recounts his story on tape to a suited investigator (Toby Kebbell), providing Gold with a familiar voiceover device that echoes several Martin Scorsese pictures (Goodfellas, Casino, etc.). Gaghan also employs cinematographer Robert Elswit to use familiar-looking camera rushes and fluidity that any Scorsese fan would recognize as derivative. Along with a fun split-screen montage and the Talking Heads' "This Must Be the Place" (well, a cover of it), both used to memorable effect in the aforementioned Oliver Stone film, Gaghan's approach has a lackluster way of replicating better material. He seems to want to make a film that pops off the screen with all the implied razzle-dazzle of its title, but the end result feels contrived and forced. Even so, individual elements such as a few performances (Ramírez and Howard are solid) and the soundtrack (Joy Division, Leonard Cohen, New Order, the Pixies, and Iggy Pop are featured) prove worthwhile.
The lingering problem is that Gold never quite settles on a particular mode. It's a dark comedy, a satire of capitalism gone wrong, a critique of corporate greed, and a human drama about a loser who thought he finally made it big. And moreover, the film does none of these modes well, mish-mashing ideas and styles that fail to come together in an elegant way. Worse, most of these elements have been invented by the screenwriters. One of the few compelling aspects of Gold is the real-life twist, which might make the whole experience worth enduring. Although the story itself belongs in the stranger-than-fiction category of history and requires no aggrandizement to be unbelievable or compelling, the production's colorful embellishments in every area make Gold feel like a farce—but not in the way it intended to be farcical. With McConaughey overshooting and the film's misguided formal choices feeling uninspired, Gaghan sets out to deliver an energetic and comically outlandish portrait of greed, but he accomplishes only a minor copycat.