Director

Cast

Julianne Moore

,

John Turturro

,

Michael Cera

,

Caren Pistorius

,

Brad Garrett

,

Jeanne Tripplehorn

,

Rita Wilson

,

Sean Astin

,

Holland Taylor

Rated

R

Runtime

102 min.

Release Date

03/08/2019
Julianne Moore has the kind of talent and charm that makes you forget Gloria Bell is a remake. Chilean director Sebastián Lelio released Gloria, featuring Paulina García in the title role, in 2013. Now he's remade his own film under a new name and in the English language—a not unheard of conceit explored to mixed results by Michael Haneke with Funny Games (1997, 2007) and Takashi Shimizu with The Grudge (2002, 2004), among others. Although it's sacrilege in some circles to prefer the remake over the original, Moore's sheer star power takes the material to unexpected heights, lending another metatextual layer to everything onscreen. After all, not many women actors start their career working with Robert Altman and Louis Malle only to keep taking risks and redefining themselves over the next thirty years, and all the while maintaining their status as a celebrated leading lady. Moore continues to take risks here in a raw, irresistible performance as a divorced middle-aged woman with two adult children. Her Gloria likes to dance at the local disco and isn't averse to holding a paintball gun. It's the same role that García played, but somehow Moore puts the earlier performance out of your thoughts.
In most other movies, a character like Gloria would exist on the periphery, where she would be quickly addressed and engaged half-heartedly—she'd be marginalized as a type, used as the butt of a joke, almost as Sally Field was in Hello, My Name Is Doris (2016). Field starred as a sixtysomething character whose desire for sexual relationships at her age was considered sad, if not impossible, and her character was played for quirky and cringe-worthy laughs. Although occasionally funny and wrought with embarrassment, Lelio always frames his film with sympathy for Gloria's perspective. Even better, this isn't a film about Gloria finally finding love after a long period of feeling alone—it doesn't progress on a familiar path whose trajectory is preset by the expectations of romantic comedies. There's more human gradation here, and it's handled with a sense of sexuality that doesn't treat it as exceptional for a woman her age. We're with Moore's Gloria all the way, even when she's making terrible decisions that feel like a regression, even if the film doesn't make any grand pronouncements about the state of the modern woman. If there's a lesson, it's one of self-reliance. However lonely she may feel or drawn to men of her age she may be, inevitable disappointment awaits, Lelio seems to say. Gloria's life is not a Hollywood fantasy, but it is a slice of reality.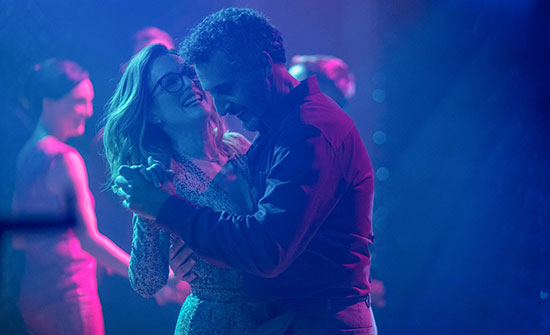 Whereas Chilean history was threaded into the fabric of Lelio's original version, which took place in Santiago, the new Gloria Bell takes place mostly in Los Angeles, and the film has the associated flighty quality but no larger national commentary—not that it's needed. Gloria lives alone in a duplex shared with her landlord's son, who lives upstairs and often cries out in bouts of mental illness. She works at an insurance company, where she's a reliable employee, making a living as someone who apologizes and reassures. We see this bleed through into her home life when she makes calls to her two children, and her need to be needed as a mother makes her sound overly considerate and helpful. Lelio also explores her children's lives. Her son Peter (Michael Cera) is a new father, but his off-screen wife has abandoned him to find herself. Her daughter Anne (Caren Pistorius) has just fallen in love with an extreme surfer from Sweden. And while Gloria seems to quietly resent the way her children often dismiss her concerns, she does the same thing to the concerns of her own mother (Holland Taylor).
In the evenings, Gloria goes to a local disco because she loves to dance. It's not apparent how often she goes, but it's often enough. One night, she locks eyes with Arnold (John Turturro), a sincere and vulnerable man who's clearly enamored. Their ensuing romance is filled with passionate sex and romantic poetry, but people who are that passionate often live in extreme polarized states. Recently divorced, he's putting himself out there. A gastric bypass surgery led to his dramatic weight loss, which he hides with a girdle. But he's also having trouble letting go—he's at the mercy of his ex-wife and helpless, grown-up daughters. They call his phone endlessly for coddling, to the degree that his ring tone begins to weigh on his relationship with Gloria. He's also jealously in love with Gloria, which wouldn't be so bad except that, when he doesn't receive the attention he feels he deserves, he simply gets up and leaves without warning. It's an odd choice when, say, you're meeting someone else's family for the first time and you decide to disappear.
Lelio shifts the tone from funny to heartwarming to aching, sometimes in the same scene. He seems to have mastered the way a dinner with friends or a family get-together can transition between moods. He also finds emotion and humor in everyday moments that another film might use as mere transitional devices. A brief scene of Gloria in her daughter's yoga class reveals a lot about how the character negotiates embarrassment and yet launches headlong into the unknown. Moments where Gloria drives to work and sings her heart out show her yearning to express herself and feel passionate about something, which makes her interactions with Arnold feel all the more hopeful because he is such a passionate man—and brilliantly performed by Turturro. Elsewhere, much of Gloria Bell is about watching Moore occupy the screen in scenes at home, where she hand-washes her bras, smokes pot and passes out, interacts with a hairless cat that keeps sneaking in her apartment, or lies naked on the bed, processing. These otherwise routine scenes grow increasingly complex as we come to understand more about Gloria's life and how she handles different situations.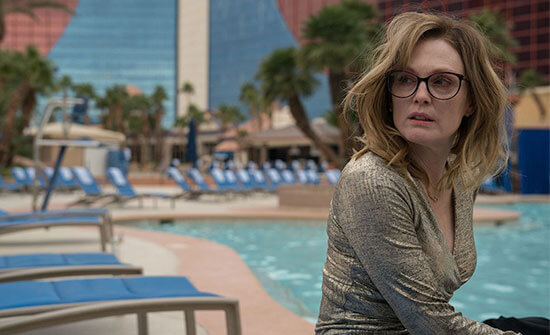 Approaching 60, Moore nonetheless inhabits a role that is vulnerable, sexy, and strong all at the same time. It's among her best performances. To put her career in context, it's important to think about how many of cinema's most iconic performers have been unable to maintain this level of talent for as long as she has. The list of names would be short. Moore, when she's not falling in love with Hannibal Lecter or becoming "same as the old boss" in The Hunger Games series, is giving us an incredible array of characters in a staggeringly consistent body of work. She's also one of our great criers and laughers. Her motherly porn star in Paul Thomas Anderson's Boogie Nights (1997), her repressed housewife in Todd Haynes' Far From Heaven (2002), and her searingly reflective portrait of a Hollywood actress in David Cronenberg's Maps to the Stars (2015) demonstrate that she is willing to take risks, and she always has. And though she received a bevy of awards, including an Oscar, for portraying a victim of Alzheimer's disease in Still Alice (2014), the range of emotions she evokes in Gloria Bell prove more resounding and more penetrating to the average human heart. No wonder she chose to executive produce the remake.  
This is also a beautiful-looking film, shot by cinematographer Natasha Braier in neon-tinged night scenes of cool purples and blues, while daytime scenes have a sun-bleached quality, and interiors feel slightly desaturated. Its appearance is textured and confident, and subtle enough that the average viewer might not even notice the care that went into the look. The soundtrack of disco hits is also a source of joy if you're into that sort of thing. Bonnie Tyler, Olivia Newton-John, and of course Laura Branigan's "Gloria" reveal that our protagonist is so in tune with these songs they seem to speak to her. Did I mention that Moore is fantastic? So is Turturro. Brad Garrett, Jeanne Tripplehorn, Rita Wilson, Chris Mulkey, and Sean Astin also give brief supporting roles that have the same lived-in quality of the leads. Watching Gloria Bell, I found myself smiling throughout, endeared to every aspect of Moore's performance and her character's rocky life. From start to finish, Lelio creates an undeniable naturalism that feels comfortable and, as the film moves along, has a sly way of forming a strong bond between the viewer and every imperfect facet of Gloria's life.