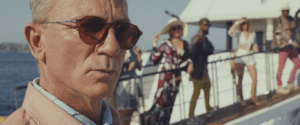 Glass Onion: A Knives Out Mystery
3 Stars
Director

Cast

Daniel Craig

,

Edward Norton

,

Janelle Monáe

,

Kathryn Hahn

,

Leslie Odom Jr.

,

Jessica Henwick

,

Madelyn Cline

,

Kate Hudson

,

Dave Bautista

,

Ethan Hawke

Rated

R

Runtime

139 min.

Release Date

11/23/2022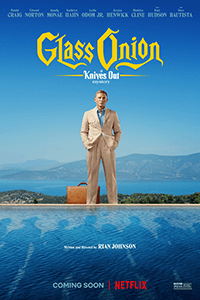 Rian Johnson's Glass Onion, the sequel to his 2019 hit Knives Out, which revitalized the whodunit, falls victim to the Hollywood adage that sequels must give the audience more of the same, only bigger. Accordingly, there's another murder with a wealthy man at the center. Around him, another group of money-grubbing sycophants, each with reasons to resent their benefactor. So when someone ends up dead, everyone's a suspect. And by the time Johnson's resident Hercule Poirot, returning star Daniel Craig as Benoit Blanc, solves the mystery, the resolution not only restructures power as Knives Out did, but it does so with a considerable bang. The sequel's stars aren't quite as studded, and Johnson states his themes about how money corrupts absolutely quite a bit more overtly. But the film's 139-minute runtime breezes by thanks to Johnson's humor, showmanship, and ability to stay ahead of the audience. To be sure, Glass Onion follows Knives Out in how the viewer never becomes an amateur sleuth in the vein of an Agatha Christie novel; instead, it's an experience dependent on enjoying the ride Johnson has in store (regardless of the minor spoilers I might share below) and savoring his plans to once again turn the entire story on its head about midway through. 
The sequelitis continues in Johnson's critique of the rich, which has a loftier target in Glass Onion, scaling up from the wealthy family of a murder-mystery author to a billionaire tech guru named Miles Bron, played by Edward Norton (excellent). Don't expect the fascinating collections of old books and cozy drawing rooms found in Glass Onion's predecessor. The sequel exchanges the bookish, autumnal scenery for Bron's private Greek island affixed with ornate architecture, modern art on the walls, and a house full of slick and cutting-edge amenities. Bron's company, Alpha, may even have an answer to the energy crisis. But consider how costume designer Jenny Eagan clothes Bron, and you'll notice he's coded as a false front—Bron appears in outfits reminiscent of Frank T.J. Mackie and Elizabeth Holmes (by way of Steve Jobs). In any case, every year, Bron invites a group of his closest friends to a lavish party. This year he's staging an elaborate murder mystery game, and his guests must search for clues to find the culprit. But Bron's well-laid plans get interrupted by the arrival of Blanc. 
After each member of Bron's inner circle—whom he calls "disruptors" in empty business-speak—receives an elaborate puzzle box with an invite inside, they follow his instructions and arrive for a real-life game of Clue. There's Lionel Toussaint (Leslie Odom Jr.), Bron's science whiz and right-hand man; grassroots Connecticut governor Claire Debella (Kathryn Hahn), who needs Bron's campaign contributions; supermodel-turned-living-brand Birdie (Kate Hudson), who thrives because of Bron's investments in her sweatpants empire; Birdie's beleaguered assistant Peg (Jessica Henwick); Duke Cody (Dave Bautista), a gun-toting men's rights influencer who wants to become a presence on Bron's new Alpha News division; and Whiskey (Madelyn Cline), Duke's girlfriend who hopes to use his celebrity to build her brand. But the outsider is Andi Brand (Janelle Monáe), the co-founder of Alpha whom Bron cut out of the business in a nasty bit of wheeling and dealing. And then there's Blanc, the world-famous detective, who also receives an invite—except Bron didn't send it. So the question remains: Who wants Blanc there and why?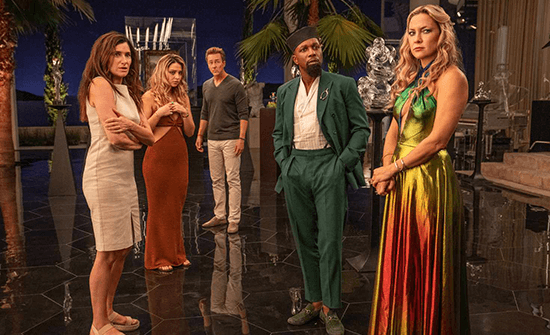 Along the way, Johnson deploys more jokes, comic details, and visual gags, many of which seem like random asides but most of which have some significance in the second half. Among the emptiest of these are cameos from a few well-known figures in murder mysteries and the distracting presence of some recognizable actors. Some are obvious nods to the genre, such as the late Angela Landsbury appearing on a Zoom call; others seem like Johnson having fun for no particular reason (I spent too much time wondering whether Ethan Hawke, who has a 30-second presence early on, would return in a more significant role). There's also a fair amount of name-dropping, much of it amusing and designed to convey Bron's isolated world of big-name celebrities. Refreshingly, a few of these moments have a bearing on the plot. Johnson also doubles down on Craig's Foghorn Leghorn routine, offering him a scene or two of goofy, cartoonish humor as the detective—out of his element in what Andi calls "rich people shit" —who navigates Bron's island, shot with a slick shimmer by cinematographer Steve Yedlin. 
Most of the fun comes from the actors, who clearly delight in performing Johnson's barbed and often hilarious dialogue. Take Hudson as Birdie. She excels at playing a vapid and witless personality who prides herself on honesty ("I say it like I see it," she keeps reminding others), which includes ill-advised Halloween costumes and racist tweets. In a blistering line, Blanc tells her, "It's a dangerous thing to confuse speaking without thought for speaking the truth"—a remark that could apply to any number of Musks or Trumps. His insult is lost on Birdie, who responds seductively, "Are you calling me dangerous?" Although Hahn, Odom Jr., and especially Henwick feel underused compared to their fellow actors, Monáe gets the showiest role. Once again, Craig takes the back seat to a younger, more vibrant, and destabilizing force in the story, giving Monáe center stage in the film's second half, just as Ana de Armas had in Knives Out. But Craig is once more a compelling detective, commanding scenes where Blanc summarizes what's going on and who's responsible. 
As suggested, the answers aren't predictable because, like Knives Out, Johnson hasn't created a straightforward murder mystery. Instead, his approach is deconstruction—setting expectations and then defying them, sometimes in delightfully clever ways, sometimes with a heavy hand. The attentive viewer may pick up on hints that something's off, but as the Beatles-centric title suggests in an all-too-obvious metaphor, there are layers to be peeled away. Unfortunately, Johnson isn't subtle about his symbolism. He even allows Blanc to remark on the onion metaphor—marking the third such class commentary of 2022 (following Triangle of Sadness and The Menu), each of them conspicuous to varying degrees of success. Then again, Johnson's post-modern approach has always relied on self-awareness and winking at the audience. He makes his audience feel more intelligent than his mostly deplorable characters because we're in Blanc and Andi's corner, uncovering the mystery along with them. Still, Johnson's commentary on the rich is so unmistakable that his sequel could be accused of pandering to the audience's sympathies. It's not so much a film to be read as absorbed. 
Even so, Johnson's treatment defies conventions and expectations in often riotous and complicated ways. There's an undeniable pleasure in watching so many talented people do their thing, with Johnson's twisting script making sharp maneuvers to keep the viewer guessing. No one could call the film subtle by the explosive finale, but it's no less deliriously entertaining for its gamesmanship. Reportedly, Netflix paid $450 million for both Glass Onion and the third so-called "Knives Out Mystery," ensuring fans that at least one more of Johnson's thrilling whodunits is on the way. Alas, Netflix gave the movie a one-week-only theatrical run before it drops on the streaming service just before Christmas. Seeing the movie with a crowd may be the ideal, with everyone surging from the collective reaction to Johnson's persistent humor and cathartic ending. No matter how it's screened, fans of Knives Out will surely enjoy the result, albeit with the slightly diminished enthusiasm that's customary for a sequel.