Director

Cast

Rated

PG-13

Runtime

102 min.

Release Date

09/19/2008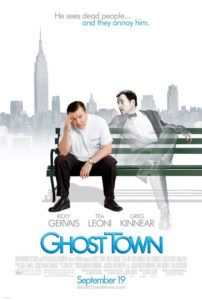 David Koepp has written some of Hollywood's finest blockbusters. With titles like Jurassic Park, Mission: Impossible, and Spider-Man glimmering on his screenwriter's belt, he's proven himself capable of constructing human drama under the most thrilling circumstances imaginable. Ghost Town marks his first foray into a purely light romantic comedy, a story without any aliens or superheroes or an incredibly complicated plot, just likable characters and smart dialogue. Imagine that.
The setup is relatively simple: Acerbic dentist Bertram Pincus (Ricky Gervais) has a near-death experience; rendered lifeless for (almost) seven minutes due to an error during his colonoscopy, Pincus now finds that he can see the dead. He has little tolerance for the living, much less a bunch of pesky phantoms. But ghosts, as it turns out, look like you and me. And they follow him down the street, excited, giddy even that their unfinished business in the earthly realm now has a potential voice.
I stress "potential" because the hilariously cynical Pincus wants nothing to do with any of them. Who can blame him? You know how ghosts are… They hang around when unwanted; they make you appear bonkers when you're talking to one of them in public and no one else can see; they always seem to want something from you. Case in point, the ghost of Frank (Greg Kinnear) appeals to Pincus' selfish nature, explaining that if Pincus helps him settle things with his now-widowed spouse Gwen (Téa Leoni), he'll make sure the moody D.D.S. is never bothered by spirits again.
The plan is to break up Gwen from her new fiancé Richard (Billy Campbell), a human rights attorney who Frank insists is rotten. Taking a cue from Cyrano de Bergerac, Pincus attempts to swoon Gwen, using pointers based on martial experience from Frank, who observes the progress from over Pincus' shoulder. Problem is, Frank wasn't a very good husband, and his guidance is useless. And so Pincus, just being his mocking self, not only begins to win Gwen's heart, but she begins to win his.
It's the perfect starring role for Ricky Gervais (creator of England's original version of The Office and HBO's fabulous series Extras), a relentlessly funny actor in dire need of wide commercial exposure in America. With bit roles in Night at the Museum and Stardust, he's been sorely unrepresented on film, and I'm overjoyed to see him making the leap in a quality big-screen comedy such as this. What most surprised me was Gervais' capacity for the more tender moments shared with Leoni, an actress who always catches me off-guard with roles in Flirting with Disaster and You Kill Me. Her comic timing and expressed authenticity are the heart of this movie.
Koepp wrote the picture with his Zathura co-writer John Kamps, and together they achieve an effectual balance of humor, romance, and special effects. Understated with simple camera tricks, the ghosts walk through a few doors and cause the occasional sneeze. But the film's best moments are not associated with its supernatural concept at all. Watching the unlikely pair of Gervais and Leoni interact and fall for each other is the central treat to behold, however corny it may be, and reaches far beyond any of the film's more ethereal gifts.
In concept, Ghost Town shouldn't work, if only because the whole 'talking to the dead' angle has been beaten lifeless by Beetlejuice, Ghost, The Sixth Sense, and so on. Koepp himself even explored similar territory in 1999's Stir of Echoes. The film's most successful elements are not spiritual, but rather sentimental, as this low-key romantic comedy manages to be at once endearing, funny, and dare I say even worthy of a few tears. The cast is wonderful, the dialogue dripping with riotous sarcasm, and the entire production is a charmer—movies like this shouldn't be missed.