Director

Cast

Jason Bateman

,

Rachel McAdams

,

Kyle Chandler

,

Jesse Plemons

,

Billy Magnussen

,

Sharon Horgan

,

Lamorne Morris

,

Kylie Bunbury

,

Michael C. Hall

,

Jeffrey Wright

,

Danny Huston

,

Chelsea Peretti

Rated

R

Runtime

100 min.

Release Date

02/23/2018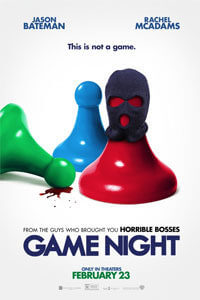 As screenwriters, John Francis Daley and Jonathan M. Goldstein helped co-write Horrible Bosses (2011), about a trio of wage slaves who conspire to kill their workplace superiors—a comedy that never lived up to its promising concept. (For all the plotting, no one died.) The writers never took the material to its morbid possibilities. As directors, Daley and Goldstein avoid making a similar mistake with Game Night and realize their concept with full, rather gleefully dark commitment: A group of friends holds a regular gathering to play Charades, Pictionary, and sundry other party games. When someone introduces a game that stages a faux kidnapping mystery the players must solve, only to have their game interrupted by a real kidnapping, the players can't tell the difference. Game Night ensnares its yuppie characters into a seedy world of guns, Bulgarian gangsters, and underground fight clubs, and it isn't afraid to venture into some grim territory to achieve well-earned laughs.
Jason Bateman and Rachel McAdams play Max and Annie, a flirty and pleasant married couple who bonded over their shared competitive streak. Although they want to have a child, Max remains impeded by lingering inadequacy issues stemming from his ultra-successful, better-looking, and bullying older brother, Brooks (Kyle Chandler). When Brooks invites Max, Annie, and two other couples over for their weekly game night, he introduces a new kind of game where hired actors play criminals, allowing the game night to move away from the usual routine of Tostitos-brand h'ors d'oeuvres and Scrabble. To sweeten the deal, Brooks offers the winner his 1976 Corvette Stingray, knowing it's Max's dream car. Just then, real criminals break into Brooks' home, engage in a brutal hand-to-hand fight sequence, and then carry him away screaming. Meanwhile, after getting their fill of snacks, the three couples look for clues to find Brooks by following the dossier left by a corny paid performer in the role of an FBI agent (Jeffrey Wright).
The supporting cast provides a regular source of laughs. An ongoing spat between players Michelle (Kylie Bunbury) and Kevin (Lamorne Morris), in a relationship since their late teens and now married, involves him demanding to know which celebrity she slept with during their brief hiatus. The answer will surprise you, and then surprise you again. Elsewhere, Max and Annie's mimbo friend Ryan (Billy Magnussen, returning to his dimwit mode from Whit Stillman's Damsels in Distress) usually shows up to game night with less-than-intelligent women he met at the bar. But this time, he brings his much smarter Irish coworker (Sharon Horgan), and neither of them can decide whether opposites attract. On the periphery, Jesse Plemons steals the film as Gary, Max and Annie's creepy neighbor, a divorced cop who just wants to be part of their game night. Of course, Max and Annie remain central and closest to the real danger. Long after the other two couples are made aware of the seriousness of the actual kidnapping, Max and Annie remain oblivious—leading to some hilarious dramatic irony when Annie waves around what she thinks is a plastic gun, quoting lines from Pulp Fiction. 
If this sounds to you like it could become David Fincher's The Game, you're not wrong. In fact, the directing duo borrows more than just the twists and turns of that 1997 thriller; they adopt the surface-level aesthetic of Fincher thrillers, such as Fight Club (which is referenced throughout) and Gone Girl. Cinematographer Barry Peterson shoots in those familiar digital browns, uses fluorescent accents, and composes a number of impressive camera movements. It's rare in a comedy of this ilk to notice impressive camerawork, but Peterson's lensing is indeed sharp. Take an extended shot that rushes around a posh mansion as the players toss a Fabergé egg (the film's MacGuffin) to one another. Although seamlessly woven together with digital trickery (another Fincher nod), the sequence is nonetheless immersive for its speed and movement. The film also uses a nifty trick that makes cars and buildings from a bird's eye view look like plastic pieces on an expansive board game.
Game Night drags the material out to absurd lengths. Even though Mark Perez's screenplay acknowledges that it "jumped the shark" and engages in "cute full-circle bullshit," its self-awareness doesn't correct that the 100-minute feature could have nixed the airplane chase sequence in the end. But this is a minor quibble for an otherwise riotous, slickly made comedy set to another of Cliff Martinez's hypnotic electronic scores. Bateman survives on his usual dry, sarcastic persona, while McAdams is delightful, full of bubbly comic moments and charm. Their chemistry and endearing onscreen relationship, which extends to the amiable supporting cast, gives the audience characters to care about and remain invested in despite the increasingly outlandish plot. Consistently funny and filled with dark screwball antics, Game Night is a rare, satisfying modern comedy.