Director

Cast

Sharlto Copley

,

Armie Hammer

,

Brie Larson

,

Cillian Murphy

,

Jack Reynor

,

Babou Ceesay

,

Enzo Cilenti

,

Sam Riley

,

Michael Smiley

,

Noah Taylor

,

Tom Davis

,

Mark Monero

,

Patrick Bergin

Rated

R

Runtime

91 min.

Release Date

04/21/2017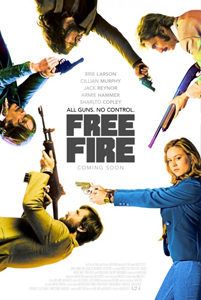 The setup is simple. Nine men and one woman meet inside an abandoned factory, four of them buying assault rifles for the IRA, four selling the guns, while the other two broker the deal. Things go south, as tends to happen when massive, violent egos are confined in a limited space. The deal explodes into gunfire. Members of both sides hide behind concrete pillars and wooden pallets, zinging bullets into one another and sometimes shouting childish insults. By the end, just about everyone dies. However, for the 91-minute duration of Ben Wheatley's Free Fire, the British helmer delivers a virtuoso display of directorial style and control. Conceived alongside his wife, co-writer, and creative partner Amy Jump, Wheatley's film may be his most accessible and entertaining title to date. And if the material seems too familiar to Quentin Tarantino's similarly austere Reservoir Dogs, then the roster of talented actors and Wheatley's slick formal presentation make up for the similarities.
Set in the late 1970s before anyone could break out a cell phone and call for backup, the film takes place in Boston and unfolds in almost-real-time. IRA operative Chris (Cillian Murphy) and aged soldier Frank (Michael Smiley) hope to buy thirty M-16 assault rifles from a gunrunner. Accompanied by the deal's facilitator, Justine (Brie Larson), they wait for their slimy, nitwitted backups Bernie (Enzo Cilenti) and Stevo (Sam Riley) to show. Eventually, another middleman, Org (Armie Hammer), introduces the IRA party to the seller: the egomaniacal South African Vernon (Sharlto Copley), who arrives with Martin (Babou Ceesay) and two hotheaded foot-soldiers (Noah Taylor and Jack Reynor). After introductions, tensions grow as Vernon opens a crate of AR-70s, not what Chris paid for. Fortunately, everyone seems all-too-aware that a state of calm is preferred at a gun deal and concessions are made.
Of course, something happens that sets off the ensuing shoot-em-up—though, as bullets continue to fly, several characters hope for some degree of reason, regardless of everyone involved having taken a bullet or two. Alas, a few short-tempered, unapologetically bitter individuals refuse to back down. With no end to the shooting (or bullets), everyone comically crawls for cover along the factory's floor, pulling themselves to a better vantage point or near their compatriots. Personal rivalries and alliances form, and the performances make these otherwise one-note characters just interesting enough to keep the whole film entertaining. The ensemble is perfectly cast and acted. Of course, Larson remains a standout with her wide, expressive eyes, while also playing the only person who isn't overcompensating with guns. But Hammer plays arguably the most fascinating character as the smartest man in the factory, a skilled killer, pot-smoker, and sharp wit (he should play against his clean-cut type more often).
Wheatley's last film was High-Rise, an adaptation of the J.G. Ballard novel that also took place inside the confines of a single building in the 1970s. And while the overtly allegorical nature of that film left many resistant to its complete vision, Wheatley's high-concept approach remains intact here. Produced in part by Martin Scorsese, Free Fire represents a fully explored scenario within an experiment-of-a-film. It's ambitious, not just from a conceptual perspective but a technical one. Wheatley and Jump serve as editors, piecing together the multi-camera and multi-angle approach of their frequent collaborator, cinematographer Laurie Rose. Despite several characters being spread out across the warehouse space, the viewer is always aware of the geography—except in cases where we are intentionally meant to feel lost in the chaos of gunfire.
Cartoonish and pulpy in the best ways, Free Fire is neither original nor an instant classic, but it's made with skill and talented performers to support the simplicity of the basic scenario. Much like Reservoir Dogs or the crime genre efforts of Guy Ritchie, the pleasures of the film reside in the application of style to familiar material. The actors don their seventies garb, from wide collars to turtlenecks, and appear to be having a lark in their semi-comic roles (Copley has resigned to playing only unhinged, psychotic loose cannons). Ultimately, though, the film is nothing more than a well-made lark (bloody and foul-mouthed though it may be), delivering at least half of what Pauline Kael called the most basic form of cinematic entertainment with a hearty dose of "kiss kiss, bang bang."