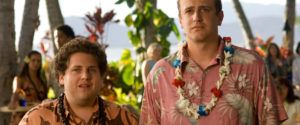 Forgetting Sarah Marshall
3.5 Stars
Director

Cast

Jason Segel

,

Kristen Bell

,

Mila Kunis

,

Bill Hader

,

Jonah Hill

,

Paul Rudd

,

Jack McBrayer

,

Maria Thayer

,

Russell Brand

Rated

R

Runtime

112 min.

Release Date

04/18/2008
The home of Peter Bretter (Jason Segel) could be mistaken for a bachelor pad with the ruinous assemblage of clothes draped over furniture. He fills a massive mixing bowl with Fruit Loops, dumps in half a gallon of milk, and eats breakfast throughout the morning (probably into the afternoon). Zoning out to Access Hollywood, Peter watches the latest reports on his television actress girlfriend Sarah Marshall (Kristen Bell), star of one of those forensic crime scene programs for which Peter is the composer (mostly ominous tones, he later explains). Sarah soon arrives home with a "You know I love you, right?" statement that makes his goofy smile drop from his face. Peter is being dumped.
Forgetting Sarah Marshall is producer Judd Apatow's latest treat for the movie-going public. Laced with the delightful blend of raunchy-yet-romantic humor, Apatow's films aren't necessarily about expert direction or (welcomed) repeated appearances by his growing host of troupe members Paul Rudd, Jonah Hill, and Bill Hader. They're about the screenplay's smart and true dialogue coupling with spot-on narrative structure. In this case, written by star Jason Segel, the script leans toward the romantic comedy realm, offering more heart than Apatow's former productions (The 40-Year-Old Virgin, Knocked Up, Superbad, etc.).
Devastated by the breakup and Sarah's confessed infidelity, Peter finds himself a couple of one-night-stands, after which he cries and cries from memories of his ended relationship flashing through his mind. He takes the advice of his unsympathetic stepbrother Brian (Hader) and takes a vacation to Hawaii to recover, only to find Sarah and her new lover, British hippie rock-star Aldous Snow (BBC radio personality Russell Brand), staying in the same hotel. Luckily, the cute and considerate hotel receptionist Rachel (Mila Kunis) takes sympathy on poor Peter, allowing him to stay in the extravagant celebrity suite free-of-charge (until someone more important comes along).
Briefly cheered-up by amiable locals, Peter's getaway is plagued by chance meetings with Sarah and her social head-case Aldous, whose weirdo celebrity is kept by his hilarious rampant sex talk, ridiculous music, and lack of reservation. Everywhere around Peter, newlywed couples celebrate engagements, weddings, and honeymoons. One religious couple, Darald (Jack McBrayer, from 30 Rock) and Wyoma (Maria Thayer), just can't seem to figure things out in the bedroom—undoubtedly Aldous and his leather pants and ever-gyrating hips can help. Populated with these sorts, no wonder Hawaii isn't helping Peter get past Sarah… Neighbors complain of a woman loudly crying in Peter's room; he tells the front desk he'll keep it down.
Like a vulnerable child, Peter finds himself falling for the genial Rachel, who convinces him to perform a tune from his work-in-progress, an inspired puppet rock-opera about Dracula. His hilarious song plays on the "eternal love" angle, and we quickly see the degree to which Peter is an unconventional romantic. Observe the tall and dopey actor Jason Segel during this scene, who so naturally embodies his character's lumpy, likable, sensitive form. Carrying his emotions on his shoulders, his frame bears an incredible weight, further punctuated by his wide lips and long mouth drooping at the corners. Like a big teddy bear with a loose stitch, he's perhaps the most sympathetic character yet in Apatow's romantic sex-comedy oeuvre.
But as much as first-time feature director Nicholas Stoller places us on Peter's side, we begin to question how responsible he is for his own misfortune. The romantic subsection of Apatow's productions harbor considerable moral value and engrained healthy relationship truisms. Sure, there's enough sex jokes and penis humor (Segel's member makes more than one appearance) to please dudes hunting for catchy lines to repeat among their friends. But these pictures have heart, suggesting a grand personal accountability and respectability whenever in a relationship, enough to recommend universally to audiences as a how-to guide for healthy romance.
The 40-Year-Old Virgin remains a cartoon in comparison with its too-wild-to-be-true concept. Knocked Up challenged the audience, making us care for a progenitor of online smut. And in Superbad, sentimentality was merely epilogue to an ongoing tirade of must-get-laid discussions. Forgetting Sarah Marshall is the most endearing of Apatow's films, largely due to Segel's presence on and off-screen (here's hoping Apatow and Segel team up again in the near future). Perfectly light and quite often wildly funny, this is a sincere comedy about growing up and becoming an individual without relying on a crutch for support.