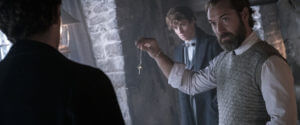 Fantastic Beasts: The Secrets of Dumbledore
3 Stars
Director

Cast

Eddie Redmayne

,

Jude Law

,

Ezra Miller

,

Dan Fogler

,

Alison Sudol

,

Callum Turner

,

Jessica Williams

,

Katherine Waterston

,

Mads Mikkelsen

Rated

PG-13

Runtime

146 min.

Release Date

04/15/2022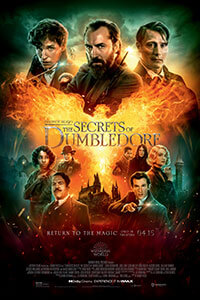 Limping to screens four years after The Crimes of Grindelwald, J.K. Rowling's Fantastic Beasts series continues with a third entry, The Secrets of Dumbledore, which hints that Warner Bros. may have recognized the problem with their Harry Potter prequels. Newt Scamander, the Wizarding World's awkward magizoologist played by Eddie Redmayne, never felt like a worthy main character. Although pure of heart and carrying a suitcase of various magical creatures, his shy and inward sensibilities lend themselves to a recessive supporting player, not the hero of a franchise that costs around $200 million per film. Enter Jude Law, whose charismatic version of a middle-aged Albus Dumbledore, the future headmaster of Hogwarts, manages to steal each of his scenes, not to mention the title's intrigue and the movie's most pivotal role. In terms of sheer narrative drive, Law's charming and wise wizard takes the front seat in The Secrets of Dumbledore. Next to the roster of heroes and villains, Scamander feels like part of the scenery. Doubtless, Warner Bros. realized their floundering tentpole, conceived for the screen by Rowling, needed a fresh approach. Their justified concern results in the best Fantastic Beasts movie yet, though it doesn't hold up next to the Harry Potter standard. 
The central problem with Fantastic Beasts lies in its failure to convey the same magic as the Harry Potter movies. Each Harry Potter installment felt like an annual event, released at a rate of one every year or so. Many who followed that series grew up alongside Daniel Radcliffe, Rupert Grint, and Emma Watson, maturing as the actors and characters did. By contrast, Fantastic Beasts has sacrificed viewer engagement by waiting two years between Fantastic Beasts and Where to Find Them in 2016 and The Crimes of Grindelwald in 2018, and another four years before The Secrets of Dumbledore. Worse, as of this review, Warner Bros. hasn't greenlit the fourth part in Rowling's proposed five-movie run until the box-office receipts prove it's worth the trouble. And what trouble. The latest Fantastic Beasts has faced bigger problems than a dull hero and a delayed release schedule. Variety reported that Warner Bros. has struggled to promote the film after publicity issues with franchise stars Johnny Depp and Ezra Miller, not to mention Rowling's unpopular take on gender identity. COVID-19 didn't help, nor did international censors in countries like China and Saudi Arabia demanding changes to the film given Dumbledore's openly gay sexuality. All of these factors cut into the movie's potential grosses.
Facing the deadly combo of declining interest among moviegoers, middling reviews, and diminishing returns, The Secrets of Dumbledore needs to overcome the odds for Fantastic Beasts to continue with another chapter. Fortunately, the studio hired Steve Kloves—who adapted most of Rowling's Harry Potter books to the screen—to develop the script alongside Rowling. From the outset, it's evident that Kloves has a better understanding of storytelling for the screen than the author. Kloves reframes the entire conflict around Law's Dumbledore and the resident baddie, Gellert Grindelwald (Mads Mikkelsen, replacing Depp). Despite the title, this sequel isn't about Scamander's fantastic beasts, but a war Grindelwald brews between the magically inclined and the muggles. Given the setting in the early 1930s, the parallels between the fascistic Grindelwald and Nazi leader Adolf Hitler remain unsubtle but effective. However, Grindelwald isn't the only threat. There's also Credence (Miller), the troubled young wizard who teeters between good and evil with the same angsty energy as Adam Driver's Kylo Ren in the last three Star Wars episodes.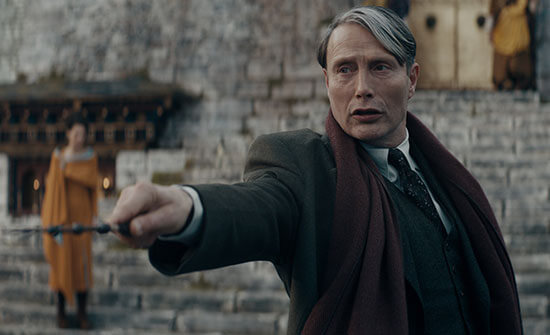 Before the opening title, two scenes in The Secrets of Dumbledore produce more emotion than the previous two Fantastic Beast movies combined. The first finds Dumbledore meeting with Grindelwald for tea. Allusions to their youthful romance, later bound by magic that prevents them from harming one another, supply the movie's emotional foundation. Unfortunately, Dumbledore's one true love has become twisted by an evil obsession, leaving our favorite wizard a tragic outsider, as echoed in the movie's achingly poignant last scene. Continuity hounds will wonder why The Secrets of Dumbledore never mentions the shift in Grindelwald's appearance from Depp's albino-skinned, parrot-haired creep to the dashingly handsome Mikkelsen. But where Depp turned the part into a living cartoon, Mikkelsen breathes humanity into a necromancer. The second pre-title scene finds Scamander overseeing the birth of a scaled deer-like creature called a Qilin (pronounced "chillin"), which sees the good and bad in people—a helpful tool for determining the ideal new chief of the International Confederation of Wizards (ICW). Just then, Credence and other Grindelwald cronies attack, leaving Scamander to mourn Rowling's version of Bambi's dead mother. 
Although the story mines the entrenched mythology of Rowling's Wizarding World, there's little sense of discovery or wonder in The Secrets of Dumbledore. Director David Yates, who helmed several titles in the Harry Potter series and both Fantastic Beasts movies, keeps the proceedings moving along, rarely stopping to admire Scamander's creatures or explain the undeclared spells used in wand battles. Meanwhile, secondary characters such as Tina Goldstein (Katherine Waterston) have been altogether sidelined—though her replacement, Professor Eulalie Hicks (Jessica Williams), has personality to spare. Besides a few cheerful and tender moments involving everyone's favorite "No-Maj" baker, the heartbroken Jacob Kowalski (Dan Fogler), who still pines after the turncoat Queenie (Alison Sudol), the narrative thrust propels the movie forward. Kloves and Rowling build a plot around an elaborate ruse to stop Grindelwald, who can see the future thanks to the Qilin. Dumbledore concocts a solution, resolving that "the best plan is no plan," and it's a delight watching his elaborate, almost prankish yet thoughtful scheme come together to feel like Ocean's Eleven for magic folk. 
Whereas the previous two Fantastic Beasts movies have faded from my mind, The Secrets of Dumbledore contains a few memorable sequences that will produce audible reactions from moviegoers. A prison break sequence that alternates between hilarious and scary, featuring a German cavern filled with scorpion-like arachnids and a warden played by Toni Erdmann (2016) star Peter Simonischek, is one of the movie's highlights. Much later, the election to appoint the new chief of the ICW feels vaguely familiar—complete with conspiracies and Qilin-tampering to steal the results. Yates delivers all 142 minutes in his usual competent studio format; everything looks professional and capably rendered by cinematographer George Richmond, yet without much style. Alas, some visual and mythological confusion appears in sequences where Dumbledore duels with Credence or Grindelwald—the combatants teleport endlessly and enter another realm where the surroundings have an ugly digital backdrop. Combined with Mark Day's choppy editing in these duels, the computery settings rob the viewer of any understanding of spatial geography or involvement. 
What remains essential to The Secrets of Dumbledore isn't spectacle; it's Jude Law's take on the beloved character—his wily grin and mischievous, glimmering blue eyes, blackened with an ashen fleck of sadness that carries over to Credence. Kloves and Rowling were wise to place Dumbledore at the center of their movie, leaving the other pleasant but less dimensional Fantastic Beasts characters to support him. Somehow, the third movie makes the forgettable previous two worthwhile, if only for the pleasure of watching Law, Mikkelsen, and Scamander's greedy Niffler do their thing here. Dialing down Scamander's presence, which still looms large, and refocusing the franchise on Dumbledore has conjured some of that original magic that Rowling explored in her Harry Potter series. Although it's uncertain whether that will be enough for audiences and thus enough for Warner Bros. to continue this franchise, it was sufficient for this critic. Fans yearning for a worthy return to Rowling's Wizarding World will not be disappointed.