Director

Cast

Rated

R

Runtime

115 min.

Release Date

09/29/2023
When Fair Play introduces Emily and Luke, it follows them sneaking away from a friend's wedding reception to have sex in a restroom. In a mishap, Luke ends up red-faced from Emily's period, but neither appears embarrassed; they're in the honeymoon phase of their relationship, and their bond is seemingly unshakable. Instead, when Emily notices a ring fall out of Luke's pocket, he drops to one knee and proposes. Near the film's end, the couple will have another scene in a restroom at their engagement party. But by then, their relationship has become combustible, with the restroom not an unlikely spot for romance but a site of something more disturbing. Writer-director Chloe Domont makes her assured feature debut by breaking down the gender dynamics between these two characters, whose relationship hinges on a particular distribution of power. Played by Phoebe Dynevor and Alden Ehrenreich, the attractive, successful couple has everything going for them. But when the scales of power shift, everything about their relationship changes. Soon, Luke's fragile ego tries to protect itself with irrational behavior, uncontrollable jealousy, and hostility.
Another in a line of recent films to deconstruct the insecurity of cis white men, Fair Play doesn't need to hide behind a high concept to make its point, as others have. Take Alex Garland's unsubtle but no less sublime Men from last year, which uses a trippy horror scenario to consider the identical behaviors (and faces) among toxic predators in a quiet English town. But the most obvious example, Greta Gerwig's Barbie, came out just a few months ago and became a sensation, casting Ken and the executives at Mattel as fragile men so desperate for validation that they diminish the titular hero(es). But Domont doesn't need a gimmick; she looks no further than the world of New York hedge funds, namely the fictional One Crest Capital, a ruthless boy's club with everyone vying to become the most trusted employee under the vile CEO (Eddie Marsan). There, Emily and Luke keep their against-company-policy relationship a secret. Even so, their office life begins to bleed into their personal life in ways that, refreshingly, never resort to didacticisms.  
During an early scene, when a terminated executive has a meltdown before destroying his office with a golf club and getting carried out of the building, the other stock analysts watch an obligatory HR video touting the organization's core values of Integrity and Diversity. But the ironic message bounces off the various bros in the room, who salivate over the potential to take the sacked project manager's job. Eavesdropping on a conversation, Emily hears someone mention Luke is a likely replacement. That night, the couple talks about their future together, getting horny as they scheme to move up and "tell everybody to go fuck themselves" in due time. Luke says he wants to "piss on my tree," meaning her, which is about the most unflattering, loaded way of saying he wants to make love and mark his territory. Regardless, they celebrate with passionate sex, initiated with Luke's customary declarations: "I fucking love you so much." But such avowals sound desperate, and his tone shifts to wounded congratulations when it's Emily who lands the job he wants. When she's the boss, the emasculated Luke sees himself as the one getting pissed on in their relationship.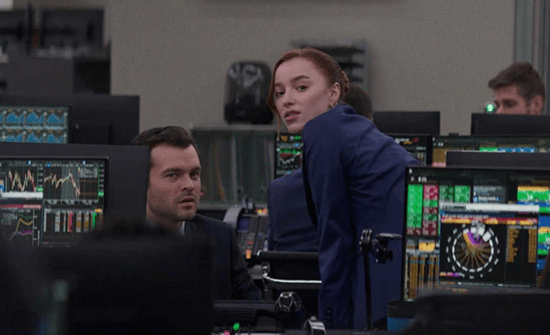 Domont doesn't raise a critical eyebrow to just men. Emily's desire to conform to the masculine environment shows her trying to be "just one of the guys," agreeing, partly as a reprisal to a crude suggestion, to a night out at the strip club to celebrate closing a deal. When she comes home sloppily drunk and regales Luke with an account of her misogynistic outing, he cruelly criticizes her behavior and workplace attire, lashing out with words such as "pathetic" and saying she looks like a "hooker." Whether he's suspicious of her fidelity or resents her success, Luke's wounded male pride stems from his lack of power—a requirement for him to get off. Domont uses their sex life, or lack thereof after Emily's promotion, to examine power. Success at work makes Emily even hornier, while Luke is rendered impotent because he perceives her as having more power in their relationship. Fortunately, Domont resists turning her film into a series of juicy and meaningless sex scenes, preferring to use them as a smart, psychologically complex status bar for the central couple. Later, Luke's attempts to restore his power become pathetic, destructive, and downright monstrous.  
Although the financial milieu has served other critiques of masculine behavior at its worst—see Boiler Room (2000) or The Wolf of Wall Street (2013)—they usually feature some accompanying sensationalism, such as a crime plot. But this filmmaker eschews pulpy elements and plotting that remain essential to thrillers such as Fatal Attraction (1987) and Disclosure (1994), to which other critics have compared Fair Play. Instead, Domont remains situated in Emily and Luke's relationship, with Dutch cinematographer Menno Mans examining body language and gender optics with controlled immediacy. The sharp lensing never veers into shaky in-the-moment realism, preferring to adopt a shrewd, immersive aesthetic interested in characters first. Domont's cursory interest in financial jargon and dealmaking illustrates how her characters behave under duress, amplifying the strain on their relationship. Emily tries to help Luke get ahead, but the bosses quietly hope he will quit, leading to a confrontation between their professional ambitions and personal plans. All of this happens while Emily's smothering mother (Geraldine Somerville) goes rogue and plans an engagement party without her daughter knowing, injecting practical stress into the situation. 
From Donna Summer's sexy classic "Love to Love You Baby" playing over the opening to the layered scenes of intimacy between Dynevor and Ehrenreich, Fair Play uses its appearance as an erotic thriller to get at something more meaningful, resisting the temptation to heighten the material for entertainment value. If the film ever breaks from its emotionally realistic format, it's during the climax. But by then, the performances and situations have become so intense that what occurs feels like an appropriate stab at poetic license rather than an embrace of excess. Domont makes one smart choice after another, starting with her two leads. Although most known for her television work, Dynevor is bound to break out as a film star after her performance here, and Ehrenreich finally delivers a turn worthy of that "it boy" reputation. Their acting guides the viewer through a minefield of gender and workplace conflict that feels grounded and relevant, regardless of how familiar the scenario may be. With its polished script and confident direction, Fair Play establishes Domont as an exciting new voice and a filmmaker to watch.