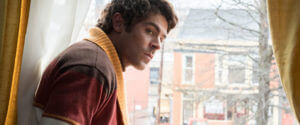 Extremely Wicked, Shockingly Evil and Vile
2 Stars
Director

Cast

Zac Efron

,

Lily Collins

,

Haley Joel Osment

,

Kaya Scodelario

,

John Malkovich

,

Jim Parsons

,

Angela Sarafyan

,

James Hetfield

,

Jeffrey Donovan

,

Dylan Baker

Rated

R

Runtime

110 min.

Release Date

05/03/2019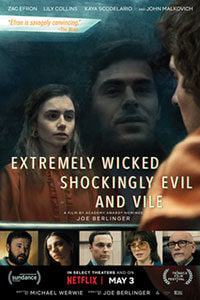 Netflix continues to satiate its niche of true crime fanatics with Extremely Wicked, Shockingly Evil and Vile, a narrative film about serial killer Ted Bundy. Some of the streaming service's most popular offerings have been documentaries or television series in the true crime arena, such as Making a Murderer, The Staircase, and Amanda Knox, or the superb drama series Mindhunter, about the FBI's early days of psychological profiling. Little more than a complimentary piece to the more substantive limited series Conversations with a Killer: The Ted Bundy Tapes, which debuted a few months earlier, the film is catered to viewers familiar with Bundy's legacy as one of America's most notorious killers. It offers an unlikely performance from Zac Efron, who continues to shed his image as the Disney-made High School Musical star, and he couldn't have picked a nastier character. Bundy, after all, murdered and raped more than 30 women, often biting and chopping up their corpses, then having sex with their disembodied parts. Rather than tell the story in a straightforward and linear fashion, however, the film has other things on its mind.
Both Extremely Wicked and The Ted Bundy Tapes were made by Joe Berlinger, a director whose career has been situated in documentaries about true crime. His Paradise Lost: The Child Murders at Robin Hood Hills from 1996 explored the murder trial of the West Memphis Three, and his Whitey: United States of America v. James J. Bulger from 2014 details the life of crime boss and FBI informant Whitey Bulger. Only occasionally has Berlinger delved into dramatic filmmaking, as with Book of Shadows: Blair Witch 2 from 2000, and the less said about that, the better. Working from Michael Werwie's screenplay, based on The Phantom Prince: My Life with Ted Bundy by the killer's actual girlfriend Elizabeth Kendall, the film has issues with perspective. Although much of it centers on Lily Collins' portrait of single-mother Liz Kendall and her experiences with Bundy as a lover and surrogate father for her child, Berlinger cannot help but switch the perspective to the more fascinating subject of Efron's Bundy, leaving the film with something of an identity crisis.
The film plays out like a woman's worst nightmare, where Liz, happy in her relationship with the intense and supportive lover, Bundy, gradually realizes that the police are after him for a series of murders in Washington, Utah, Colorado, and later Florida. Berlinger avoids showing Bundy's killings, which in a strange way implants a sense of doubt about the killer's guilt for the uninformed viewer, in turn putting us in Liz's position. We watch as Liz feels depressed and worried for Bundy, who is captured and put on trial, while she also feels guilty for giving his name to the police. Scenes of Liz's guilt play out like a bad soap opera, where her character's downturn is represented by her pacing, smoking, and pouring another drink, followed by a melodramatic speech from one of her friends (Haley Joel Osment, Angela Sarafyan). The approach to the story has possibility, but Berlinger doesn't commit to Liz's rather passive perspective as a bystander to the unfolding craziness that ensues.  
Most of the story centers on Bundy and his stranger-than-fiction interactions with authorities. Since he was training to become a lawyer, Bundy is somehow allowed to serve as his own defense attorney, and Berlinger doesn't avoid amping up the more sensational aspects of the trial scenes, complete with comedic banter between Bundy and a Florida judge (John Malkovich). Two escapes, one from prison and another from a courthouse, also revel in the killer's ingenuity—to the degree that Berlinger borders on admiration and sympathy for Bundy. As for Efron, he looks far more bronzed and muscular than Bundy, and he doesn't have Bundy's unibrow or face riddled with creases. But the casting is likely meant to show how many refused to believe Bundy was a killer because he was an attractive and charismatic guy. The public could not believe how a good-looking, well-educated white man could ever be a psychopath. Then again, this critic has felt that Efron, especially in his post-Neighbors career, has the uncomfortable quality of a maniac who's ready to burst. Efron looks like a serial killer, but the frightening thing about Ted Bundy was that he always appeared normal.
Curiously, the production looks subpar, and the viewer can see the gears of the apparatus working. 1970s makeup and hairstyles never looked so cheap, with a series of distractingly bad wigs and mustaches appearing throughout. The soundtrack is chock full of '70s tunes from The Box Tops, Tommy James, and Joe Tex, as though Berlinger was trying to define his film with pop music in the same way Spike Lee did on Summer of Sam (1999) or David Fincher did on Zodiac (2007)—both of whom borrowed from Martin Scorsese. But somehow the songs fit too well, as the lyrics annoyingly match whatever's happening onscreen. Worse, the competent camerawork by Brandon Trost is chopped to bits by editor Josh Schaeffer. The overactive cutting reduces every performance and scene to smithereens, often dicing an otherwise dull moment with copious jump cuts to distracting effect.  
With its mouthful title and stunt casting, Extremely Wicked, Shockingly Evil and Vile begins with the inventive notion of telling Bundy's story from Liz's point-of-view, but it gives up on that conceit within minutes. If there's a purpose to this approach, however non-committal it may be, perhaps it's that neither Liz nor any woman should feel guilty for speaking out against men—a worthy message for the #MeToo era (or any era), to be sure. But it's contained within a film whose shifting perspectives threaten to portray Bundy as a media spectacle while reducing the potency of his crimes against women. Note how Berlinger avoids showing Bundy committing acts of violence, aside from a final glimpse in the end (yet, we see photos of actual victims, which seems in poor taste). Much of the film is like that, a production that half-heartedly tries to dramatize Bundy, whereas the archival footage in Berlinger's The Ted Bundy Tapes, which also plays over the end credits here, tells a far more compelling story.