Director

Cast

Jason Clarke

,

Josh Brolin

,

Jake Gyllenhaal

,

Elizabeth Debicki

,

Keira Knightley

,

Michael Kelly

,

John Hawkes

,

Sam Worthington

,

Robin Wright

Rated

PG-13

Runtime

121 min.

Release Date

09/18/2015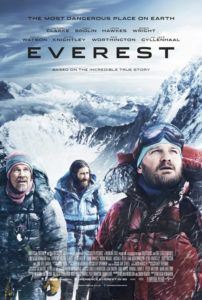 Although based on the 1996 expedition that left eight climbers dead on Everest, the highest mountain on the planet, Everest might seem ill-timed given similar, avalanche-caused deaths in the last two years. Then again, death should come as no surprise when human frailty is pitted against the freezing temperatures and thin air Nature delivers at 29,029 feet. Fortunately, director Baltasar Kormákur's wowing presentation recreates—at least to some small degree—the pure visual experience of scaling a mountain to the top of the world, so most of us won't have to attempt it. Using IMAX 3D in arguably its best implementation yet, Kormákur delivers an immersive depth-of-field, carefully exploiting the gimmick to place the viewer within the scene. Although Everest is guilty of throwing a snowball and a storm at the audience in corny 3D style, it more often layers the gorgeous scenery with distinct fore, middle, and background levels. The clever positioning of climbers, rocks, glaciers, or mountain peaks help make the 3D worth the extra surcharge. Without this optional visual treat, Everest would be a one-dimensional take on the struggle between Man vs. Nature.
Long before reaching the peak of Everest, the human body "literally begins dying," explains Rob Hall (Jason Clarke), owner of Adventure Consultants, a company that prepares skilled climbers for the grueling experience of reaching this rarely-achieved goal. Populated by thrill-seekers and those who want to push their bodies to the limit, the story is about endurance and survival. Specialized in such tales of human physical and spiritual punishment, the credits of scripters Simon Beaufoy and William Nicholson include 127 Hours and Unbroken. Though no source material has been credited, Beaufoy and Nicholson no doubt researched the accounts of survivors Jon Krakauer, Beck Weathers, and Anatoli Boukreev. The most popular of the three, Krakauer's bestseller Into Thin Air was also adapted into a 1997 made-for-TV movie, Into Thin Air: Death on Everest. Weathers' story, Left for Dead: My Journey Home from Everest, was far more personal; whereas Kazakhstani climber Boukreev's book, called The Climb, disputed many of Krakauer's facts.
The film provides thin backstories for each climber and guide: An Australian, Hall leaves his very pregnant, worrying wife (Keira Knightley) behind for another journey up the hill. This expedition is important because Krakauer (Michael Kelly), who plans to write an article on Adventure Consultants, will be joining them. Among the others is Doug (John Hawkes), an average postal worker making his second attempt to top Everest after failing his last. A tough Texan, Weathers (Josh Brolin) laments his dull marriage (to Robin Wright) and only feels alive on the mountainside. There's also Yasuko (Naoko Mori), who has scaled every other major mountain on Earth and now is taking a crack at the biggest. Assisting Hall are his logistics coordinator Helen (Emily Watson) and fellow guide, Guy (Sam Worthington). But Adventure Consultants aren't the only ones trying to get up Everest. Trippy American Scott Fischer (Jake Gyllenhaal) and Boukreev (Ingvar Sigordsson) each come from a competing company, but they believe climbers should go up without oxygen support tanks for a more pure experience.
From the first moments in Katmandu and their journey to the first camp, the 3D showcases the poverty of the overpopulated Nepal capital and the rickety rope-and-wood bridges extended over vast crevasses. At South Base Camp, the climbers must acclimatize themselves to the extreme conditions by making gradual progress up the mountain and then returning back down. The training takes weeks. But based on weather forecasts, three different groups of climbers intend to go up the mountain on the same day: May 10, 1996. Unfortunately, this causes dangerous traffic jams; there are thin windows of time in which climbers can use ladders that have been propped up over bottomless fissures in the ice. Hall and Fischer resolve to take their groups up together. The script forgets about the South African group that wants no part of their collaboration. And while the climbers train, we hear Hall warning about every possible thing that could go wrong in a hokey bit of foreshadowing, because everything that can go wrong does.
Everest seems to take forever getting the characters on their final journey up the mountain, perhaps more than half of the two-hour runtime. And once the climbers finally begin their ascension, they're exposed to everything Hall warned about: frostbite; snow blindness; exhaustion; avalanches; various elevation sicknesses of the lungs, eyes, stomach, and mind; and finally a punishing storm hits the climbers with freezing wind. It's a curious thing because Hall's reassuring confidence and general good-guy persona maintained by Clarke leaves the viewer thinking all will be okay. Sadly, several members of the expedition don't make it down, very often characters that we weren't expecting to perish—or that a fictionalized account wouldn't dare kill off because they clearly deserve to survive. Alas, Nature doesn't care about notions such as "deserve" or dramatic justice. Kormákur doesn't romanticize the deaths too much, although hints of melodrama are evidenced here and there (such as a hallucination that incites one near-dead climber to push on).
Cinematographer Salvatore Totino beautifully shot many backdrops on location in Nepal and Italy, but the most perilous scenes employ excellent CGI. After arriving in Hollywood from his native Iceland, Kormákur made lowbrow actioners like Contraband (2012) and 2 Guns (2013). "Everest is another beast altogether," as Hall points out in the film. This massive production looks far more expensive than its $55 million budget. And so, it's easy to get lost in the visual luster of everything onscreen, even if the characters are sketched out in a single dimension. Calls home to wives, lingering worrisome by the phone, prove to be an obvious device to amplify the emotional stakes. Dario Marianelli's score also puts too fine a point on the harrowing situation. Fortunately, the visual presentation, which must be seen in IMAX 3D to be fully appreciated, compensates for any underwhelming or borderline hackneyed storytelling elements. The viewer truly feels transported atop Everest, dizzied by the heights, beauty, and impressive scope of the scenery, which only further immerses us in this effective tale of daring and survival.