Director

Cast

Colin Farrell

,

Josh Hutcherson

,

Beyoncé Knowles

,

Amanda Seyfried

,

Christoph Waltz

,

Chris O'Dowd

,

Aziz Ansari

Rated

PG

Runtime

100 min.

Release Date

05/24/2013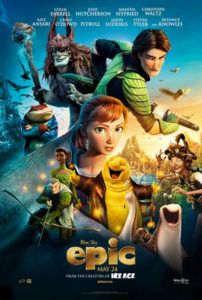 Imagine a mixture between FernGully: The Last Rainforest (1992), Honey, I Shrunk the Kids (1989), and the French documentary Microcosmos (1996), and you'll have some idea of what to expect from Epic, the latest from Blue Sky Studios and Twentieth Century Fox Animation. In this CG-animated adventure, a young woman is shrunk down in her father's backyard, where she discovers a miniature world in which the forces of Nature fight the elements of decay. Based on the book The Leaf Men and The Brave Good Bugs by William Joyce (Rise of the Guardians), the story was adapted by no less than five credited screenwriters, and the film feels predictably disjointed and uneven. Only the very young will draw much from the generic storytelling, while the handsome animation of the natural world is wasted on dull characters and unexciting situations.
In the opening narration, we're told of an enduring battle between the two-inch-tall Leaf Men who defend the forests from the evil Boggans—hordes of gross insects and undesirable mammals who promote rot. Rather than suggest this struggle is part of the Circle of Life, the plot offers a lot of high-stakes magic mumbo-jumbo as opposed to any lesson about the necessary evils in Nature. For example, among the "evil" elements of the Boggans are bats and spiders. There's no mention of how such creatures actually help balance Nature, probably because it's easier to demonize them for being traditionally ugly. Good then are flowers, hummingbirds, and all things pretty. Charged with bringing life to the forest is Queen Tara (voice of Beyoncé Knowles), while her opposite, hell-bent on destroying all green life, is Boggan leader Mandrake (voice of Christoph Waltz). The fate of the forest rests on Queen Tara choosing her replacement through a lily pod: if the pod blooms in moonlight, the forest will flourish; if it blooms in darkness, the forest will decompose.
After learning about this conflict, the movie takes a step back and introduces us to the late-teens human Mary Katherine (voice of Amanda Seyfried), who's the kind of engineered-to-be-accessible children's movie character that wears a hoodie, carries an iPhone, and wants to be called "M.K." for short. She returns home after the death of her mother to rekindle her relationship with her father, Professor Bomba (voice of Jason Sudeikis), a scientist obsessed with the little men in his backyard. Just when M.K. resolves that he's nutso for believing in imaginary Leaf Men, the dying Queen Tara's magic shrinks M.K. down and makes her the protector of the crucial lily pod. Now exposed to the tiny empire hidden on her father's property, she teams with the Queen's top general, Ronin (voice of Colin Farrell), and an impetuous young soldier, Nod (Josh Hutcherson), to prevent Mandrake's forces from putrefying the forest for all time. Meanwhile, Nod and M.K. form an unlikely romance, which presents all sorts of weird questions about their biological compatibility.
The story may have benefited from a slower leap into the forest world. The opening scenes take place in the tiny woodland kingdom, outlining the stakes there before we ever get to know M.K., whereas discovering the world through M.K.'s outsider viewpoint may have been a better introductory choice (think Avatar). As a result, M.K. feels peripheral in a story populated with far too many characters, most of them with daddy issues. Ronin tries to play father to Nod, whose own father died tragically. Mandrake's son dies early in the story, sparking his thirst for fatherly revenge against Ronin. M.K.'s relationship with her father is rocky too, until she realizes he was right all along. And when these characters aren't dealing with child angst (obviously designed to bring children in the audience closer to their own parents), the movie employs a number of mundane subplots and supporting players who feel all too familiar.
Fox hired celebrities indiscriminately to voice Epic, some appropriately cast and others selected for name recognition. Waltz is an effectively voiced villain, of course; but Seyfried and Knowles give almost no personality to their roles. Certainly, the filmmakers could have found someone better than Aerosmith's Steven Tyler to voice the wise glowworm Nim Galuu, or rapper Pitbull to voice the shady frog Bufo. Comedians Aziz Ansari and Chris O'Dowd voice comic relief characters Mub and Grub, a pair of wisecracking mollusks, but their antics grow tiresome. Funnier is M.K.'s wordless dog, a three-legged, one-eyed pug named Ozzie. Perhaps the voice cast shouldn't be blamed, since the writers failed to pen compelling dialogue or scenarios; instead, every role is a cliché inside a formula wrapped in a derivation and topped with a dash of boring.
Director Chris Wedge (one-half of the team that created Ice Age) mishandles a world that would have been boundless in the hands of Studio Ghibli animator Hayao Miyazaki (Princess Mononoke), and his lackluster efforts leave the result feeling limited and under-developed. Epic feels deliberately and systematically packaged for kiddies, and indeed only the very young will likely find pleasure in its mediocrity. As the title suggests, it has the potential of epic-sized animation, yet all of that budding possibility is squandered on standardization, and therefore nothing resonates. Instead of exploring this world through an economy of plotting and a sense of wonder that make Studio Ghibli or Pixar films benchmark, the proceedings are muddled with familiar components strewn together into an inelegant whole. Unmemorable and unable to make an impression, the movie offers little more than pretty colors to distract us.