Director

Cast

Adrian Grenier

,

Jeremy Piven

,

Kevin Connolly

,

Kevin Dillon

,

Jerry Ferrara

,

Emmanuelle Chriqui

,

Mark Wahlberg

,

Haley Joel Osment

,

Rex Lee

Rated

R

Runtime

104 min.

Release Date

06/03/2015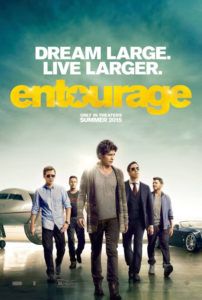 Four years after the show's eight-season run came to an end, series creator Doug Ellin picks up the rhythm of his popular HBO series with Entourage, what amounts to an extended episode in filmic form. The transition from TV-to-film usually involves a bigger, bolder storyline to accompany the cinematic presentation. But writer-director Ellin doesn't test his cast of bros in any way they haven't been tested before; present here is the same degree of Hollywood wheeling and dealing, backstabbing, and behind-the-scenes troubles that gave audiences an insider's view and made the show worthwhile for some. The show's less redeemable qualities are also in full attendance. Ellin solves his cinematic dilemma not through inventive or pointedly cinematic storytelling, but by throwing more sex and more celebrity cameos at the problem, both in copious quantities. However misogynistic and uncouth the product can be at times, the film's real downfalls are how inelegantly Ellin weaves together multiple plotlines, fails to see many of them to their conclusion and delivers yet another underwhelming end.
Indeed, the final season of the show ended uncharacteristically, with promiscuous superstar actor Vincent Chase (Adrian Grenier) falling in love and getting married, while his ever-supportive band of broheims followed along dutifully. For the uninitiated, Vinnie's titular pals followed the emerging star to Hollywood from their hometown in Queens. The crew consists of his best friend and manager Eric (Kevin Connolly), his driver-cum-tequila mogul Turtle (Jerry Ferrara), and his lesser talented older brother Johnny "Drama" Chase (Kevin Dillon). Along with Vinnie's volatile agent, Ari Gold (Jeremy Piven), the group all relies on the (questionable) talent of the fresh-faced actor to get them access to Hollywood parties and casual, seemingly consequence-free casual sex galore. Ellin reintroduces the gang in a forced Piers Morgan profile, quickly summing up eight seasons in two minutes of screentime.
When the film opens, Vinnie recovers from the annulment of his 9-day marriage on a yacht packed with topless bimbos and booze. Then he tells Ari, who has recently become a studio head, that he wants to direct his next megabudget starrer, which also happens to be Ari's first project in his new job. Eight months later, Vinnie's directorial debut called "Hyde" is millions over budget. Unfortunately, cutting a check for Vinnie to finish the shoot isn't up to Ari; it's up to his Texas-based bankroll, the ornery tycoon Larsen McCredle (Billy Bob Thornton). To determine if the production is worth more money, Larsen sends his shitkicking, swaggering son Travis (Haley Joel Osment) to see a rough cut. (And quite frankly, it looks terrible. The project is a futuristic retelling of the Jekyll and Hyde story, where Vinnie serves as a super-powered DJ who fights the oppression of the resident authority by giving his ravers yellow capsules of rebel power. Or something like that.) But after Ari sees it, he's convinced it's a masterpiece, not only a surefire box-office hit, but also an Oscar contender. Travis does not agree, and Ari wages a Hollywood war to settle the matter.
Meanwhile, each of the supporting characters has ongoing subplots, many of which peter out or are altogether forgotten. Eric and the now very pregnant Sloan (Emmanuelle Chriqui) have once again broken up, and so he explores other women (at this point, it's difficult to care if he and Sloan get back together again for the umpteenth time). A newly lean Turtle courts UFC fighter Ronda Rousey, but he's not sure if it's business or pleasure for her. Of course, it's Drama's scenes that Travis wants to cut, leading to an existential crisis and Drama's acceptance of his "delusional confidence", despite his "pivotal" role (which we never see) in Vinnie's upcoming feature—but eventually, the redneck bazillionaire wants to replace Vinnie's face with CGI. On the sidelines, Ari's former assistant Lloyd (Rex Lee) appears in phone-only exchanges with his former boss, asking Ari to give him away at his upcoming wedding, which never actually happens onscreen (nor does Turtle's date with Rousey, for that matter). Oh, and Ari joins his beleaguered wife (Perrey Reeves) in couple's therapy.
With Ellin taking us in so many directions, he doesn't fulfill several of the main cast's storylines in a satisfying way. Instead, he's content to throw celebrities and boobs at the screen, dozens of each, to perpetuate the show's depiction of Hollywood as a big party. Among the more popular cameos (Liam Neeson, Jessica Alba, Armie Hammer, rapper T.I., John Favreau, etc.), oddities like Warren Buffet appear. Producer Mark Wahlberg also shows up, if only to plug his upcoming movie Ted 2 and his show Wahlburgers. All of them seem to be having a good time, joining the party to play exaggerated versions of themselves. Elsewhere, there's no limit of scantily clad women dancing at parties, dude-talk about "getting pussy", and crude remarks regarding their general attitude toward women, driving the misogyny meter off the charts. Fortunately, Eric gets a much-deserved rude awakening by way of back-to-back pregnancy and STD scares. However refreshing a moment this may be, it doesn't compensate for the overwhelmingly douchey behavior of Vinnie and his crew.
Overall, Ellin retreads the show's repetitious track, where Vinnie's latest project lies in peril, leaving Ari to save the day, while Eric contends with Sloan, and the other sidekicks provide comic relief. It's all very familiar, and in a cinematic setting, quite unnecessary. Visually, there's nothing to distinguish the film from the show, which had generally high production value anyway (as most HBO shows do). Ellin doesn't experiment with the medium, aside from his brief cutaway to "Hyde", which cinematographer Steven Fierberg seems to have modeled off The Matrix. Much like the show's final season, Ellin stuffs his film with a series of increasingly cliché climaxes—here, a pregnant woman goes into labor, a marriage (almost) occurs, there's a cage fight, much sex is had, and the film ends on an awards show high. Still leaving many characters up in the air, Ellin wraps things up too quickly and sends his characters off with a second, disappointing, and unnecessary finale.