Director

Cast

Paul Dano

,

Pete Davidson

,

Vincent D'Onofrio

,

America Ferrera

,

Nick Offerman

,

Anthony Ramos

,

Sebastian Stan

,

Shailene Woodley

,

Seth Rogen

,

Dane DeHaan

,

Myha'la Herrold

,

Talia Ryder

,

Kate Burton

,

Clancy Brown

Rated

R

Runtime

104 min.

Release Date

09/15/2023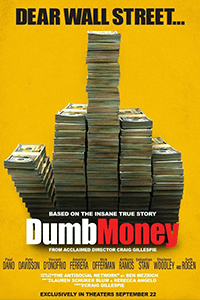 Say what you will about Craig Gillespie as a filmmaker, but at least he's consistent. The director of I, Tonya (2017) and much of Hulu's Pam & Tommy limited series returns with another zippy, based-on-a-true-story account, this one pulled from contemporary headlines. Dumb Money tells the story of the GameStop short squeeze of January 2021 that boosted retail investors' portfolios and pissed off hedge fund gurus accustomed to maintaining relative control over the stock market. By the following September, non-fiction author Ben Mezrich had cranked out a book on the subject called The Antisocial Network, for which he had already sold the film rights with a pitch. Now it's a major motion picture with an all-star cast, an edit overflowing with memes and TikTok videos, and a soundtrack that—typical for Gillespie—is saturated in needle drops. Armed with a David vs. Goliath conflict, the film foregoes subtlety or any inkling of objective distance in favor of thumbing its nose at Wall Street and pretending it's part of the movement. While it's difficult to argue with its message, the otherwise entertaining film resorts to blunt methods to make its point.
The book's titular reference to The Social Network (2010) proves apt for this adaptation. From the first electronic tones of Will Bates' score for Dumb Money, which sound suspiciously like Trent Reznor and Atticus Ross' Oscar-winning music for David Fincher's masterpiece, that film is a clear benchmark for Gillespie and company (even the Winklevii, played by Armie Hammer in Fincher's film, receive executive producer credits here). And aside from getting wrapped up in the momentum of a largely online-based phenomenon, that's where the comparisons end (mostly). The screenplay by Lauren Schuker Blum and Rebecca Angelo has more in common with The Wolf of Wall Street (2013) or The Big Short (2015), minus the irreverent breaking of the fourth wall. It's a movie that's far more interested in detailing what happened and how the system is broken than investing the viewer in the complexity of its characters, if any exists. 
Dumb Money adopts a hyperlink structure, offering an ensemble of one- or two-dimensional characters, all located in different parts of the country, connected by cross-cutting and onscreen titles that inform us about the location, profession, and net worth of every player. The primary story centers on Keith Gill (Paul Dano), an amateur financial analyst who attests to GameStop stock (GME) on YouTube videos under the handle "Roaring Kitty," and on Reddit under the username "DeepFuckingValue." Keith's interest in the video game retailer seemed almost nonsensical, since the company was losing money and numerous hedge funds had shorted its stock. But Keith, by no means rich, puts $53,000 into his gamble. This soon alarms Melvin Capital, whose founder Gabe Plotkin (Seth Rogen) looks for help from his billionaire friends (Vincent D'Onofrio, Nick Offerman) once Keith's enthusiasm about GME catches on—after individual investors, known among the super-rich as "Dumb Money," start buying on Keith's recommendation, leading to a social media movement that drives up the price and sabotages the short.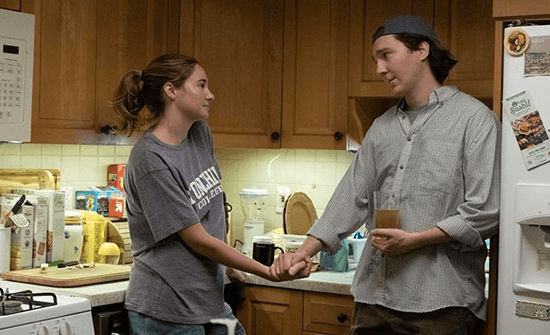 Much of the film's breezy, 104-minute runtime is spent volleying between identical subplots about various Average Joes, each of whom struggles financially and sees GME as a potential way to break out of their financial woes and also "stick it to the Big Man." These include a nurse and single mother (America Ferrera), two Austin college students (Myha'la Herrold, Talia Ryder), and a GameStop store clerk (Anthony Ramos) who invest what little they have in GME because they believe in Keith. Meanwhile, Keith receives encouragement from his supportive wife (Shailene Woodley), taunts from his slacker brother (Pete Davidson), and puzzlement from his working-class parents (Kate Burton, Clancy Brown). But the film also makes time for the dopey Vlad Tenev (Sebastian Stan), whose ironically named trading app Robinhood allows users to make stock transactions supposedly without the company earning a commission—a claim that proves little more than good marketing.
To be sure, Dumb Money features a lot of talented actors performing as characters who feel more like types rather than dimensional human beings, while the material spreads itself thin by covering a vast topic but without the depth to make it meaningful. Still, it's impossible not to feel a buzz as GME goes from around $3 a share to $348. As the stock climbs, everyday people imagine how that money might change their lives, except they resolve to "hold the line" as Keith does to send a message to Wall Street. When they look at their balance, prompting a montage of "Holy fucking shit" reactions over thousands of life-changing dollars—whereas the hedge fund executives remain unmoved until the consequences get into the billions—the sequence underscores the conflict in this tale of class warfare. So it's easy to feel incensed when the Powers That Be demand that Robinhood stop allowing purchases on their app in an attempt to halt the stock's rise.
Like other financial-minded movies, Dumb Money attempts to compensate for what is deeply uncinematic—making online trades, checking balances, looking at spreadsheets, and then posting about it on social media—with an otherwise flashy aesthetic. Gillespie and cinematographer Nicolas Karakatsanis' visual treatment of their characters is straightforward, with editor Kirk Baxter, who won an Oscar for his work on The Social Network, doing most of the heavy lifting. Beyond the onscreen titles and net worth updates, Baxter and Gillespie deploy actual social media reactions about the situation, insert footage from real-life members of Congress who held a hearing on the short squeeze, and end the film with actual video of scenes dramatized for the film—as if to say, "See how close we got it." The loud soundtrack includes only high-energy greatest hits, such as Cardi B's "WAP" and The White Stripes' "Seven Nation Army." The most subtle the filmmakers get is cutting from the Teslas driven by Robinhood's cofounders to the two-decades-old Honda and buses used by the others to denote the lifestyle gap.
Although it's diverting enough with its punchy presentation and star-studded cast, Dumb Money supplies an account of strangely recent history (not to mention a blatant attempt to profit from the phenomenon with a Hollywood movie, which seems rather crass given the subject matter). The film never justifies why audiences might need this all-too-recent story in cinematic form, and why now. By the end titles, which offer what should be rousing remarks about how, together, people can make this movement a success, the sentiment already feels deflated. Other titles remind us that, despite congressional hearings on the matter, the billionaire executives who actually did something wrong never faced charges and received bailouts from their shady friends. When there's no accountability for the wicked, it's difficult to feel anything but continued cynicism toward the system. But then again, the reductive message in Dumb Money is articulated by the movie poster, which reads "Dear Wall Street…" and below that, depicts a middle finger made out of cash. Gillespie's film is just as thoughtful, offering little more than a "fuck you" to its antagonists. Maybe that's enough. It's certainly deserved.