Director

Cast

Casey Affleck

,

Noah Jupe

,

Zooey Deschanel

,

Chris Messina

,

Jack Dylan Grazer

,

Walton Goggins

,

Beau Bridges

,

Barbara Deering

,

Doug Dawson

Rated

Unrated

Runtime

111 min.

Release Date

08/04/2023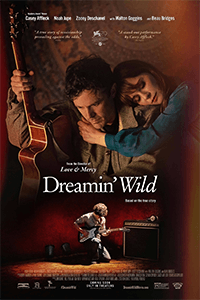 Note: This film was originally screened at the 42nd Minneapolis St. Paul International Film Festival and reviewed on April 18, 2023. 
Bill Pohlad isn't a prolific writer-director. Since Old Explorers, his debut film from 1990 about two senior citizens who dream about an adventurous past, he's made only two other features: the Brian Wilson biopic Love & Mercy (2013) and his latest, Dreamin' Wild, about musicians Donnie and Joe Emerson. Although he has a better track record as a producer of films such as Brokeback Mountain (2005), The Tree of Life (2011), and 12 Years a Slave (2013), the filmmaker, heir to the billionaire Minnesota family, chooses his projects carefully. But each directorial effort has a similar theme about looking at the idealized past and regretting the lost time between then and now. With that in mind, Dreamin' Wild, which debuted at the Venice Film Festival last year, is awash in faux poetic aestheticism, mixed with the brooding of an artist whose early career failure has shaped the remainder of his life. Pohlad, who called himself a "frustrated musician" in the Q&A that followed the film's screening at the Minneapolis St. Paul International Film Festival, can no doubt relate to feeling unseen creatively in that respect.
Based on a New York Times article by Steven Kurutz, Dreamin' Wild bears many similarities to Love & Mercy. Both are about "genius" musicians whose heyday was decades earlier, and only upon reappraisal were they recognized for the full spectrum of their talent. In both films, the musicians remember their youth through memories and flashbacks, ruminating on their mistakes, missed opportunities, and the downswing of life that followed. The mad genius label unquestionably applies to Brian Wilson, the eccentric mastermind behind some of The Beach Boys' most experimental and inspired music. Pohlad makes a less convincing case with Donnie Emerson, whose music, while good, never quite transcends. Early in the film, we learn the music website Pitchfork recently rediscovered Donnie's album and scored it with an 8 out of 10. Certainly not bad, but not great either. To be sure, Pohlad's movie is about music that's pretty good, but it won't redefine your musical boundaries, and neither will the film make you rethink the musician biopic.
When they were teens 30 years ago, Donnie and Joe Emerson (Noah Jupe and Jack Dylan Grazer, respectively) released the titular 1979 album to little fanfare. Pohlad's film establishes the trajectory of their lives in the long stretch before the opening credits, making everything that follows feel like a fleshing out of narrative information that's already been shared. We learn early on that the boys' father (Beau Bridges) sacrificed hundreds of acres of his family's logging farm in rural Washington to fund the production of a vinyl record featuring music written and performed mainly by his wunderkind son, Donnie. But the boys never became the stars everyone assumed they would. Instead, their album flopped, Donnie (Casey Affleck) married Nancy (Zooey Deschanel), and together, they play small venues and weddings while operating a failed music studio business. Joe (Walton Goggins), whose capacity for tempo would drive the instructor from Whiplash (2014) mad, has since taken after his father, working on the farm.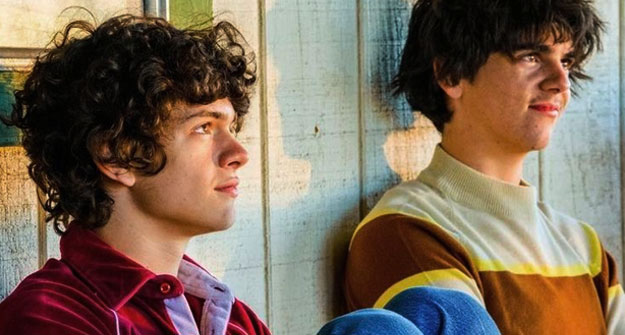 When a record producer (Chris Messina) reaches out to the Emerson family and informs them that the internet has rediscovered their album, he offers to get the band back together for a repressing of the album and a possible tour. This prompts Donnie to spiral into reflection mode, skeptical about the offer and mourning the last three decades of everyone not acknowledging his talent. Called "complicated" by his brother, Donnie is also wary of trusting anyone. While processing the newfound attention from podcasters, journalists, and even Jimmy Fallon, Donnie remembers the past in idyllic scenes captured with a shimmer by cinematographer Arnaud Potier. Much of Dreamin' Wild follows Affleck, carrying the gravitas of a moody, troubled artist whom no one understands. It's a familiar performance for the Manchester by the Sea (2016) performer, who excels at playing inward and tortured. The Jupe version of the character is preferable and more likable in his creativity, whereas the older Donnie isn't immune to shitty, petulant tantrums about his artistic ambitions. Everyone else is just happy to play.
The supporting cast gives Donnie a sympathetic boost, particularly the redemptive and tender scenes of reconciliation between Affleck and Bridges. Goggins is excellent as Joe, who never had his brother's talent and is content on the farm. But Pohlad doesn't seem all that interested in Nancy, though at least Deschanel gets to sing for her underdeveloped and level-headed character. Affleck's lip-synching performance aligns well enough but never convinces. However, Pohlad immerses the viewer in trancelike sequences where the band makes and plays music. And while the filmmaker claims he hoped to be "real" and "authentic," he also deploys much sentimentality. Potier's camera adopts a handheld realism at times, accompanied by an earthy color palette shot on the Emerson family's actual farm. But the camera also descends into lofty shots that rotate around Donnie, trying to affect the visual searching that Emmanuel Lubezki achieves in so many late-era Terrence Malick features. Such flourishes make the heavy-handed symbolism—where Donnie observes his younger self creating music or, in one scene, almost converses with his teenage counterpart—feel even more overwrought.
Still, Dreamin' Wild avoids the typical musician biopic structure that has grown so tiresome in recent years, as seen recently in Bohemian Rhapsody (2018) and I Wanna Dance with Somebody (2022). For that, we should be thankful. Rather, the film is a testament to dreamers who never stop wanting to create. "You gotta dream," Donnie tells his son. Through the course of the movie, Donnie learns that, when dreams come true, they don't always materialize in the manner and on the schedule you would prefer. Dreamin' Wild is about accepting the sometimes roundabout manner in which things work out and not laboring over the disappointments along the way. For all its departures from the usual portrait of a musician structure, Dreamin' Wild nonetheless makes a typical move when Pohlad transitions into the real-life Donnie, Joe, and Nancy performing a ballad in the final scenes. How you respond to this scene, and indeed the entire movie, might depend on your affinity for Donnie's music. As for me, I'll quote this review: "Certainly not bad, but not great either."
(Note: This review was originally posted to Patreon on April 18, 2023.)