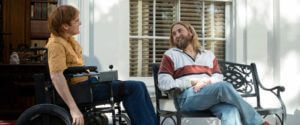 Don't Worry, He Won't Get Far on Foot
2.5 Stars
Director

Cast

Joaquin Phoenix

,

Jonah Hill

,

Rooney Mara

,

Jack Black

,

Tony Greenhand

,

Beth Ditto

,

Mark Webber

,

Ronnie Adrian

,

Kim Gordon

,

Udo Kier

,

Carrie Brownstein

,

Mireille Enos

Rated

R

Runtime

114 min.

Release Date

06/20/2018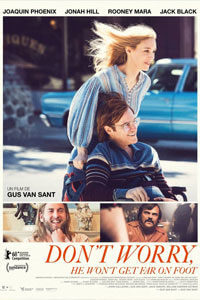 Director Gus Van Sant and actor Joaquin Phoenix first collaborated on the satiric post-Tarantino crime project To Die For (1995), where Phoenix's vulnerable performance was overshadowed in an erotic and fascinating showcase for Nicole Kidman's talent. Over the last twenty years, Van Sant's material has descended into generic and mostly forgettable titles such as Finding Forrester (2000) and The Sea of Trees (2015), while Phoenix has become one of the essential performers of the twenty-first century with roles in films by Paul Thomas Anderson, James Gray, Spike Jonze, and Lynne Ramsay. Van Sant and Phoenix's second collaboration, Don't Worry, He Won't Get Far on Foot, is based on cartoonist John Callahan's 1989 autobiography of the same name. The late Robin Williams, who earned an Academy Award for Best Supporting Actor working with Van Sant on Good Will Hunting (1997), purchased the rights to Callahan's book with the intent to star for Van Sant. But after Williams' death, the production went ahead with Phoenix in the Callahan role.
The adaptation by Van Sant opens on John Callahan (Phoenix), a wheelchair-bound quadriplegic who creates darkly humored drawings of taboo subjects with only minor use of his hands. In bookended scenes, John appears onstage and hosts "An evening with John Callahan" before an invested audience and gives a talk about his trials. Cut to before the accident that left him unable to walk. We follow a debauched, alcoholic John in the mid-1970s where, tormented by his mother's abandonment and a lousy relationship with his father, he drinks and chases women. One night in Santa Monica, he meets the ultimate enabler, Dexter (Jack Black), and together the two men visit bars and parties until they're blackout drunk. And that's when they decide to drive home. Dexter slams John's car into a light pole at 90 miles an hour. The driver walks away with a few scratches; John ends up in the hospital under the care of a recovery therapist (Rooney Mara), with whom he eventually has a romance.
Later, buzzing about Portland at top speeds in a motorized wheelchair, John continues his self-destruction with alcohol, until he sees a hallucinated version of his mother (Mireille Enos), inspiring him to join a 12-step program. Rather than find a local Alcoholics Anonymous meeting hall, he joins a more exclusive group overseen by Donnie (Jonah Hill), a New Age millionaire who invites his sponsees, which he calls "piglets," into his lavish home. Rather than profess the Christian roots of A.A., Donnie tells everyone to label their own higher power. Donnie calls his Chucky, after the killer doll, while John names his after a particular part of Racquel Welch's anatomy. Other members of the group—played by Beth Ditto, Udo Kier, Kim Gordon, Mark Webber, and so on—contribute to John working through the steps, while Donnie remains his primary support system. Meanwhile, John discovers his love of drawing crude cartoons for local papers and magazines, often offending the readership by depicting lesbians, dwarves, Christians, people of color, and KKK members in a questionable or ironic light.
Carried along by Danny Elfman's saccharine score, the cumbersomely-titled film adopts a tangled configuration courtesy of Van Sant and his co-editor David Marks. Several structural and framing devices compete for control of the narrative. In addition to his appearance at "An evening with John Callahan," which the film returns to intermittently through voiceover, John is seen early on tipping over in his wheelchair on a sidewalk. He's helped up by some adolescent boys and, throughout the film, Van Sant returns to the boys investigating John's cartoons, representing a sort of progression as John explains the non-philosophy behind his work. Further, animated versions of his drawings are used as transitional devices. Van Sant and Marks also incorporate vertical and horizontal transitions from shot to shot, as if moving from one panel of a comic book to the next, which is a strange choice since John's cartoons were single-image drawings. All of these formal choices, scattered throughout at random, create unclear senses of chronology and dramaturgy that are clarified only by clues to a given scene's period, such as the appearance of John's wheelchair or later mustache, or the reference to the 1988 film Child's Play.
But Don't Worry, He Won't Get Far on Foot is more about the performances than a traditional linear narrative. What's more, the drama and grim humor remain centered on John's fight with alcoholism, while the film has almost nothing to do with the drawings for which he became famous. Viewers of HBO's recent documentary Robin Williams: Come Inside My Mind will recognize what an excellent role John Callahan would have been for Williams, given their shared history of substance abuse. Much like Williams' own battle with drugs and alcohol, John's struggle never ends. Along with a physical commitment to the role, Phoenix is excellent at portraying his character's most debased lows through erratic behavior, as well as his morbid sense of humor that develops after the crash. Hill, looking thinner than ever, offers a nuanced performance full of sensitivity and sarcasm.
Van Sant ends his film with the audience of "An evening with John Callahan" giving John an ovation, suggesting that John accomplished or completed something, as opposed to living out the remainder of his life in a continuous fight with the disease, until his death in 2010. However, no one receives applause and is suddenly cured of alcoholism. Even while acknowledging this within one of John's raw conversations with Donnie (the best parts of the film), Van Sant turns Don't Worry, He Won't Get Far on Foot into an unnecessary triumph over adversity, giving the impression that John gets his act together and never has to struggle again. Dramatically and structurally, the film doesn't quite know how to feel about John's story, and while presenting them in confusing visual terms, it leaves the result admirable for its committed performances, but also something of a mess.