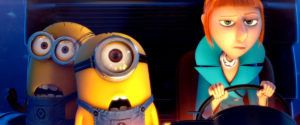 Despicable Me 2
1.5 Stars
Director

Cast

Steve Carell

,

Kristen Wiig

,

Benjamin Bratt

,

Russell Brand

,

Steve Coogan

,

Miranda Cosgrove

,

Elsie Kate Fisher

Rated

PG

Runtime

98 min.

Release Date

07/03/2013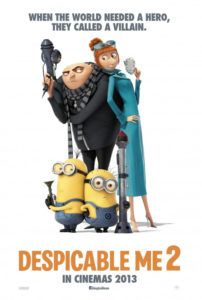 Having made Universal Studios and Illumination Entertainment upwards of $540 million at the worldwide box office, Despicable Me became an unexpected hit and immediate family favorite. The first of two CG animated releases in 2010 about a goodhearted supervillain who was never really evil to begin with (Megamind was the other), the movie featured Steve Carell voicing a stereotypical Eastern European-accented baddie named Gru. A bald, hunching wannabe hipster (he said things like "chillax"), Gru plotted to steal the Moon, but his scheme was left at the wayside when he chose to adopt three little girls instead. The movie's forgettable, paper-thin storytelling and reliance on low-brow humor became signatures of Illumination's subsequent efforts (Hop and The Lorax). Nevertheless, the product made money. And so, how could the filmmakers resist making a sequel, no matter how unnecessary it was to the story and characters?
Despicable Me 2 occupies every trademark associated with an animated sequel. A duller story contains familiar elements from its predecessor, repeated with less creativity and more reliance on the audience's hunger for name-brand recognition. After all, there's no point in trying for something unique or even inspired if patrons will flock to theaters at the height of summer to busy their children with 98-minutes of 3-D cartoonery. Accordingly, everything about this sequel feels lackadaisically assembled. Directors Pierre Coffin and Chris Renaud, working from a script by Ken Daurio and Cinco Paul, replicate their silly brand of humor and depend mostly on Gru's yellow henchmen, the Minions, to drive the comedy. This means much of the dialogue is jabbered by Coffin and Renaud—themselves the voices of the Minions—as they chatter their munchkin-pitched gibberish, much to the kiddies' delight.
Picking up where the original left off, the sequel finds Gru acting as a single father to his three daughters of decreasing age: the teenaged Margo (Miranda Cosgrove), the ninja-obsessed Edith (Dana Gaier), and the little cutie-pie Agnes (Elsie Fisher). (NOTE: The character Margo is concerning, as Despicable Me 2 presents her as "cool" and modern, except she rarely looks up from her cell phone texts to join the movie, save for when a dead-faced teenage boy enters the scene. If we're going into an era where movie characters will text their way through their roles, then this is one movie critic who's finding another pastime. Watching friends and family text their way through dinner conversation is bad enough; Illumination Entertainment has made moviegoers PAY for that irritation. Of course, there's a streak of ironic humor embedded into Margo, but the children watching may not interpret her this way and instead follow her lead as the coolest of Gru's kids. Forget sex, drugs, and violence in cinema—this sequel should be rated R for texting.)
Anyway, Gru has given up his once-evil ways, and his elaborate underground lair has been reformatted into a jelly and jam production line. His resident mad scientist Dr. Nefarious (Russell Brand) spends his time perfecting his awful jelly recipe and toying with fart guns, while his rambunctious (i.e. annoying) Minions facilitate everything from the manufacturing of preserves to household domestic duties. One day, Gru is all but kidnapped by the Anti-Villain League (AVL), headed by Silas Ramsbottom (Steve Coogan), and asked to use his once-evil instincts to locate the villain responsible for stealing a dangerous chemical compound. Gru teams with AVL agent Lucy Wilde (Kristen Wiig, voicing a lanky character who looks like a combination of Olive Oyl and Wiig herself) to find the suspected baddie, who has, for some reason or another, chosen a local shopping mall as their hideout. Meanwhile, Gru's children want a mother and try to set him up on a date, but of course, Lucy Wilde is Gru's obvious match from the start.
After the fourth or fifth fart joke and one literal moment of bathroom humor, the adult viewer begins to sigh in boredom. But any children watching will cackle wildly. The story slogs onward as Gru suspects the culprit is the mall's Mexican restaurant owner Eduardo (Benjamin Bratt), a believed-dead villain named El Macho. This somewhat offensive Hispanic stereotype was supposed to be voiced by Al Pacino, who probably departed the project when he realized the voice role was too over-the-top even for Tony Montana. Speaking of over-the-top and borderline politically incorrect: the voicework for the mall's wig peddler and would-be Asian, Floyd Eagle-san, is performed by Ken Jeong, whose fifteen minutes can't end soon enough. Along with the aforementioned texting issue, parents are strongly cautioned to preview Despicable Me 2 before their offspring to determine if they want their children to grow up texting racist fart jokes.
Illumination's animation has improved in the three years since Despicable Me, but the improvements are marginal and almost transparent when paired with the sequel's unimaginative story. When the obnoxious, emotionally pointless Minions are transformed into jittery, raging, purple tufts of hair by the villain, it's evident the animators excel in hair realism, a quality Pixar mastered in 2001. That's where audiences should place Illumination, about a decade behind the likes of Pixar in terms of animation; however, they have eons of progress to make before they can match the sophistication of Pixar's storytelling. As Coffin and Renaud employ the usual helping of pop-culture references and random dance sequences, they use only predictable elements delivered in ordinary ways. Everything is easily consumable and unchallenging, from the plot to the look of these boring, cartoony characters. Nothing is surprising about Despicable Me 2, but then there's something very unsurprising about that.