Director

Cast

Ben Affleck

,

Ana de Armas

,

Tracy Letts

,

Lil Rel Howery

,

Dash Mihok

,

Finn Wittrock

,

Kristen Connolly

,

Jacob Elordi

,

Rachel Blanchard

,

Grace Jenkins

Rated

R

Runtime

115 min.

Release Date

03/18/2022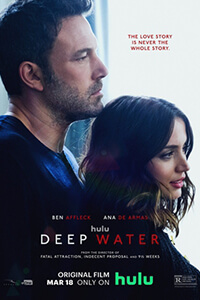 Adrian Lyne's Deep Water marks the return of the repressed, sort of. Lyne directing an R-rated erotic thriller that cost $50 million may not have been all that surprising in the 1990s or early 2000s, but such movies rarely get made anymore. Best known for Fatal Attraction (1989), the British filmmaker's string of films such as 9 ½ Weeks (1986) and Indecent Proposal (1993) borrowed from French auteur Claude Chabrol, given their interest in how lust affects marriages and leads to jealousy, anger, even murder. Lyne hasn't made a movie since 2002's Unfaithful, and he returns with the kind of adult drama that belongs on an endangered species list. Since then, the culture has gone through waves, first stigmatizing sex in film, and now out of nostalgia and reassessment, it seems to clamor for these tawdry tales once more. However, Lyne doesn't quite deliver the lusty affair that Deep Water appears to be; rather, it's an equivocal account of a messed-up relationship. 
Perhaps that's fitting, given its source. Based on Patricia Highsmith's 1957 novel of the same name, the screenplay by Zach Helm and Sam Levinson follows the author's basic story structure. Highsmith, who also wrote the book from which Alfred Hitchcock made Strangers on a Train (1951), masterfully crafted twisted stories about unconventional morality. However, the screen version of Deep Water shifts at the end to become something more ambiguous than Highsmith wrote. The treatment reminded me of how filmmaker Anthony Minghella handled another Highsmith book, The Talented Mr. Ripley (1999), by creating profound empathy for a character usually portrayed as a psychopath. Similarly, Lyne seems more interested in the relationship dynamics between his two central characters than concocting a plausible thriller. 
Ben Affleck plays Vic Van Allen, a retired tech genius who has settled in New Orleans with his wife Melinda (Ana de Armas) and their precocious young daughter Trixie (Grace Jenkins). Affleck is excellent as a controlled and internalized character, while de Armas runs amuck as his uninhibited spouse. Always drinking and shamelessly flirting with other men at various get-togethers—this couple seems to do nothing else but attend rich people parties—Melinda raises alarms within Vic's friend group (Lil Rel Howery, Dash Mihok) about her faithfulness. Appearing defeated, Vic cooly hints at their open marriage: "I accept her and love her for who she is." But his evident frustration suggests he's none too happy about her behavior. While Marco Beltrami's restrained score and the echoing footsteps on their wood floors accentuate the hollow spaces between them, we wonder why they stay together. Maybe for their daughter. Maybe they're into cuckolding. Maybe it's a twisted game they play, occasionally resolved by (infrequent) make-up sex. Little about the screenplay provides answers to their motivations.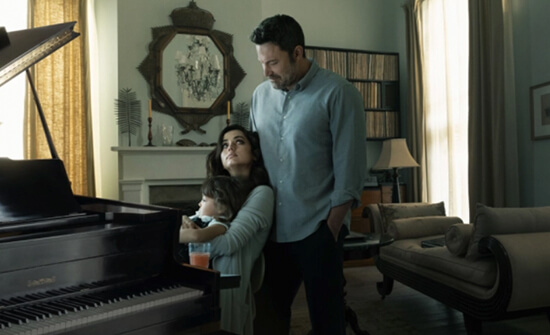 It's difficult to imagine how these two people found each other and fell in love, and Deep Water doesn't explore it. Instead, Vic's stoic exterior, while sympathetic for his persistent public humiliation from Melinda's behavior, becomes suspect. When Vic delivers a deadpan joke that he killed the last man with whom Melinda cheated, a man who is later found dead, people start to whisper and wonder whether Vic was kidding—especially resident crime writer Don Wilson (Tracy Letts). In short order, Vic is the prime suspect when another of Melinda's beaus dies at a pool party. Although Melinda isn't worried about her safety ("I'm the thing you killed for," she says), she teams with Don to have her husband followed. At the same time, Vic follows Melinda and her various lovers. Given the couple's mutual mistrust, the viewer wonders why these two don't stop spying on each other and get a divorce already. 
For the first half of Deep Water, it's worth wondering how much of the story takes place in Vic's head. Lyne and his two editors cut to flashes in Vic's mind, revealing how he imagines Melinda cheating on him and fantasizes about killing her inamoratos. Later, when Vic's actions become more apparent, plenty remains unclarified. "You're a weird guy," Don tells him. Indeed, Vic is strange, and he knows it. Take his snail collection, which he keeps in a greenhouse-like environment with aquariums and misters. Snails, Vic explains, must be starved before they are eaten; otherwise, they're poisonous. Not that Vic eats them—he seems to adore them for reasons never fully explained. Perhaps he enjoys controlling their quiet, simple lives next to the chaos of his marriage. Or maybe it's another of the many textured details Lyne includes, which don't propel the plot but add fascinating dimension. 
The mystery about these characters proves open-ended and the erotic thriller elements feel underserviced, which will doubtlessly frustrate some viewers expecting a typical sexy Lyne film. And if the climax feels clunky, the final shot leaves us with a stirring image that raises even more unanswered questions—albeit in an intriguing way that echoes the marriage in Phantom Thread (2017). Deep Water's flaws and loose ends notwithstanding, there's a particular pleasure in watching Affleck and de Armas act out this dumpster fire of a marriage, no matter how implausible it becomes. Affleck is perfect here, deserving comparisons to his turn in 2014's Gone Girl (though, the entire cast might be outshined by the nonsensical inclusion of Jenkins singing "You Make Me Feel Like Dancin'" over the end credits). Somehow, Lyne manages to direct convincing scenes, often beautifully shot by Eigil Bryld, and render the preposterous scenario into a compelling drama best enjoyed with a glass of wine or two.