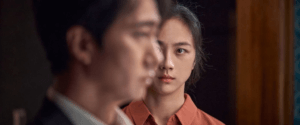 Patreon Exclusive
Decision to Leave
3.5 Stars
Director

Cast

Rated

R

Runtime

138 min.

Release Date

06/29/2022
A recurring motif in Decision to Leave, the film that earned Park Chan-wook the 2022 Best Director award at the Cannes Film Festival, involves language translation on a smartphone app. In Park's restrained romance, Hae-joon (Park Hae-il), an insomniac police detective, investigates Seo-rae (Tang Wei), a widow, after her husband falls to his death in a supposed solo rock-climbing accident. Seo-rae is a Chinese immigrant who admits that her late husband beat her; she also admits that her Korean is "inadequate," though no one else seems to think so. Regardless, when recounting difficult memories about how she was smuggled into the country or details about her husband, she uses a translation app that takes out the emotion of her statements and renders them in flat, artificial tones. The characters in Decision to Leave often use technology, among other methods, to put layers between them and others. While the film is at once a classical detective yarn and a tale of forbidden love, it's also about the boundaries people deploy and the actions they take to protect themselves and others. Although technology is supposed to bring people together, it's another barrier that creates a disconnect—and it's symptomatic of our unconscious desire to yearn for something we cannot have.
Park made a name for himself with extreme cinema in his "Vengeance Trilogy" (including Sympathy for Mr. Vengeance, Oldboy, and Lady Vengeance), his novel take on vampires in Thirst (2009), and 2016's thrilling con-artist romance The Handmaiden. Although the South Korean auteur's work is often steeped in bloody violence, forbidden sex, and familiar genres, he never adheres to established conventions. Decision to Leave is no different, except its temperament is much softer than his audience may expect; it's refreshingly light, even playful in a manner not seen in his work since 2006's I'm a Cyborg, But That's OK. The screenplay by Park and Chung Seo-kyung also recalls several classical films about obsessed detectives and forbidden romances; he alludes to Alfred Hitchcock's Vertigo (1958) and David Lean's Brief Encounter (1945). But Park's treatment of these genres and character tropes revives them in a tricky way that keeps the viewer at an intentional distance, trying to see clearly through the unspoken language of desire between Hae-joon and Seo-rae.
---
The full review is currently posted on Patreon. Join Deep Focus Review's Patron community, and you'll receive exclusive access to this review and many others writings published on Patreon first.
Patrons also get access to:
• Exclusive weekly blog posts
• Streaming recommendations every Friday
• Polls to pick the movies reviewed on Deep Focus Review and Patreon
• Pick your own "Reader's Choice" review (at the Screenwriter tier or higher)
• Polls that decide the next entry in The Definitives