Director

Cast

Rated

PG-13

Runtime

88 min.

Release Date

04/09/2010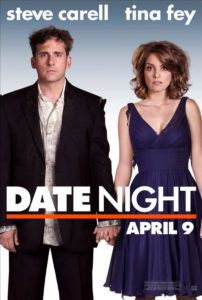 What works about Date Night works because of smart acting from believable actors. Basic elements combine to give us characters we care about, even if the situations they're in become increasingly absurd and unbelievable. How ridiculously the scenario unfolds is part of the joy of this movie (though it's also a major downfall). But it all comes back to the characters. However wacky and stupid this screwball comedy might get in the last twenty minutes, the movie remains about watching two intensely talented comedians improvising lines and displaying an incredible amount of chemistry onscreen.
The comedians at work here are Tina Fey and Steve Carell of television's 30 Rock and The Office fame, respectively. They're perfectly cast as the endearing New Jersey couple Claire and Phil Foster. She's a real estate agent struggling in our current economy, he's a tax accountant, and together they have two children in suburbia. Despite the pressures of their overbooked lives, they try to keep their passion alive not through an active sex life, but by going out to dinner at a local chain restaurant and poking fun at other customers. It's a funny and believable game they play where they act out what other patrons might be saying—something we've all done.
After learning that friends of theirs are getting a divorce because their relationship has become a stale routine, to avoid falling into the same trap, the Fosters opt to introduce a spontaneous element into their relationship. Phil impulsively takes Claire to a posh New York City restaurant where, on a Friday night at 7:30 p.m., he expects to get a table without a reservation. Several minutes of waiting at the bar inspires Phil to take the reservation of "The Tripplehorns" who haven't shown up for their table. Turns out the Tripplehorns have dangerous friends because two seedy hoodlums (Jimmi Simpson and Common) escort the Fosters, who believe they're being kicked out for taking someone else's reservation, into an alleyway where they're questioned at gunpoint about something to do with blackmail and a flash drive.
A chase ensues, and once they escape, the naïve couple learns the two hoods are actually cops. They take refuge with Claire's former client, a security expert played by an ever-shirtless Mark Wahlberg, who promises to help them find the Tripplehorns and resolve their trouble. In addition to Wahlberg, the supporting cast is filled with colorful characters that keep the pace moving. James Franco and Mila Kunis play the druggie Tripplehorns, Taraji P. Henson plays a good cop who's looking for the Fosters, Ray Liotta plays an NYC crime boss, and William Fichtner is an over-the-top district attorney with questionable tastes. Throughout their interactions with this assorted lot, Claire and Phil make their relationship stronger while managing to be consistently amusing.
Things become rather dull when the movie resorts to car chases over comedy, mostly because director Shawn Levy (of the Night at the Museum franchise) doesn't handle action very well. This comedy works best when it sticks to Fey and Carell, who, both being Second City troupe veterans, improvised on Josh Klausner's script during filming, as evident in the obligatory outtakes during the end credits. They play off each other so well, it's hard to believe Fey and Carell haven't acted together before. Both have their comic timing and delivery down pat, leaving the audience to soak up the resultant naivety gags from this fish-out-of-water situation.
Fey and Carell remain sweet and likeable. They're placed in a movie that doesn't defy any rules, isn't brilliant by any stretch of the imagination, but is funny and charming, and even romantic. The third-act resolution gets too big for the movie's britches, but it recovers its credibility by making the overblown conspiracy finale secondary to the marriage stability of this couple from New Jersey. Our protagonists are never lost in the shuffle, and we feel like the most important conflict to overcome is any problems they might have at home. You'll leave Date Night having laughed a lot and wanting to hold hands with your loved one. It's the kind of pleasant, casual viewing experience that doesn't require too much attention and leaves you entertained to a satisfying degree in the end. For your own weekend date night, that's enough.