Director

Cast

Rated

R

Runtime

114 min.

Release Date

08/07/2015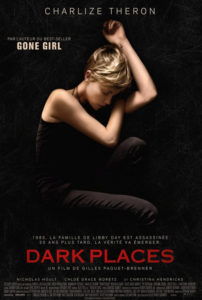 After author Gillian Flynn's Gone Girl hit screens last year courtesy of virtuoso director David Fincher, the adaptation of her second novel must be greeted with excitement. Dark Places considers many similar themes to her previous adaptation, including a murder investigation, a plot split between two timelines, and troubled characters. But French director Gilles Paquet-Brenner (Sarah's Key, 2010), who also wrote the screenplay, applies an inelegant hand to the material, turning this slow-burning mystery into a dull, just-plain-slow moving whodunit. Produced by star Charlize Theron, who plays the lost soul protagonist, this film is full of squandered potential and talented actors put to poor use. It all proceeds with a shrug-worthy pace, keeping us mildly interested in what happens, yet instantly dismissive when it's over.
The film bounces back-and-forth between scenes in 1985 and the present day, both in Kansas. In 1985, the farmhouse family of young Libby Day (Sterling Jerins) struggles to keep afloat. Her single mother (Christina Hendricks, in a role similar to her turn in Lost River) doesn't earn enough to provide for Libby, her two sisters, and her damaged-goods brother Ben (Tye Sheridan, from Mud). Ben spends his time with his deranged, pregnant girlfriend Diondra (Chloe Grace Moretz, occasionally over-the-top), who manipulates him to do every manner of horrible things, including experimentation with drugs and Satanism for recreational rebellion. When he's suddenly accused of touching underage girls in an after-school volunteer program, Ben and Diondra decide to run. That night, Libby's mother and two sisters are murdered. Though she didn't see it happen, prosecutors easily convince Libby to testify against Ben.
All the while cutting to the present, the film explores Libby's adult life. Now played by Theron, she's a wreck and needs money, so she reluctantly agrees to help out a "Kill Club" headed by affable oddball Lyle (Nicholas Hoult), a group of true-crime enthusiasts determined to free Ben from his prison sentence. The concrete evidence against Ben remains thin, and Libby seems to know less about her own family's murder than Lyle's group. Working through clues and buried memories, Libby seeks out her estranged father Runner (Sean Bridgers), a drunk who lives on a toxic waste dump, as well as one of the girls who claimed Ben touched her, now a stripper (Drea de Matteo). Stereotypes about white-trash, Kansas-bound lowlifes aside, the film recalls a lot of other material about murders in the South. In Cold Blood comes to mind.
Besides an apartment that shows evidence of a hoarder and the perpetually disturbed look on Theron's face, there's little exploration of Libby's trauma beyond exposition. Flynn's character in the book was oddly short, physically scarred from frostbite, and an alcoholic. By contrast, Theron towers over six feet, has perfect skin, no visible scars, and doesn't drink much throughout the film. This is not to discredit Theron—this critic finds her to be one of today's best working performers. After all, she shed her former model physique for roles in Monster and Mad Max: Fury Road. However, Paquet-Brenner and Theron under-deliver in terms of visible indications of Libby's trauma, leaving her to seem miscast. Nevertheless, Theron's harsh reactions when people come close or touch her demonstrate a troubled mind.
There's far more wrong with Dark Places than Theron's presence, which isn't so much wrong as not ideal. Paquet-Brenner's heavy-handed direction, the oppressively dark lensing of Barry Ackroyd, and Gregory Tripi's heavy scoring weigh on the material, making a potentially complex thriller seem more attuned to an Ashley Judd vehicle circa 1998 (think Kiss the Girls or Double Jeopardy). But the narrative of Dark Places has more in common with HBO's first season of True Detective or Fincher's adaptation of The Girl with the Dragon Tattoo. Speaking of which, had Fincher directed this film along with his recent scorers Trent Reznor and Atticus Ross, no doubt the tone and delivery would be far more appropriate for Flynn's narrative. Instead, the material plays like a common potboiler mystery with predictable twists and turns. That such weighty subject matter has been reduced to such banality is a tale of true crime itself.