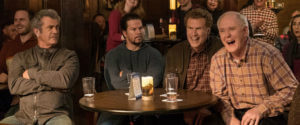 Daddy's Home Two
0.5 Star
Director

Cast

Will Ferrell

,

Mark Wahlberg

,

Mel Gibson

,

John Lithgow

,

Linda Cardellini

,

John Cena

,

Scarlett Estevez

,

Alessandra Ambrosio

,

Owen Vacarro

,

Leah Procito

Rated

PG-13

Runtime

98 min.

Release Date

11/03/2017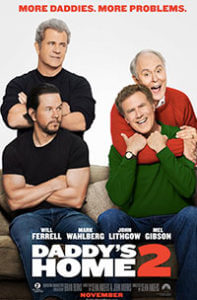 Following the same trajectory as Meet the Parents and its sequels, Daddy's Home Two is an escalation comedy about complicated family dynamics that, by rehashing the same basic path of the 2015 original, distinguishes itself only by throwing more family members at the screen. The gawky comic presence of Will Ferrell once again teams with macho straight-man Mark Wahlberg, though Martin and Lewis these two are not. Ferrell plays Brad, a fussy and annoyingly polite husband and father; Wahlberg plays Dusty, a bad-boy raised in the school of hard knocks trying to support his children. Since the first movie, they have joined forces to form a "co-dad" alliance, despite their aggressive competitive streak to win the favor of their children and stepchildren. Arriving to upset their new dual-family unity and remind them why they initially didn't get along, Dusty's womanizing absent father Kurt (Mel Gibson) and Brad's exceedingly loving and supportive father Don (John Lithgow) join them for the Christmas holiday. The sequel, once again directed by Sean Anders and curiously not named "Granddaddy's Home," proceeds with a series of clumsy slapstick gags, exaggerated conflicts, and formulaic holiday comedy nonsense.
Cited in the opening credits under the non-numeric title Daddy's Home Two, the movie forces the viewer to wonder if there was ever a script and if the performers ad-libbed every scene. The average Hollywood comedy today relies far too much on improvisation. Rather than starting with a strong script and improving upon it by riffing, comedy filmmakers today begin with a lousy script. Their plan to enhance the material does not involve rewrites; instead, the problem is addressed by hiring a cast of talented actors, each versed in improvisational humor. Producer-writer-director Judd Apatow perfected this approach with his string of hilarious if overlong serio-comedies (The 40-Year-Old Virgin, Forgetting Sarah Marshall, Funny People, etc.). But he also remains the exception to the new comedy rule, as Apatow generally begins with a strong screenplay. Most comedies today prove to be drivel because they rely on improvisation rather than good writing, and due to the continued success of such films, comedy screenwriters remain undervalued or altogether unneeded. The script for Daddy's Home Two (credited to Anders, Brian Burns, and John Morris) is not a script at all; it's a framework in which the actors were expected to build on-set. That hollow starting point is evident throughout.
When Don and Kurt arrive, Kurt quickly arranges to move the holiday festivities to an impossibly elaborate, picturesque chalet on a mountain (via a shameless plug for Airbnb). Once there, the grandfathers view each other in the same way as Brad and Dusty first did, as competition for the children's affection. Don, played by Lithgow in his delightful boob mode (as opposed to his other mode, the serial killer from Dexter and many Brian De Palma films), is a chatterbox with cornball jokes and a dull story for every occasion. Kurt, a leather-skinned former space shuttle pilot, tells stories about dead hookers and brags about his manliness. From the outset, Brad becomes a punching bag, subject to beatings, drenchings, and all-around embarrassment for our comic pleasure. Dusty feels apprehensive about his irresponsible father being around the children, while also maintaining a father-son competitiveness. The children receive a slew of bad advice from these male role models: Kurt tries to teach Megan (Scarlett Estevez) to shoot a firearm; Brad and Dusty try to teach Dylan (Owen Vacarro) how to approach girls, and the former suggests getting into the "friend zone" while the latter, reinforced by some sexist advice from Kurt, proposes a more aggressive approach (ill-advised in our present arena of exposing sexual misconduct).
Meanwhile, Hollywood has never been good about representing marginalized groups, and so it's surprising to see the underrepresented white upper-middle-class patriarchal Christian family receive a rare showcase here. Indeed, the excessive privilege on display begins to wear on the viewer around the time Brad accidentally cuts down a cell phone tower instead of a Christmas tree, and the phone company writes him a $20,000 bill. Most of us would be tapped out by this, broke, if not in debt for years to come. Not Brad and Dusty. Their deeply unsuitable reactions suggest only modest annoyance over receiving a bill of this size just a day or so before Christmas. Also of no concern are the womenfolk. Brad's wife Sara (Linda Cardellini) and Dusty's wife Karen (Alessandra Ambrósio) have been relegated to nagging or altogether absent background figures. There's not one scene showing Brad and Sara relating to one another or engaging romantically, or even just talking as a couple; Dusty and Karen barely share the screen. The women are such non-entities that it becomes a distraction. Granted, the movie isn't called "Mommy's Home," but a family is more than just the father's clumsy attempts at leadership.
Besides being a reminder that the Hollywood comedy script is virtually dead and white Christian patriarchies dominate Hollywood output, Daddy's Home Two also happens to be an abysmal Christmas movie. A scene in which Brad ruins the decorations outside with a snowblower, or the third act rendition of "Do They Know It's Christmas?" featuring the abrasive presence of John Cena, bring only "Christmas jeer" (to quote the Clown Prince of Crime). The entire experience is miserable and borderline offensive in its lack of laughs, making this one of the laziest efforts for both Ferrell and Wahlberg. The single memorable scene involves a child turning up the heat in the rented lodge. One by one, the father figures emerge from their bedroom in a sweat, pronouncing, as fathers do, how the thermostat is a sacred device never to be touched by children. Besides this amusing-because-it's-true moment, the cringe-worthy and markedly unfunny movie contains little heart or affection for its characters, and even less respect for its audience.