Director

Cast

Rated

R

Runtime

114 min.

Release Date

02/27/2009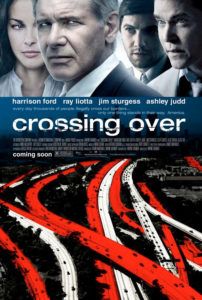 In Crossing Over, writer-director Wayne Kramer of The Cooler fame adopts an established mosaic composition to showcase several (perhaps too many) compelling vignettes, each rooted in the same theme. Shyly condemning the cold bureaucracy of the American immigration system in favor of a more humanist "beyond borders" stance, this string of loosely interwoven stories offers much by way of high drama. Though not deserving awards consideration, it deserves at least a casual viewing, even if the producers could care less if you saw it or not.
The mosaic begins with immigration officer-cum-humanitarian Max Brogan (Harrison Ford), who endures sleepless nights thinking about the families he's breaking up on the job. When his team raids a clothing factory packed with illegal aliens from Mexico, Brogan finds Mireya (Alice Braga), and though she's taken away, he promises to make sure her young boy is safely placed back across the border with her parents. Meanwhile, other threads take over. Brogan's partner, Hamid (Cliff Curtis), struggles to control his wild sister Zahra (Melody Khazae) and therein retain The Honor of the Family. Taslima (Summer Bishil), a teenage Muslim, makes a passionate speech in school about understanding the motives of the 9/11 terrorists and their "need to be heard," and the next day the FBI is knocking on her door asking questions about her motives.
That's just the tip of the iceberg. After a chance encounter, green card administrator Frankel (Ray Liotta) blackmails Australian wannabe actress Claire (Alice Eve) for her yet-unapproved green card, asking for on-call motel sex as payment. Claire's on-again-off-again boyfriend Gavin (Jim Sturgess) wants a green card too, and he's none-too-pleased about Claire's complicity in Frankel's proposal. Despite being an atheist, Gavin masquerades as an orthodox Jew to earn his permanent residence, whoring out his convictions the way Claire does her body. And Frankel's wife, immigration defense attorney Denise (Ashley Judd), considers adopting an abandoned African girl whose mother is dying of AIDS; at the same time she defends Taslima against the paranoid judgment of the FBI anti-terrorist force.
Painted here are the broad strokes of a mosaic film with too many pieces. More characters emerge than mentioned above, and they become more and more entangled in each other's stories to melodramatic extremes. The actors, particularly Ford and Curtis and Bishil, do some impressive work with the material in their brief scenes, but the overall result falls flat. Other cinematic mosaics rely on The Wonder of Coincidence to explain away the intricacies of how their characters connect to one another, creating a detailed weave in the process. Robert Altman established the style with Nashville and Short Cuts, P.T. Anderson kept it alive with Boogie Nights and Magnolia, and most recently Paul Haggis revived it with the overrated Crash (2003). But the stories in this film don't quite intermingle as well as they should.
Best compared to the aforementioned Crash, or perhaps Babel, Kramer's Crossing Over chooses its subject and ruminates from there. Strangely, the human drama feels detached. Kramer tackles his chosen mosaic style matter-of-factly, without brooding too much on how his characters connect, as though he uses their superficial correlations as an excuse to make a movie. This error is his greatest blunder. Since some of the stories within are more interesting than others, the less interesting ones might've been elevated had they maintained some vital association with the rest. But instead, a few plotlines float on the edge of the central stories, feeling aloof and apart from the bigger picture. Had they been tied together tighter, or had Kramer narrowed his scope to only a few precise storylines, his film could've gone beyond mere anecdotes about immigration and become a solid argument.
Only the Weinstein brothers could take such a marketable product and dump it the way they have, just as they did with recent examples like Outlander and Killshot. Even though the film stars a whole slew of top-notch talent including bankable mega-star Harrison Ford, concerns the political hot topic of immigration, and boasts similarities to recent Oscar-winning fare, The Weinstein Company barely released the film into theaters. Home video has now become its wide release. And while the film has its flaws, certainly it deserved better than to find its home on the shelves of Blockbuster.