Director

Cast

Rated

PG-13

Runtime

132 min.

Release Date

11/25/2015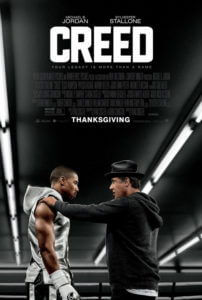 Appearing as his iconic character Rocky Balboa for the first time in a film he didn't help write, Sylvester Stallone passes the Philadelphia boxing torch to Michael B. Jordon in Creed. Director Ryan Coogler reteams with his up-and-coming Fruitvale Station (2013) star for a script he wrote with Aaron Covington, essentially creating a sequel-spinoff-reboot thing that works well enough. Though a smart and superbly shot film, the story structure follows a familiar and predictable trajectory for anyone acquainted with Stallone's original Rocky from 1976. Creed's few surprises and conventional boxing movie storytelling give way to one helluva performance by Stallone, his character now aged and perhaps a little punch drunk, yet still a tender slab of meat with a good heart. Audiences can expect training montages galore, in-film commentary by ringside announcers (brought to you by HBO, an obvious sponsor), and a rousing title bout in the finale, even if the combat itself is choreographed with the series' aversion to authentic looking title fights.
With his seventies right around the corner, Stallone has played Balboa six times before but never in a supporting role. He adopts Burgess Meredith's grizzled trainer role from the original, though maybe he's learned a thing or two about food safety from being a restaurant owner (a Philly bar & grill called "Adrian's"), because, fortunately, he doesn't ask Jordon's character to punch beef carcasses. The film opens in a 1998 flashback that finds Mary Anne Creed (Phylicia Rashad), widow of former heavyweight champion Apollo Creed, rescuing the illegitimate son of her late husband from the juvie system. For the next decade-and-a-half, Adonis Creed (Jordan), who goes by the less recognizable moniker Donny Johnson, lives with his ostensible stepmom in the Creed mansion, a privileged youth uninterested in the office jobs Mary Anne arranges for him. But on the weekends, Adonis heads to Tijuana for underground pickup fights.
Determined to become a fighter, Adonis seeks out his father's former nemesis, Rocky, and pesters him until the retired champ agrees to be his trainer. Since the events in Rocky Balboa (2006, and arguably the best entry of the series), Rocky has daily visits to Adrian's grave and has dropped out of the boxing world altogether. That's good news for Adonis, who wants to make it on his own esteem and out of the public eye, not resting on his father's name. Of course, given the film's title, we can gather he eventually takes on the name Creed by the final bout—against British light-heavyweight champion "Pretty" Ricky Conlan (Anthony Bellew), who only agrees to fight the inexperienced Adonis in Liverpool's Goodison Park because he wants a big payday before heading into a six-year prison sentence. Nevertheless, it's Adonis' earlier, first professional fight against a local Philly fighter that proves more rousing, as it includes an impressive extended tracking shot that circles around its fighters and captures all the action like we're right there in the ring.
Outside the ring, a down-to-earth romance with his beautiful neighbor Bianca (Tessa Thompson), a musician with progressive hearing loss, blossoms in natural time and represents the most affecting part of the film. Rocky, too, has some medical troubles after he nearly gives up the fight when he receives a cancer diagnosis (resulting in a chemotherapy/fight training montage). By Adonis training and entering the ring opposite Conlan, he inspires those around him to keep fighting because, win or lose, never giving up the fight is the most important thing—at least, that's the transparent message of the film. But rooting for Adonis as an underdog isn't as inspiring as Rocky's underdog arc; after all, for much of his youth, Adonis grew up privileged (in an early training sequence, he bets his own Mustang that no one can take him down). He's an underdog only because he's inexperienced; everywhere else, he's a rich kid who chooses to live in a small apartment in Philly. Granted, win or lose, Adonis works out his absent father issues by the finale—with inspirational help from a local dirtbike and four-wheeling street gang in a random, unintentionally funny scene.
Maryse Alberti's lensing captures some impressive fight action, including an obligatory slow-mo knockdown. But as suggested above, the most visually impressive fight occurs earlier in the proceedings, leaving the final bout to seem underwhelming. It's a solid effort by Coogler, yet Creed doesn't create a layered enough protagonist to justify a Stallone-less sequel. To be sure, Stallone offers his first real slice of acting since, well, his last Rocky movie. He returns with incredible ease as the lumbering, good-natured guy who's immediately likable. Jordan's fiery, temperamental performance is less dimensional by comparison, leaving the emotional core of the story in Stallone's hands. But the eventually named Creed doesn't carry the film on his shoulders, in part because the writers have jealously clung to the original's general plotline, resulting in a story saddled by its predictability. Had this been a Rocky-less remake, Creed would have inspired a more favorable response; as is, the film feels overly dependent on its source.