Director

Cast

Rated

R

Runtime

87 min.

Release Date

07/12/2019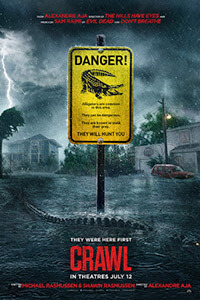 In Steven Spielberg's The Lost World: Jurassic Park, there's an absurd subplot about Kelly (Vanessa Lee Chester), the teen daughter of Ian Malcolm (Jeff Goldblum), and how she uses her undervalued athleticism to save the day. Early in the movie, Kelly tells her father that she was cut from the high school gymnastics team. More than an hour later, when velociraptors have cornered a few survivors in a warehouse in the abandoned theme park, Kelly proceeds to use some exposed pipes as parallel bars. She swings on the pipes like an Olympic medalist, kicks a dinosaur out of a window, and then lands in perfect form. Malcolm observes, "The school cut you from the team?" It's a laughable use of Chekhov's gun theory in one of Spielberg's worst films. And this basic narrative trajectory, about a girl whose underestimated talent at a competitive sport ultimately thwarts a giant reptile, is the entire dramatic arc of Crawl. 
Alexandre Aja directs another waterlogged creature feature after Piranha 3D (2010), this time with frenzied alligators attacking a Florida home during a Category 5 hurricane. It's an efficiently made, surprisingly entertaining journey into B-movie schlock, and Aja maintains slick control over the intense, largely situational movie for a mercifully fast 87 minutes. The setup entails Haley (Kaya Scodelario), a college student who ignores hurricane evacuation orders to search for her unresponsive father, Dave (Barry Pepper). She finds him injured and trapped in the crawl space under her childhood home, and soon she's trapped too, as two massive man-killing alligators have taken shelter amid the muddy undercarriage of the house. The title refers to how Haley must crawl through the mud on her hands and knees to out-maneuver the unrealistically hungry beasts. The claustrophobic scenario plays like a home invasion thriller with alligators. 
But the title seems incongruous given the themes instilled by screenwriters Michael and Shawn Rasmussen. Haley has been a lifelong competitive swimmer. Her entire youth has been defined by swim competitions, where her father was an enthusiastic coach who pushed her to be the "apex predator" in the pool. When the movie opens, her spot on the university swim team is in jeopardy because she's milliseconds slower than the competition, and she questions whether her life has been wasted pursuing her swimming dreams. And since she's estranged from her recently divorced parents, Dave hasn't been in her corner, cheering her to victory. Of course, after she's trapped in the flooding crawl space beneath the house with her father to encourage her, she puts her swimming skills to the test against the alligators. 
After the movie's midpoint, when the levees break and the action moves outside into the flooded streets, Haley relies on her aquatic abilities to evade the alligators and save her injured father. She's not quite Kevin Costner in Waterworld, but she's quick enough to avoid becoming a meal—though, she does sustain a few bites in the course of the movie, forcing us to wonder how she's able to swim so fast with a tourniquet on her leg. At any rate, the movie never establishes how fast the alligators can swim, therefore her victory in evading them, which is the height of her dramatic arc, is merely not getting eaten, as opposed to breaking the timed record she sought to reach earlier in the movie. Perhaps the lesson is that she's learned to swim to live, not live to swim. 
Fortunately, the eye-rollingly obvious themes about Haley finding the confidence to just keep swimming don't take away from the alligator action. Crawl, which would make more sense if it was named Swim, features a number of shocking deaths and gory displays. As Haley and her father are trapped in the house, the usual array of passers-by (police officers, looters) become victims of the growing number of alligators in the area. This begs the question: Why do the alligators keep hunting the humans? How many humans can an alligator eat before it's full? Crawl plays by the Jaws rulebook in that the reptiles seem to either have a personal vendetta against people in general, or they're just struggling with a binge eating disorder. 
Crawl promises something diverting on a weekend afternoon, in the way one hopes a movie about killer alligators attacking in the middle of a hurricane would be. Aja, a French director who followed his 2003 breakthrough High Tension with a series of well-made disappointments in Hollywood, has always been an interesting filmmaker willing to go to extremes. With Crawl, his efficient handling of the material, which has just the right blend of self-seriousness, effective scares, and lowbrow entertainment value, makes the movie better than it might be in another filmmaker's hands. See it on a sleepy afternoon. Or after midnight.