Director

Cast

Rated

Unrated

Runtime

104 min.

Release Date

03/29/2011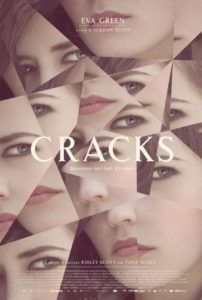 Aside from a title that may give too much away, Cracks is the first film by director and co-writer Jordan Scott, daughter of famed maestro Ridley (Blade Runner). From the novel by Sheila Kohler, the film was adapted by Scott and screenwriters Ben Court and Caroline Ip, who establish an austere atmosphere within an all-girl boarding school on the English countryside in the 1930s. Shot mostly in Ireland, the attractive film proves that without question Scott has adopted her father's visual approach, as this gorgeous presentation challenges his memorable debut with The Duellists from 1977. And while the understated beginning and middle are undone by a third act that feels perhaps too punctuated, this remains an impressive first feature.
Eva Green stars as the self-assured Ms. G, the liberal queen bee teacher for the best students of St. Mathilda's School, who together have formed a diving team that competes against no one. These young girls, all but abandoned by their unseen parents at the lakeside school, take lessons from strict instructors, and then escape to Ms. G's classroom, which offers another kind of lesson. She teaches "her girls" that desire is the most important drive in life, and that following desire will allow them to achieve freedom. She shares her nouveau fashion sense and fantastic stories about her many world travels, and the girls look up to her like a Dionysian goddess—particularly Di Radfield (Juno Temple), the team's captain and teacher's pet who feeds off her special attention from Ms. G.
But the girls' unanimous adoration of Ms. G, and Radfield, is threatened with the arrival of Fiamma Coronna (Maria Valverde), a young Spanish aristocrat whose departure from home was wrought with scandal. Fiamma's independence, poise, and intelligence both entices and intimidates her teacher and fellow students. Radfield resents her for drawing away the teacher's attentions, whereas Ms. G is consumed by the new girl's experience and ambivalence toward seeking approval. As the story progresses, Fiamma begins to see through Ms. G's tall tales. We learn the teacher was also once a student at the school, and her sometimes dubious, frenzy-eyed behavior may be a sign of her own chequered past. And so, Fiamma proves to be far too smart and beautiful for her own good, leading to a melodramatic climax that forces this quiet little drama into Lord of the Flies country.
There are also certain similarities to The Prime of Miss Jean Brodie, or more recent works like Heavenly Creatures and Notes on a Scandal, as the theme of obsession between teacher and students contains a burgeoning degree of sexuality. Green's performance as the teacher who commands her class with a façade of authority informs the entire setting, which is marked by secrets. When Ms. G ventures to the mainland by ferry, she mutters to herself the whole way and receives glares from townsfolk that seem to know her. She trembles when forced outside of her comfort zone and invites questions: Has Ms. G ever left the school? What is this delicate reputation of St. Mathilda's that its matrons are so desperate to protect? Allusions to any past scandals remain just that, while Ms. G maintains her frightening, even monstrous control over her devoted subjects.
Cinematographer John Mathieson captures the beauty of the (Irish) countryside with lovely lakesides, weathered structures, and surrounding green mountains. To be sure, Scott's visual approach to Cracks is to be adored, but the narrative could be called limited or isolated, leaving audiences wanting to know more about the characters and their setting. The production moves at the moderate pace of a typical period piece, with enough electricity in the performances to cause a stir. The ensemble led by Green, Temple, and Valverde—as well as Imogen Poots, Sinead Cusack, and Clemmie Dugdale—is wonderful, and the performances make up for missteps in the story. This is temperate, controlled filmmaking that has a self-assuredness rarely seen in first-time directors, and should be sought out by admirers of the period.