Director

Cast

Kristen Stewart

,

Naomi Scott

,

Ella Balinska

,

Elizabeth Banks

,

Patrick Stewart

,

Sam Claflin

,

Djimon Hounsou

,

Jonathan Tucker

,

Nat Faxon

Rated

PG-13

Runtime

118 min.

Release Date

11/15/2019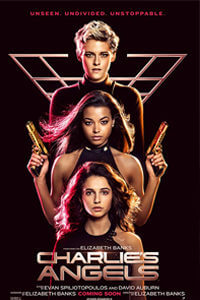 Watching the new Charlie's Angels, it's exciting to see a team of women super-spies who aren't ogled by the camera for a change. Writer, director, producer, and star Elizabeth Banks ensures that her characters are figures of modern feminism, strong but not sexualized. On the ABC television series that aired from 1976 to 1981, stars like Jaclyn Smith, Farrah Fawcett, and Kate Jackson stopped crime in bikinis and semi-transparent tops, the camera noticing every jiggle, despite the heroes having brains and kicking ass. In the Charlie's Angels movie from 2000, followed by Charlie's Angels: Full Throttle in 2003, director McG presented tougher and more self-aware female super-spies, but that didn't stop him from having stars Drew Barrymore, Cameron Diaz, and Lucy Liu take part in a burlesque show or dressing as skimpy German frauleins. Banks carefully avoids subjecting her leads to such male fantasies, but her ability to subvert the male gaze doesn't erase the other issues with the movie. 
It's material unquestionably handled from a woman's perspective, and Banks underscores that fact in the movie's dialogue and plot choices. "I think a woman can do anything," says Sabina, the Angel played by Kristen Stewart, who seduces a criminal businessman in the opening scene. At the same time, she gives a speech about the importance of women living up to their potential, and with the assistance of several other women spies, Sabina takes out a room of male goons. But the theme of female empowerment emerges in sometimes entertaining, sometimes blundering ways in Charlie's Angels. In a winking moment when one of our heroes hands the other a pair of runners to replace her high heels, it's apparent the days of sprinting in stilettos has long since passed. Even so, Banks never finds a suitable reason for all of the women in the Townsend Agency to look like supermodels. Though the women of Charlie's Angels aren't objectified and embrace each other with a sense of sisterhood, none of them look like Melissa McCarthy in Spy (2015).
The story follows Elena (Naomi Scott, from this year's Aladdin remake), a tech whiz who is continuously harassed, told to smile, and subject to unwanted touching at work by her asshole boss, Fleming (Nat Faxon). At the same time, she uncovers Fleming's scheme to sell Calisto, a sustainable source of clean energy, which, of course, can be weaponized and used as a MacGuffin. Elena soon joins Sabina and another Angel, former MI6 agent and resident badass Jane (Ella Balinska), to stop Callisto from falling into the wrong hands. Elena also meets the Angels' ranking officer, Bosley (Djimon Hounsou at first, later replaced by Banks), and together, the team trots the globe from Hamburg to Istanbul, trailing Callisto and the bad guys trying to sell it. Among the villains, there's a silent-but-deadly assassin (Jonathan Tucker, looking like the T-1000), a pompous billionaire Alexander Brock (Sam Claflin), and someone else pulling the strings—leading to a predictable twist-on-a-twist for those familiar with Mission: Impossible (1996) and its sequels. 
Charlie's Angels revels in its girl power and draws energy from its fabulous outfits, over-edited action scenes, and combination of personality types. Unfortunately, the characters rarely amount to more than basic tropes: the nerdy one, the rebellious one, and the tough one. The performers each appear to be having fun in their roles—especially the unhinged Stewart, who employs her awkward energy for laughs—but the proceedings are also surprisingly violent given the movie's lightness. It's staggering to consider the sheer volume of dead bodies the Angels leave in their wake (then again, James Bond has killed thousands at this point). Elsewhere, Banks' visuals are bright, flashy, and marked by some atrocious CGI explosions and backdrops. Yet, the fun-loving approach has been paired with relevant commentary. When the Angels help a woman (Marie-Lou Sellem) running an underground women's clinic in Istanbul, it seems to bring a serious topic to an otherwise frivolous movie. To be sure, it feels ill-fitted between the outlandish action set-pieces at a horse racetrack, in a rock quarry, or at a posh party where Sabina and Jane dabble in some spontaneous synchronized dancing.   
At two hours, Charlie's Angels begins to drag and, with its aimless plot and soundtrack of hollow pop-songs, the movie might be too hip for its own good. Banks' approach never quite leaps into the campy quality of the earlier McG films, which have a cult following in the same way Showgirls (1995) does. Instead, she makes her emphasis blatant in the opening credits during a curious montage of random young women, images that look like stock footage more suited for a pharmaceutical ad. The graceless montage seemingly identifies the movie's niche audience and its raison d'être, to inspire sisterhood and women's empowerment among its female viewers. It's a welcome ambition for a commercial project, but the approach is unsubtle and frequently heavy-handed, whereas not enough time was spent crafting a cohesive spy-actioner. Enjoyable stars and themes aside, Charlie's Angels reminds us why most movies based on a TV show have a bad reputation.