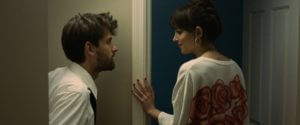 Patreon Exclusive
Cha Cha Real Smooth
3.5 Stars
Director

Cast

Rated

R

Runtime

107 min.

Release Date

06/17/2022
Note: Screened at the 2022 Minneapolis St. Paul International Film Festival in May 2022. Apple TV+ will distribute the film in limited release and on their streaming service on Friday, June 17. 
In his sophomore feature, Cha Cha Real Smooth, actor-writer-director Cooper Raiff plays Andrew, a Zoomer and recent college graduate who directs so much of his attention to making others happy that he forgets to build a future for himself. The first scenes show Andrew, at age 12, attending a Bar Mitzvah, where he spies a cute party starter—a person hired to keep spirits high and everyone dancing at Bar and Bat Mitzvahs—on a serious phone call. A moment later, she returns to the party with a bright smile, having compartmentalized whatever was happening on the phone. Nevertheless, Andrew sees her hidden sadness, and he cannot help but approach her afterward and declare his love. As we will see, Andrew's empathy and need to rescue women and make them happy becomes a pattern, perhaps because he was raised by a mom (Leslie Mann) whose husband left due to her bipolar disorder. Told with all the openness and waywardness of a person in their twenties, this would-be love story debuted at the Sundance Film Festival. I saw it at the Minneapolis St. Paul International Film Festival, where it played to crowd-pleasing effect. But unlike other indies about flailing twentysomethings trying to find themselves (and there are many of them), Raiff builds his tender story by undercutting his film's romantic and comic strains, reflecting his character's manner of focusing on everyone but himself.  
---
The full review is currently posted on Patreon. Join Deep Focus Review's Patron community, and you'll receive exclusive access to this review and many others published on Patreon first.
Patrons also get access to:
• Exclusive weekly blog posts
• Streaming recommendations every Friday
• Polls to pick the movies reviewed on Deep Focus Review and Patreon
• Pick your own "Reader's Choice" review (at the Screenwriter tier or higher)
• Polls that decide the next entry in The Definitives