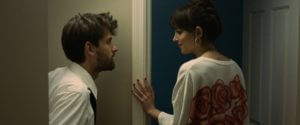 Cha Cha Real Smooth
3.5 Stars
Director

Cast

Rated

R

Runtime

107 min.

Release Date

06/17/2022
Note: This review was originally published for the 2022 Minneapolis St. Paul International Film Festival in May 2022 and posted exclusively to Patreon. 
In his sophomore feature, Cha Cha Real Smooth, actor-writer-director Cooper Raiff plays Andrew, a Zoomer and recent college graduate who directs so much of his attention to making others happy that he forgets to build a future for himself. The first scenes show Andrew, at age 12, attending a Bar Mitzvah, where he spies a cute party starter—a person hired to keep spirits high and everyone dancing at Bar and Bat Mitzvahs—on a serious phone call. A moment later, she returns to the party with a bright smile, having compartmentalized whatever was happening on the phone. Nevertheless, Andrew sees her hidden sadness, and he cannot help but approach her afterward and declare his love. As we will see, Andrew's empathy and need to rescue women and make them happy becomes a pattern, perhaps because he was raised by a mom (Leslie Mann) whose husband left due to her bipolar disorder. Told with all the openness and waywardness of a person in their twenties, this would-be love story debuted at the Sundance Film Festival. I saw it at the Minneapolis St. Paul International Film Festival, where it played to crowd-pleasing effect. But unlike other indies about flailing twentysomethings trying to find themselves (and there are many of them), Raiff builds his tender story by undercutting his film's romantic and comic strains, reflecting his character's manner of focusing on everyone but himself.  
Following his debut, 2020's Shithouse, two things become apparent: Raiff enjoys unconventional titles; he also specializes in disarmingly honest and open-hearted stories that should be cloyingly saccharine but instead draw the viewer to their earnestness. Here, he adopts his title from the 2000-era dance craze "Cha-Cha Slide" by DJ Casper, popular at mitzvahs when Andrew was 12. Now fresh out of college, dropped by his college girlfriend who left for Barcelona, and stuck working at a hot dog restaurant ("Meat Sticks") in the mall, Andrew moves back home. There, he has an uneasy, downright belligerent relationship with his stepdad (Brad Garrett) but enjoys being a cherished son to his mom and mentoring his adolescent brother David (Evan Assante). He flounders until he finds his calling at a Bar Mitzvah, where the resident party starter has lost control. Afflicted with an almost chronic need to bring happiness to others, he turns the deflating party into a bash—and almost instantly, every Jewish mom in their suburban New Jersey community wants him as a "designated party organizer" for their child's party. 
Here, Andrew meets Domino, played by Dakota Johnson (in another perfectly calibrated performance), a dispirited and beautiful single mother of an autistic teen, Lola (Vanessa Burghardt, excellent). The other moms whisper about Domino—who pulls off a name few could—while Lola calms herself with headphones and a puzzle. They're clearly outsiders at the event, and Andrew intends to get them involved. Although Lola refuses to dance, Andrew convinces her with a combination of goofball humor and cunning. Domino is amazed by Andrew's energy and evident rapport with Lola. She's drawn to him further after he rescues her from a personal emergency at another party, and when Lola says she would be comfortable with him babysitting. Andrew's evident patience and endearing ability to draw Lola out of her shell, and the quietly smoldering sexual tension between Andrew and the depressive Domino (who share a sexy moment with freeze pops), align with his need to play rescuer. There's a harmony between the three that is authentic, unlike Andrew's 12-year-old crush. One wrinkle: Domino's fiancé Joseph (Raúl Castillo), who's often away in Chicago on business.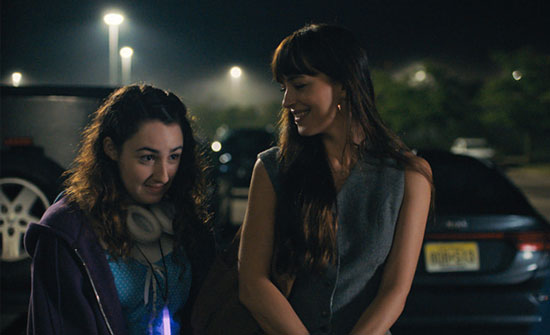 Cha Cha Real Smooth could have descended into a familiar brand of feel-good indie in the hands of a less sensitive or more commercial-minded filmmaker. Instead, Raiff never gives into viewer expectations or even desires, concentrating on what feels right for each character, and each is more complex than they initially appear. Another filmmaker might have turned Joseph into an obvious piece of shit, justifying Andrew inserting himself into Domino and Lola's lives. But there's more to Joseph than that. Similarly, Domino isn't just a disaffected mother; she's grappling with waves of depression and uncertainty, and she doesn't need or want to be rescued. At the same time, Andrew's boyish desire to play romantic savior isn't entirely noble. His binge drinking at mitzvahs and random hookup with an old high-school crush (Odeya Rush) suggest despair beneath his optimistic and genial surface. This self-destructive behavior emerges in mortifying scenes that strike a balance between cringe comedy and outright rock-bottom drama, leaving the viewer in a rush of exhaustion from laughing and crying. 
Raiff's approach to narrative and form has an infectious spontaneity. Shot by cinematographer Cristina Dunlop, the film credits three editors (Raiff, Henry Hayes, Colin Patton) who achieve an improvised quality to most scenes. My favorites were those casual moments between Mann and Raiff, whose mother-child bond has a profound openness. Raiff, meanwhile, could be viewed as contemptibly overconfident given his character's inner confusion. Still, when his ability to project calm and contain his sadness begins to waver, his seeming self-certainty is revealed to be an illusion. Elsewhere, the production held a nationwide casting call for an autistic performer, and Burghardt, a natural, proved the clear standout. The friendship between Andrew and Lola is the film's beating heart, even more than the will-they-or-won't-they romance between Andrew and Domino. For her part, Johnson occupies the role of disaffected community mother well, and Raiff is content to leave aspects of the character a mystery and outside of Andrew's understanding. 
Cha Cha Real Smooth is an obvious festival darling because its energy feeds the audience, and they feed off each other's energy, fuelling the film's effect. But I wonder how this will play when the film debuts on Apple TV+ and in limited theatrical release? With its similar release plan, it has the potential—much like last year's Sundance-to-Oscars hit CODA, winner of the Best Picture statue—to gain traction with audiences and reserve a place in voters' minds. Ultimately, I think Raiff's film is better than CODA for its more complicated characters, ending that doesn't feel engineered for maximum audience appeal, and superior filmmaking that employs playful comic timing and visuals. If the film risks being relegated to mere indie fare, it's an excellent example of that type, thanks to the raw emotions, charming performances, and open-hearted humanity. More than that, it's a film that isn't about someone who finally achieves their goals or the guy who gets the girl against all odds. It's about receiving life in all its messiness and finding a way to keep moving forward, through the hurt, and grow.
(Note: This review was originally suggested on and posted to Patreon on June 14, 2022.)