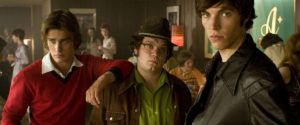 Cemetery Junction
3.5 Stars
Director

Cast

Rated

R

Runtime

95 min.

Release Date

04/14/2010
Nothing about Cemetery Junction would lead you to guess it was written and directed by Ricky Gervais and Stephen Merchant, the co-creators of Extras and Britain's The Office. But this very personal coming-of-age tale, set in 1970s England, obviously rests close to the hearts of its creators. As much as John Hughes was writing about his own youth in Illinois with his series of teen films, or George Lucas recreated a 1960s Modesto, California for American Graffiti, Gervais and Merchant's film is pointedly 'about' Reading, Berkshire, the place of Gervais' youth. Perhaps this is why the film was not imported into U.S. theaters, fearing American audiences wouldn't be able to relate.
Yet the plight of youth is universal in this story, even if the setting of rural England isn't familiar to Americans discovering the film on home video. How many films have we seen that explore an endless summer where identity is discovered through a series of troubles and often young love? Most recently, Adventureland comes to mind. The milieu of small-town mediocrity—parents who are square, love to be found, and the desire to escape it all—speaks true in every language, as seen in films ranging from The 400 Blows to Stand by Me. Gervais and Merchant, in their first filmic collaboration, capture this genre quite well.
Their film concentrates on three friends: the handsome Freddie (Christian Cooke) who wants more out of life; the roughneck Bruce (Tom Hughes) whose reckless behavior is getting worse; and the chubby oddball of the group, Snork (Jack Doolan), named after the Banana Splits character. Freddie, wanting to grow up, takes a life insurance salesperson position for the stuffy and elitist Mr. Kendrick (Ralph Fiennes). His job's mentor is the next-in-line Mike Ramsay (Matthew Goode), who's engaged to the boss' daughter, Julie (Felicity Jones). Freddie and Julie went to school together, and now they find they both want to escape Reading and live a free-verse lifestyle, devoid of the limited, pre-ordained paths that life has set for them.
While the younger actors (Cooke, Hughes, Doolan, and Jones) play their parts well, it's the supporting cast that gives the film body. Fiennes is crucial as the unfeeling boss, a bullying paterfamilias that quietly sits without saying 'thank you' as his wife (Emily Watson) brings him a cup of tea. Watson excels at playing the polite spouse, her quiet glances slowly building to a cathartic outburst in the finale. Gervais plays Freddie's steelworker father, appearing dirty and unshaven yet ever sarcastic toward his son and live-in mother. The family's hilarious, politically incorrect dinner table conversations at once reflect the period and offer Gervais some scene-stealing laughs.
Gervais and Merchant have made a quality film here, hiring cinematographer Remi Adefarasin (Elizabeth) to give their picture a gorgeous look, and production designer Anna Higginson to make us feel immersed in Reading circa 1973. They haven't overdone their period, however, in that they're not trying to poke fun at the idiosyncrasies of '70s pop culture. David Bowie posters appear on youth walls and in the soundtrack, but no one is dressing up as Ziggy Stardust. It's more important for the filmmakers to capture the feeling of the era through perceptive observations, but nothing too expressive that would deem the picture satirical. How rare a treatment, and how welcome.
Though it contains all the trappings of your typical period-set youth tale, Cemetery Junction's romantic view of idealistic youth escaping the banality of their lives is heartening. Gervais and Merchant make the nostalgia tangible, as scraping about with friends, painting phalluses on public property, and getting into other such trouble become fond memories. While hopping a train with a pretty girl for an escape to Somewhere Else couldn't be more romanticized. This is a warm, even feel-good film that captures the tradition of its type with near-perfect clarity.