Director

Cast

Rated

R

Runtime

86 min.

Release Date

02/11/2011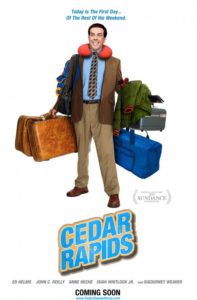 In Cedar Rapids, Ed Helms plays Tim Lippe, a kindhearted insurance salesperson from Brown Valley, Wisconsin. He's a swell guy, and surprisingly naïve for an industry populated by shark-toothed wheeler-dealers. His locally owned company called—ahem—Brown Star, has won the prestigious "Double Diamond" award three years in a row thanks to their very own Ricky Roma, who dies unexpectedly. And so, the company's boss, Bill Krogstad (Stephen Root), orders Tim to the annual insurance conference in Cedar Rapids, Iowa. Despite the generic extravagances offered by his hotel, for Tim, who has never left his sleepy hometown, Cedar Rapids may as well be Las Vegas. And thus begins Tim's emergence from his shell.
With as much potential for depravity as this setup offers, there's only a mild amount of raunch involved in this Sundance Film Festival hit. Instead, director Miguel Arteta (Youth in Revolt) imbues a kind of sweetness to the whole thing, with frequent bursts of filthiness for good measure. The resulting movie plays like a fish-out-of-water story led by a socially awkward protagonist on par with The 40-Year-Old Virgin, an over-the-top party atmosphere reminiscent of The Hangover, yet with the indie sensibilities and quirkiness of Little Miss Sunshine. Normally, combining so many elements from this many popular movies would be too obvious, but Phil Johnston's screenplay has just enough heart to surpass its unabashed stereotypes and become a mildly effective comedy.
It would have been easy to peg Tim as a specific kind of nerd (comic book and sci-fi nerds seem most prevalent in Hollywood today), but he's simply a good person who walks off the path. He's terminally faithful to his "pre-engaged" girlfriend, a former teacher (a hilarious cameo by Sigourney Weaver), and he believes in honest business, which is more than can be said for anyone else in his trade. When he arrives in Cedar Rapids, Tim shares a room with two fellow salesmen, the hardworking Ronald (Isiah Whitlock Jr.) and a foul-mouthed Dean (John C. Reilly). Along with the feisty "Fox" Joan (Anne Heche), their foursome attends a scavenger hunt and boring speeches during the day, then unwinds with copious amounts of alcohol at night. It takes a while for the other three to help Tim graduate from sipping cream sherry to downing more party-friendly shots, but once he begins to loosen up, Tim's behavior has life-changing consequences.
Just as Steve Carrell was in The 40-Year-Old Virgin, Helms is likable enough to accelerate his character into more than just a cliché through his genuine personality. As with his role in The Office, Helms looks the part and disappears into it well. The writing helps establish Tim's childlike tendencies, his dependence on motherly women in his life to replace his late parents, and establishes these touches subtly, without dwelling on them through sappy disclosures. Then again, the unrelenting verbal bile spewing from Reilly's mouth counteracts, and more often overshadows any hope for understated character development. And by the time Tim has taken his first hit from a crackpipe, it's clear that the filmmakers are more interested in Tim's debaucheries than his sweetness.
For those who haven't grown tired of Reilly's rather exhausting streak of comic obscenities (see Step Brothers or Adult Swim's Check It Out! with Dr. Steve Brule), the actor's presence is relentlessly funny. For those who remember Reilly's versatile turns with Martin Scorsese and Paul Thomas Anderson and hope for more, his next dramatic role is the new film by Roman Polanski. In many ways, your tolerance of Reilly's supporting character will determine your appreciation of the movie. But a number of loud bursts of laughter and lots of genuinely amusing moments make Cedar Rapids worthy of a modest recommendation. Moviegoers versed in the other titles mentioned in this review will probably notice the similarities and scoff, but chuckle throughout just the same.