Director

Cast

Jennifer Lawrence

,

Brian Tyree Henry

,

Linda Emond

,

Stephen McKinley Henderson

,

Jayne Houdyshell

,

Russell Harvard

Rated

R

Runtime

92 min.

Release Date

11/04/2022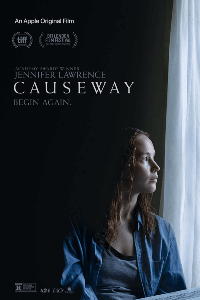 Causeway is a quiet yet severe portrait of traumatized people. Trauma has been everywhere in movies lately. Films ranging from serious dramas to so-called elevated horror have sought to unpack the psychological and physical effects of trauma—to the extent that it's almost become an artistic cliché. But then again, most of us have experienced some form of trauma, especially in recent years, so we can relate and feel moved by witnessing similar events onscreen. As a result, dealing with trauma in film becomes an effective narrative device for reaching an audience or a framework for understanding a character—a universal scar that, specifics aside, is carried by every human being. However, many contemporary films have openly discussed trauma and brought the implied subtext to the forefront. Characters talk about their trauma like they're in group therapy or a Psychology 101 course, and the deeper the wounds, the better, where drama is concerned. At least, that's what Elizabeth Sanders, Luke Goebel, and Ottessa Moshfegh, the screenwriters of Causeway, might say.
None of this commentary is meant to belittle or diminish trauma, only to note that trauma was more often dramatized in films such as The Deer Hunter (1978) or Manchester by the Sea (2016) without dwelling on the buzzword. But some of today's movies are a little less nuanced and more dependent on making their themes unmistakable. Such is the case with Causeway, a well-executed drama by director Lila Neugebauer, who makes her feature debut here. Measuredly paced and directed with a spare touch, the story centers on Jennifer Lawrence as Lynsey, an Army Corps engineer who arrives at a residential trauma therapy house after an IED blast left her with a brain injury. Her live-in caretaker, Sharon (Jayne Houdyshell), helps Lynsey improve her memory and physical condition. At first, Lynsey cannot speak or hold a glass, and her recovery process is slow. Then, after a few scenes of painfully hard work, she's talking and running again, and then preparing to leave to stay with her mother, Gloria (Linda Emond), in New Orleans. 
But returning home exposes Lynsey to another kind of trauma: memories of her childhood and unreliable family. Expecting to get picked up at the bus station, Lynsey finds herself alone because Gloria is achingly self-absorbed and something of a drunk. With no father and a brother she refers to in the past tense, Lynsey has no support system and a head full of bad memories from her childhood. Given these conditions, she desperately wants to get approved for redeployment by her neurologist (Stephen McKinley Henderson), so she can escape her family once more into the army. But he's unconvinced that she's "fixed," as she claims—after she gets her legs and hands in working order, there's still depression and anxiety to overcome. In the meantime, she lands a job cleaning pools and makes casual friends with a mechanic named James (Brian Tyree Henry). As it turns out, James has psychological and physical traumas of his own. Of course, the two bond over their mutual pain together, though James doesn't reveal the full extent of his trauma until later. Instead, these broken people feel drawn to one another—not romantically in Lynsey's case, as she's a lesbian, but as two people who need to be understood. 
Lawrence and Henry's performances represent some of their most delicate and character-driven work to date. Although Lawrence is an Oscar winner and multiple nominee, it somehow feels like she doesn't receive enough credit for her talent. This is probably because so much of it has been spent tuned-up with David O. Russell or consumed by Hollywood tentpoles (she was wasted in the X-Men movies, but she was superb in the Hunger Games series). Her performance in Causeway is her most grounded work since her breakout role in 2011's Winter's Bone, shaped by a committed physical performance and capacity to appear psychologically wounded. As for Henry, outside of FX's Atlanta and his 2018 films with Barry Jenkins (If Beale Street Could Talk) and Steve McQueen (Widows), he's been mostly relegated to forgettable roles in mainstream Hollywood projects. And while Causeway is a dramatically predictable film, the two leads commit to the emotional honesty of their performances, making their characters come to life despite the familiar narrative path. 
Causeway was filmed in 2019, and, in the meantime, the film changed producers and received a polished edit from Robert Frazen and Lucian Johnston. The resulting package, set for Apple TV+, has been cut down to a lean 92-minute indie that progresses at a deliberate clip. Still, cinematographer Diego García, who shot Wildlife (2018) for Paul Dano, creates simple, unaffected images that frame the characters with a textured use of color and place. The diffusive score by Alex Somers and pervasive ambient noise allow all else except Lawrence and Henry to recede. Even a late scene with Lynsey's absent brother—a scene predicated on silence—feels like an afterthought to her friendship with James. Nevertheless, Neugebauer directs gentle and believable performances in a stripped-down story that, yes, explores trauma as so many other films today do. But it does so with two commanding actors at the center. It's a story that can feel crushing and painful to endure at times, yet it ultimately rewards with its modesty, simplicity, and moving portrait of people working through their pain.