Director

Cast

Rated

R

Runtime

116 min.

Release Date

04/21/2023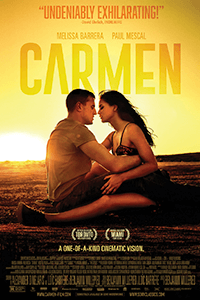 Benjamin Millepied delivers a postmodern cinematic ballet with Carmen, a loose adaptation of Georges Bizet's 1875 opera, which was based on Prosper Mérimée's 1845 novella. Not to be confused with last year's otherwise unrelated Natascha McElhone-starring drama of the same name, Carmen marks the first feature by Millepied, a French ballet dancer and music video director. His debut is a singular and unconventional piece of filmmaking, filled with much rhapsodizing and glorious imagery that veers into the purely expressionistic. Accented by narration in the form of Malickian poetry and inconsistent dance sequences that invade the otherwise gritty backdrop of Mexican border crossings, night spots, and underground fights, the film never quite congeals into a satisfying whole. However, there's plenty to admire along the way—for instance, performances by two so-hot-right-now leads, Melissa Barrera and Paul Mescal. Carmen also boasts some inspired dancing and experimental flourishes that prove ambitious and beautifully conceived for a first-time filmmaker. Yet, the result doesn't have the narrative thrust to form a lasting emotional connection.  
The screenplay by Alexander Dinelaris Jr., Loïc Barrère, and Millepied transfers the opera's story to a modern-day setting, centering on an unlikely romance that forms between two people from opposite sides of the U.S.-Mexico border. A woman trying to cross over, Carmen (Barrera, from Scream V and VI), encounters Aiden (Paul Mescal, fresh from his Oscar nomination for Best Actor in Aftersun), an American veteran reacclimating himself to civilian life. The initial scenes establish these characters' fractured pasts, offering scant narrative information along the way. In the Chihuahuan desert, two armed goons searching for Carmen confront her mother, Zilah (Marina Tamayo), who defies them with a dance before the percussion of her steps on a wooden platform is overcome by gunfire. The reasons why these men are after Carmen don't matter, but the urgent tempo propels her to make the dangerous trip to Los Angeles and seek refuge at a club owned by her godmother. Almost instantly, we gather that Millepied's film won't be an opera-turned-movie or even a movie musical; rather, it's far more defiant of traditional genre boundaries. 
Elsewhere, the shell-shocked Aidan spends his first nine months back from two tours in Afghanistan playing acoustic guitar in an abandoned quarry. He doesn't say much, prefers cola to beer, and rebuffs advances from women. Then, encouraged by his sister Julieann (Nicole da Silva) to get back to work, he takes a job "hunting Mexicans" with some Border Patrol extremists quick to draw their guns and shoot undocumented immigrants. When Aidan's patrol comes across Carmen's group, his extremist driver mows down all of them, save for Carmen, who is spared only because Aiden shoots him in the head. Why Aiden ever agreed to this particular post in the first place remains a mystery. But what follows is a lovers-on-the-run tale that finds the two escaping trigger-happy patrols and taking refuge in La Sombra nightclub, operated by Almodóvar regular Rossy de Palma. In a hypnotic, disorienting sequence, de Palma looks into the rotating camera, speaking in verse and interacting with dancers, teaching Carmen how to dance and trust in herself. 
Carmen adopts a meandering structure thanks to Danny Cooper's impressionistic editing and Millepied's discordant application of tones, which never finds a rhythm. The film's dances and songs are so infrequent that their inclusion feels like an afterthought, even though Millepied handles them with immediacy and passion. Still, there's not much to feel as Carmen loses herself in random ballet and synchronized performances, while Aidan watches passively. Later, Aidan hopes to earn a payday in an underground fighting ring—the closest thing to dancing he knows—where rough-voiced rapper Tracy "The D.O.C." Curry spouts play-by-play rhymes about the stakes. In Carmen, dance and performance take the place of traditional exposition. Carmen and Aiden don't communicate; they just dance and pose for the camera. When they do speak, the clichéd dialogue makes you wish they would stick to dancing. Underneath it all, the voiceover speaks with iconographic imagery and a yearning for "blood from veins, milk from breasts, and blood from womanhood." If the poetic voiceover doesn't evoke Terrence Malick, the cinematography by Jörg Widmer (A Hidden Life, 2019) will. 
Translated from Latin, the word "carmen" means "song" in English. Millepied taps into this double meaning with his film, embracing the lyrical beauty of dance and verse. It's a stunning film to behold, thanks to Widmer, who captures gorgeous scenery in Australia. If the viewer is content to watch Widmer's camera meandering around neon-lit carnival grounds, with colors reflecting on the freshly sprayed concrete, and the two attractive stars looking, well, very attractive indeed, then Carmen might suit you. Nicholas Britell's bewitching choral and string score certainly entrances, making you feel as though there's more here than there really is. Carmen is a film audiences will have to feel their way through, ignoring the logical gaps and nagging questions about what motivates the central characters. Although it's difficult to deny the transfixing beauty on display, Millepied's thin narrative lining makes Carmen feel like an extended music video, which is not to disparage music videos but to stress the lingering desire for more than Millepied has given us.