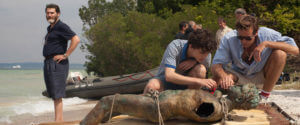 Call Me by Your Name
4 Stars
Director

Cast

Armie Hammer

,

Timothée Chalamet

,

Michael Stuhlbarg

,

Amira Casar

,

Esther Garrel

,

Victoire Du Bois

,

Vanda Capriolo

,

Antonio Rimoldi

,

Elena Bucci

Rated

R

Runtime

132 min.

Release Date

11/24/2017
Some of the most profound insights we learn about ourselves come from our experiences in love, and through them, discovering why others love us. Our limitations and insecurities seem to crystallize in the face of a lover, but then so do our strengths and self-confidence. As we learn to love ourselves, we become better for the people around us. The title Call Me by Your Name has a certain implication, then. In a scene between the two young men at the film's center, one of them plays a game: "Call me by your name and I'll call you by mine." The idea transfers love both ways, outward and inward. And through this, each of them recognizes why his love for the other produces the best version of himself. Based on the 2007 novel by Egyptian-born André Aciman, the film captures every urge, sexual rush, and sensation between the two, but also every complicated emotion. James Ivory adapted the material, writing his first screenplay in over a decade, and it bears much in common with Maurice, the 1987 adaptation of E.M. Forster's novel, which Ivory co-wrote and directed. Both are intelligent and aching films about a gay romance, except where Ivory's film adopted his usual restraint, director Luca Guadagnino lends Call Me by Your Name a sensuous setting and seductive story with more outward humanity and feeling.
Set "somewhere in northern Italy," the film contains a group of well-educated, multilingual characters basking under the Italian sun or around their spacious villa. 17-year-old Elio (Timothée Chalamet), an intelligent and talented young man, plans to spend another lazy summer lolling around his Jewish family's home in the Mediterranean, reading books, playing piano, and writing music. As in years past, he also must vacate his room for six weeks, giving it over to a young scholar. His father, Lyle Perlman (Michael Stuhlbarg), and mother Annella (Amira Casar), a translator, host a student every summer to assist with the former's research into ancient Greek culture and sculpture. The new student from an American university, Oliver (Armie Hammer), looks like one of Perlman's pre-Hellenistic classical sculptures. Although he initially seems impatient and annoyed with the confident, equally intelligent Oliver (who exits most scenes with a short, decidedly American goodbye: "Later."), Elio clearly wants his attention in a relationship that develops from obligatory interactions into a layered fascination.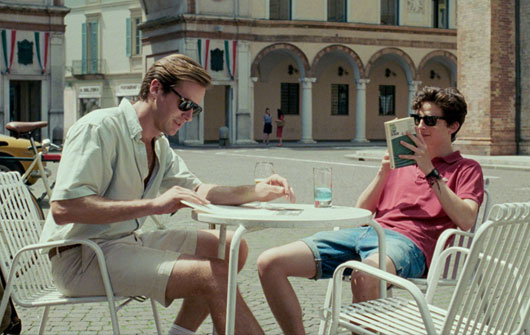 On the periphery, Elio explores his sexuality with a French student named Marzia (Esther Garrel), a young woman he's known all his life. But his close proximity to Oliver has an obligatory summer friendship evolving from restrained interactions into something more. After all, the setting is 1983, a period in which homosexuality was even more stigmatized and marginal than today. Simply announcing one's attraction to another man was socially unacceptable in the wrong circles. What proceeds, then, is a series of test-the-waters flirtations, beginning with a bond over their shared intellect and Jewishness. Oliver finds reasons to touch Elio, such as boyish roughhousing, and Elio responds by showing off his extraordinary talent on the piano. Sharing a bathroom, Oliver and Elio leave the door ajar to steal brief glances at one another. They bike around local towns and sidestreets, engaging in a push-pull of loaded conversations and behaviors, each marked by their hidden intentions. When Elio sees Oliver dancing with a local woman one night (to Psychedelic Furs' "Love My Way," tellingly so), he announces that he could have sex with Marzia if he wanted to—and he does, which makes his feelings for Oliver even more confusing.
For every digression in the progress of their courtship, there's an advancement in the tension. Elio declares to his parents that he finds Oliver's confidence rude, but in fact, he envies that confidence—a quality Elio lacks due to his own sexual and teenage uncertainty. Despite being a prodigy, speaking three languages, and playing two instruments, Elio remains in a state of emotional confusion. Only when Oliver makes his mutual feelings apparent does Elio commit to the idea of being with him—a notion Oliver is wary about. For one, Elio is his employer's son; there are also social considerations. Nevertheless, their relationship soon moves into discussions filled with sexual candor, intimacy, and curiosity. From the outside, Elio's parents support Elio and Oliver's "special friendship" without acknowledging its nature, eventually allowing Elio to accompany Oliver to Rome before his train departs at the end of the six weeks.
The performance by Chalamet is a revelation. In earlier scenes, the 22-year-old actor carries himself with a false sense of security, poised by Elio's talent and superiority. Full of quirks and personality, Chalamet's fully lived-in performance is equally physical and internal. Consider an early scene in which Elio lies on his bed, where Oliver has been sleeping—he presses his body against the mattress, writhing in desire, then covers his face in Oliver's swim trunks and makes love to a scent. Much later, Elio's interaction with a peach makes a private moment seem less embarrassing than erotic, and it's a moment that demonstrates how Oliver's acceptance of the act is essential to Elio feeling comfortable with his own impulses. Chalamet brings humanity and poignancy to sometimes silly, adolescent exploration and, before long, an intense but sophisticated young love. Chalamet also maintains a vulnerability behind his eyes that culminates during the end credits sequence, which shows Elio looking into a fire, recalling every emotion felt over the film's previous two-hour and twenty-minute runtime.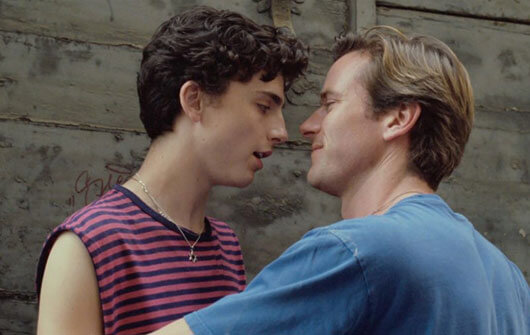 Hammer is just as revelatory, reminding us that his skill has been either underused or unrealized for years (a detail suggested by his roles in The Man from U.N.C.L.E., Free Fire, and Nocturnal Animals). Seen through Elio's eyes, Hammer captures Oliver's smoldering and brash personality, and before long, his wise-if-hesitant attitude toward their budding relationship. Similarly, Stuhlbarg gives an incredible, achingly tender performance whose unexpected power is encapsulated by a single scene. Although he's given us a number of outstanding roles in his relatively short career (his best remains his first showcase in the Coen brothers' A Serious Man, 2009), Stuhlbarg delivers a monologue that bears his character's soul through a discussion of rare opportunities and unrealizes desire: "Our hearts and our bodies are given to us only once. Before you know it, your heart is worn out. And as for your body, there comes a point when no one looks at it, much less wants to come near it." It's a speech that goes on to eviscerate, yet it explains much about earlier scenes, such as a pseudo-lecture in which Perlman observes the characteristics of classical Greek sculpture, while he also seems to be speaking about Oliver, the resident Adonis.
Few filmmakers have portrayed the vast sensory overload of Italy as thoroughly as Guadagnino. He has a unique ability to create phantom senses, a phenomenon that Rudolf Arnheim described as one of film's true artistic flourishes—the ability to produce false sensory responses by engaging our visual perceptions. Rarely do the sense of taste and touch feel so engaged by film. In I Am Love (2009), Guadagnino put the taste of extravagant cuisine on our lips and the feeling of Tilda Swinton's flesh on our fingertips. We felt the sun on our skin, experienced lovemaking, and could almost smell the Mediterranean plates in A Bigger Splash (2016). In Call Me By Your Name, his cinematographer Sayombhu Mukdeeprom (a regular collaborator with Thai filmmaker Apichatpong Weerasethakul) lovingly captures the flavor of apricots and soft-boiled eggs; we can smell the air on the Italian countryside; and he taps into fading memories of youth's sexual discovery. But Guadagnino's usual, virtuoso style is more tempered in Call Me by Your Name than those earlier efforts, with far less expressive or mannered camerawork and cutting. Instead, he supports the material with every formal choice, placing his characters in the frame in a way that reveals their desires but also speaks to how they must remain apart.
Call Me by Your Name marks Guadagnino's best work to date. The director applies a distinctly European perspective to an endless summer coming-of-age tale, distinguishing the material through its sexual awakening and exploration, cultured individuals, and sensuous delights—qualities that have been elegantly and intimately considered by Ivory's script, which transcends the same-sex flavor of the story. Guadagnino investigates the heights of infatuation, scrambled self-doubt, and utter heartbreak that results from such a perfect and brief romance, and through it, oversees stunning performances and a formal appreciation of textures, sounds, flavors, and sensations. Casting a spell on our feelings, both emotional and physical, Guadagnino creates a masterwork that brings a kind of fantasy to life, one savored by a rare few, according to Perlman. Elio pines for an obscure object of desire, and he sees that object looking right back at him, longingly, with as much dimension; what's more, he's given time to jump into his fantasy, instilling its permanent place in his memory. Call Me by Your Name taps into universal emotions that belong to everyone who has loved, and rewards our experience through luscious filmmaking.