Director

Cast

Rated

R

Runtime

89 min.

Release Date

06/19/2015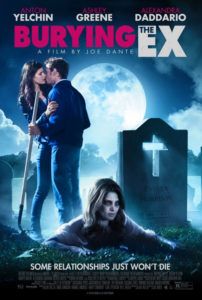 Alan Trezza must have had some bad break-ups—or maybe just a single cataclysmic one—given his screenplay for Burying the Ex, directed by horror-comedy maestro Joe Dante. Trezza wrote and directed the 2008 short on which the feature-length version was based and expanded it for Dante's take. The story about a guy whose ex-girlfriend comes back as a zombie may sound familiar to Warm Bodies (2013) or, more specifically, Life After Beth (2014), but neither of those films is handled with Dante's unchallenged  B-movie finesse. His titles like Gremlins (1985) and The 'Burbs (1989) perfectly blend scares and humor, and along with those elements, Dante adds romance and screwball comedy to the mix for his latest.
Anton Yelchin has carved out a place in the horror-comedy genre for himself, starring in the remake Fright Night (2011), adaptation Odd Thomas (2014), and appearing in Only Lovers Left Alive (2014). Here, he plays twentysomething Max, a horror movie aficionado who has little more in common with his girlfriend Evelyn (Ashley Greene) than their spirited sex life. An eco-conscious vegan, Evelyn gradually begins to clamp down on Max's lifestyle, becoming increasingly jealous and demeaning toward his dreams to open a horror-themed novelty store. Encouraged by his sexist half-brother and friend Travis (Oliver Cooper) to move on, Max invites Evelyn to the park for a public break-up, but instead, she's hit by a bus and dies before Max's eyes.
Unfortunately, the two proclaimed their love would last forever earlier in the proceedings while standing before a demonic genie bottle (whose origins are never really explained), and Evelyn returns from the grave shortly after her conspicuously under-attended funeral. After a period of guilt, Max begins to move on with Olivia (Alexandra Daddario), a horror-themed malt shop owner that seems like a better fit for him in every way. But when Evelyn comes back, she incites a series of screwball antics where Max tries to manage both relationships, keeping them secret from one another. He likes Olivia and doesn't want to lose her, but the ever-more-rotting Evelyn seems to have super-strength and a curious appetite that Max doesn't want to test.
Plenty of gross-out horror moments occur, inciting laughs and the gag reflex at the same moment. The best of them occurs when Evelyn first returns and, just before she gets the stunned Max into bed, she vomits a stomach full of embalming fluid in his face and (fortunately) ruins the mood. Yuck. There's a good jump-scare or two in the finale as well, when the sex-obsessed Travis tries to take the zombified Evelyn down for his friend, or when Max and Olivia take on Evelyn in a rowdy brawl. The FX work is pointedly low-budget, and most of the zombie effects are rendered with practical makeup. Dante shot the film in just 20 days with a minor price tag, but the production looks as if the director extended every penny. The most surprising aspect is how well the romantic scenes work between Max and Olivia, as Yelchin and Daddario have endearing chemistry.
Dante's career has been kept afloat in recent years through a lot of television work for shows like Hawaii Five-0 and Witches of East End. Though, presumably, such assignments just pay the bills, while underseen gems like The Hole (2012) and Burying the Ex remain his passion projects. To be sure, Dante's playfulness is almost palpable here. An appearance by Dante regular Dick Miller will surely bring a smile, as will looking around Max's house (before Evelyn decides to remodel). Vintage horror posters adorn the walls, and in Max's spook shop "Bloody Mary's" you always see some forgotten B-movie or classic horror yarn starring Christopher Lee and Peter Cushing playing in the background. And consider when Max and Olivia find each other at a Val Lewton double-feature, or they see a cemetery showing of The Night of the Living Dead (1968)—it's just one reason Max and Olivia are so right for each other, but it's also telling of a referential brand of cinéphilia in Dante films. Look at Piranha (1978) or Matinee (1993) for further evidence.
Burying the Ex is not Dante's best work. And yes, it's a little clumsy at times, specifically the title sequence and earlier scenes with the oft-annoying friend Travis. But the film returns Dante's fans to his unique and pleasant world of horror-comedy fandom that's often tried, and more often botched than well-executed by other directors. Dante capably manages tone, the volley of laughs and scares, because he's a seasoned pro. And so, it's a shame the film has been reduced to a limited release and debut on VOD; chances are, if advertised correctly, audiences would have gotten a kick out of it at late-night screenings. With enough rom-com and horror formula to feel happily familiar to almost anyone in the audience, Burying the Ex has broad appeal, despite its seemingly niche overtones. It's an easy recommendation for Dante devotees, horror-comedy nuts, and even those with a soft spot for rom-coms.