Director

Cast

Simon Pegg

,

Andy Serkis

,

Isla Fisher

,

Tom Wilkinson

,

Christopher Lee

,

Tim Curry

,

David Hayman

,

Jessica Hynes

Rated

Unrated

Runtime

92 min.

Release Date

09/09/2011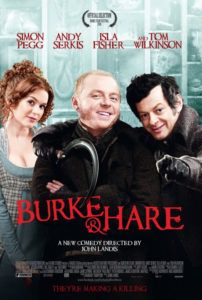 From Ealing Studios, Burke & Hare is a film based on a real-life string of murderers committed in Edinburgh, Scotland, in the mid-nineteenth century by two Irish immigrants. William Burke and William Hare carried out their crimes for profit and to provide Edinburgh's burgeoning medical field with corpses for dissection. After their capture, Burke confessed and was tried and executed for their crimes, while Hare and both their female accomplices were released after Burke's admission of guilt. Ironically, after Burke's sentence was carried out, his body was dissected at Edinburgh Medical College. Slap the tagline "They're making a killing" onto the movie poster, and in these facts, you have all the makings of a coal-black comedy. However, earlier film adaptations of their story have been turned into horror yarns, including Robert Louis Stevenson's The Body Snatcher and the Peter Cushing shocker The Flesh and the Friends.
Director John Landis, who reached his prime early on with titles like Animal House and The Blues Brothers, helmed the film, which has more in common with Landis' An American Werewolf in London, given its blend of comedy and macabre subject matter. Landis has always had an affinity for horror-themed humor; look at his great episodes from Showtime's Masters of Horror series or his segments from Twilight Zone: The Movie (on which Vic Morrow's accidental death tarnished Landis' name for several years to come). This is the first film directed by Landis since Susan's Plan in 1998, and it's his best work since Coming to America in 1988, even if some may have trouble finding the humor behind the story of two actual killers. After all, this would be like making a comedy based on the life of Ted Bundy a hundred years from now.
Screenwriters Piers Ashworth and Nick Moorcroft have little time for historical accuracy; they instead force an unfocused, madcap murder comedy with several stray subplots and multiple, distracting cameos. "This is a true story," opening titles tell us, "Except for the parts that are not." Hint: most of it is not. Bill Bailey's hangman-cum-narrator sets the stage for Edinburgh circa the late 1820s, where Burke (Simon Pegg) and Hare (Andy Serkis) struggle to make a living. By chance, they hear local doctors are willing to pay handsomely for the corpses of the recently deceased, and, by chance, a boarder in their home has died. What to do. Meanwhile, Doctor Robert Knox (Tom Wilkinson) has been undermined by the more prominent Dr. Monro (Tim Curry), who has arranged that all corpses of executed criminals be transferred to his school, whereas before, there was a bidding system between doctors and executioners. As a result, Knox adopts less legal means to get his corpses, and this is where Burke and Hare discover their new trade.
Though their first body comes without foul play, the taste of money salivates upon their pocketbooks and inspires Hare to conceive of murder to continue their good fortune. Along with his greedy, exceedingly horny drunkard wife (Jessica Hynes), Hare's desires never exceed profit, even when contending with dangerous local pimp and gangster Danny McTavish (David Hayman), who demands a cut of their earnings. Burke, however, wants only to impress a local lass, spritely young would-be actress Ginny Hawkins (Isla Fisher), whose dreams of an all-female production of Shakespeare's Macbeth make Burke's need for more blood money urgent when he agrees to be her sole backer. And as the murders ensue, the film suggests Burke and Hare's story has connections to the origins of photography, Charles Darwin, and—surely the only truthful submission among them—the origin of the word "Burking," a verb which refers to the killers' mode of suffocation.
Certainly, there's a comedic timing and tone that compares the film to Landis' best comedies. Consider Ronnie Corbett's buffoonish little militia Captain, who ceaselessly pursues Edinburgh's mystery killers, not unlike Henry Gibson's head Nazi in The Blues Brothers or the yuppie elitist fratboys from Animal House, complete with bumbling followers present only for an occasional bout of physical humor. Yet, still, there's something missing overall. Its attempts to romanticize Burke's motivations as inspired by his love for Ginny never feel quite believable, as Burke seems more interested in untying Ginny's bustle than her admittedly silly stage talents. Pegg and Serkis both give energetic performances, but the film's farcical intentions feel pruned by the darker elements of the story, which are used with as much gross-out effect as they are for pure comedic purpose.
Quietly amusing with a few occasional laugh-out-loud moments, Burke & Hare is enjoyable enough to justify a lazy afternoon rental, but audiences asked to pay cinema prices may feel let down. Cameos by Christopher Lee, Stephen Merchant, Costa-Gavras and family, Ray Harryhausen, and others keep the attentive viewer busy. Landis' production looks professional all around: John Mathieson's lensing captures production designer Simon Elliott's richly detailed grime and earth-toned colors of Edinburgh in this period. But the film lacks any edge toward the material and assumes the subject (gore and dead bodies in abundance) will suffice, though it doesn't. Nevertheless, this is a competent if underwhelming step toward a resounding return from Landis, and a mildly entertaining effort for Pegg's established fanbase.