Director

Cast

Rated

PG-13

Runtime

90 min.

Release Date

10/06/2009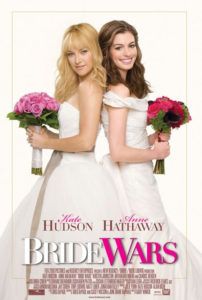 Bride Wars fails to answer that question every husband-to-be asks himself: "What happened to my partner and who is this crazy person that replaced her?" Movies like this insist that ladies go batty over wedding planning. And I'm sure to a certain extent that's true. After all, every romantic comedy about marriage features a fussy bride obsessing over details concerning her big day, and beside her is an uncaring husband shrugging off those same details. Taking that stereotype to uncomfortable extremes, this film is all about brides fixated on ceremony more than matrimony.
Two such brides are Liv (Kate Hudson) and Emma (Anne Hathaway), lifelong friends with an identical dream for their service: A June wedding at the Plaza's extravagant venue, orchestrated by New York City's most renowned wedding planner Marion St. Claire (Candice Bergen). Liv earns big bucks as a legal consultant, chases everything in her life with a vengeance, and refuses to settle. Emma is a schoolteacher and tends to avoid knowing and especially fighting for what she wants. Both women have beaus. Emma's proposes in a quaintly romantic way, and so Liv, in a huff, because her best friend was proposed to first, blatantly asks her man "When are you going to propose?" He proposes promptly thereafter.
So now Liv and Emma are getting married and they book their dates at the Plaza for the first and last weekends in June, respectively. And then—uh-oh—there's a problem and they were mistakenly scheduled for the same date. All other openings are filled. And being that they have all the same friends, one of them will have to move her date to preserve the dream. So which bride is willing to give up her spot? Neither. Words are exchanged. Friends become enemies. Threats are made against the other's wedding.
And this is where the madcap antics should spin out of control in absurdly cruel-yet-hilarious wedding sabotage scenarios. Alas, if you've seen the trailer for Bride Wars, you've seen the extent of their battle and even the climax of the movie. There're incidents with hair dye, spray tan, cookie grams, and botched wedding dresses. It all ends with a dizzying and predictable scene of reconciliation. Even if you haven't seen the trailer, none of it incites much laughter, surprise, or emotion. We're mostly appalled by the spoiled and selfish nature of two main characters that are cruel and childish toward each other.
We sympathize for their fiancés, two annoyingly plain guys named Dan (Steve Howey) and Fletch (Chris Pratt) who are put on the sidelines of their own marriage. Granted, your typical movie dude doesn't want anything to do with wedding plans anyway, but these guys are altogether ignored by their future wives in favor of a silly spat, exaggerated for the sake of a "romantic comedy" that is neither romantic nor funny.
Both actresses sleep through their roles, as they've played versions of the same characters before. Hudson is the queen of gut-wrenchingly awful movies like this; her filmography reads like a laundry list of bad rom-coms. But Hathaway, who as recently as last year showcased her incredible dramatic talent in Rachel Getting Married, is harder to pin down. Why does she insist upon involving herself in such irredeemable and common trash? I suppose it's the old story of an actress doing passion projects like Brokeback Mountain for herself, and commercial fare like Get Smart and this for a paycheck. I hope she earned a bundle for this one.
It's doubtful even devoted wedding fanatics will find much to cherish in Bride Wars, as even the obligatory plan-your-wedding montage is assembled via cheesy stills and yuppie music pulled from a Target commercial. Though the concept of "wedding movie gone wrong" is noble and innovative for a comedy, director Gary Winick (13 Going on 30) and his trio of screenwriters fail to illicit any of the daring or risqué humor associated with the concept. Considering that the title suggests a much more substantial combat, the soft result hardly lives up to its promise or potential and resolves to be a safe little dud.