Director

Cast

Cate Blanchett

,

Alec Baldwin

,

Sally Hawkins

,

Andrew Dice Clay

,

Bobby Cannavale

,

Michael Stuhlbarg

,

Louis C.K.

,

Peter Sarsgaard

Rated

PG-13

Runtime

98 min.

Release Date

07/26/2013
Woody Allen's Blue Jasmine goes in places the 77-year-old writer and director hasn't been since his early days as a budding filmmaker and explores dramatic territory he hasn't visited in years. Geographically speaking, Allen's films have been centered on New York's upper to upper-middle class, and only in the last decade or more has he branched out from the Big Apple to London (Match Point, Scoop, Cassandra's Dream), Spain (Vicky Cristina Barcelona), France (Midnight in Paris), and most recently a voyage to Italy (To Rome with Love). Allen's forty-third motion picture takes place primarily in San Francisco, the city in which he made his directing debut on Take the Money and Run (1968), and then later starred in the 1972 adaptation of Play It Again, Sam. More importantly, the city represents a kind of bohemian haven for his eponymous character and provides traces of a class commentary, a notion far removed from Allen's usual comfort zone of privileged New York intellectuals.
Allen's last few films have been frolicsome journeys, travelogues into European cities, and voyages in time and through memory wherein their scenery and commercial appeal have captured audiences who might not otherwise find themselves watching "a Woody Allen film." Blue Jasmine is nothing so playful or accessible for general audiences, and it returns Allen to the kind of witty but heartrending character study he explored in Hanna and Her Sisters (1986) or Sweet and Lowdown (1999). His centerpiece is a familiar Allen character, Jasmine Francis, extraordinarily rendered by Cate Blanchett. This fortysomething blonde beauty once ruled the New York social elite by the side of her billionaire financier husband, Hal (Alec Baldwin), a Bernie Madoff-like swindler whose empire has crumbled and left Jasmine insolvent. She's forced to leave her former life and, when the film opens, not unlike Ruth Madoff, she's on her way to San Francisco to stay with her less privileged, grocery-bagging sister, Ginger (Sally Hawkins).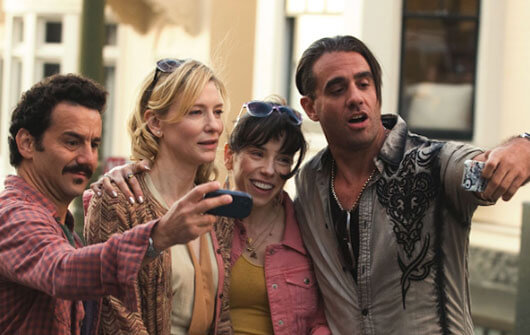 Each sister adopted from separate sets of biological parents, Jasmine, originally named "Jeanette," and Ginger have little in common—except that they both agree Jasmine received the better set of genes. Regardless, Jasmine arrives in Ginger's "homey" Mission District apartment, cramped by her two noisy sons and the seemingly omnipresent boyfriend Chili (Bobby Cannavale), a good-intentioned mechanic with greasy hair and macho attitude. Chili is standard fare for Ginger, who, along with her former husband, the manual laborer Augie (Andrew Dice Clay), invested $200 thousand in lottery winnings with Hal and lost every dime, along with any chance of breaking out of her doldrums. Jasmine insists she had no idea what Hal was doing, but Allen flashes back to her heyday in New York and evidence suggests she's in a perpetual state of denial, not only about Hal's illegal activities but also his frequent infidelities. As Allen cuts between the past and present, Vicky Cristina Barcelonacinematographer Javier Aguirresarobe captures the bright splendor of Jasmine's beachside home in the Hamptons, her New York social scene, and her new San Francisco lifestyle, complete with walks through Chinatown and along Ocean Beach.
The fragile Jasmine has become an expert at (re)inventing herself in ways that are convenient to her delicate state, and though her choices may seem like manipulation, one questions if she's even aware of what she's doing. For Hal, she adopted the name "Jasmine" over her birth name and, like a chameleon, seems to have put on airs to marry him, rearranging herself for entry into his glamorous Park Avenue world. Now living with Ginger, she does what she must to get on her feet, though she's far from recovered. She takes a lowly job as the secretary for a rakish dentist (Michael Stuhlbarg) and meanwhile studies computers, if only so she can learn how to use the internet for an eventual online course on interior decorating. But no matter what identity Jasmine tries to adopt, always present is her lingering neurosis and need to have a drink in hand. Jasmine has disguised her fixations well, but Hal's suicide after his imprisonment had left her broken, her neurotic tendencies free to spill out. Now, after her nervous breakdown, she trails off in conversation and talks to herself as if lost in memory; she later explains to Ginger's children how, after Hal's death, she was found talking to herself in the street and given "Edison's Cure."
Of Blanchett, it must be said that she has rarely been better, which of this actress is saying much. Her performance recalls her turn in Notes on a Scandal, where she plays a seemingly composed schoolteacher who loses herself in an affair with a student; both performances turn this often royal presence into something base and vulnerable. On the outside, Jasmine's cosmopolitan lifestyle and elegance seem to come naturally, but Blanchett shows us how her life before and after the myopic Hal is the real Jasmine—stripped down, pill-popping, emotionally bare, and in desperate need of someone to whom she can cling. Watching Blanchett alternate between Jasmine's sophisticated regality and—after the rug is pulled out from under her—her trembling, nervous, frantic emotional state is simply mesmerizing, a vivid and unpredictable portrayal. Allen has explored such characters before in Alice and Another Woman, but never with such a raw performance behind them.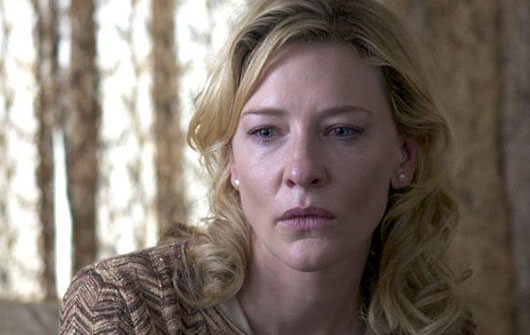 And while Blanchett's performance of delusions is the centerpiece, Allen's ensemble, as usual, should not be overlooked. Hawkins almost explores a familiar Mike Leigh role (namely her appearance in Happy-Go-Lucky) as Ginger, a confused if optimistic sort whose string of loser boyfriends receive endless derision from her adopted sister. Cavanale and Clay are both ideal as these lower-class lugs, none-too-intelligent but well-meaning and loyal at least. Louis C.K., who seems destined for a protagonist role in a future Allen project, appears as Ginger's fling and leaves us wanting more. Of course, the ever-charming Baldwin, in his third Allen film, embodies Hal's suave yet devilish front. From Tetro and Stoker, Alden Ehrenreich is excellent as Hal's son from his first marriage. And Peter Sarsgaard appears as a refined, bachelor politician who arrives in San Francisco as salvation for Jasmine, and in turn, reveals the very worst in our anti-heroine.
But what kind of salvation could there be for a character such as Jasmine? Allen recognizes that no such deliverance exists; the trauma of what's happened to her and of what she's done to herself has ruined her perhaps for all time. Blue Jasmine considers this in full and ends on a note so perfectly downbeat to distinguish itself from Allen's recent cinematic larks. Exploring classes in a way rarely seen in his films, Allen has made an unforgettable character study of a fascinating, despicable, sympathetic, and engaging figure and those around her. He's also helped create perhaps the single most impressive female performance in recent memory, with Cate Blanchett using every bit of her considerable skill to breathe life into her moving character. Allen has always excelled at dialogue and writing female characters in particular, but Blanchett's Jasmine is one of his finest creations. Funny and tragic, Blue Jasmine resonates with bittersweet comedy and deeply felt drama, and it will go down as a true Woody Allen masterwork.