Director

Cast

Rated

R

Runtime

88 min.

Release Date

08/26/2016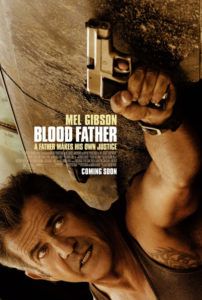 Mel Gibson's career has suffered one blow after another over the last two decades. Gibson's persona has taken a long detour away from his glory days of Lethal Weapon and Braveheart after being called out for his apparent obsession with torture, his rampant Catholicism, or audio recordings of his racist, drunken tirades. In the years since his downfall, a number of would-be comeback performances have tried to reshape his reputation, each seemingly designed to rehabilitate the former superstar for the audience. Jodie Foster's The Beaver (2011) was a dramedy in which Gibson plays a man who suffers a mental break and works out his issues through a hand puppet. He also tried to make light of his standing by playing villains in Machete Kills (2013) and The Expendables 3 (2014).
None have been so successful as Blood Father, which returns the actor to his days of hard-boiled actioners. The film, directed by Jean-François Richet, helmer of the two-part Mesrine series (Public Enemy No. 1 and Killer Instinct), seems well aware of Gibson's fall from grace, often attributed to the performer's trouble with alcohol. Fittingly, the script by Peter Craig and Andrea Berlof, based on Craig's novel, follows Gibson's ex-con and recovering alcoholic John Link. With a long history of assorted crimes for which he's still on parole, Link now lives in a trailer park in the California desert, surrounded by fellow members of Alcoholics Anonymous. He runs a tattoo parlor out of his trailer and lives across the way from his sponsor, Kirby (William H. Macy). He's covered in prison tats and sports a thick, grizzled beard of an experienced bastard.
Still, Link maintains control and sobriety over a peaceful, relatively quiet existence, until his estranged teen daughter Lydia (Erin Moriarty) calls him looking for help. She killed her boyfriend Jonah (Diego Luna) in a botched shakedown and now needs money to hide. Link finds her in a familiar, high-as-a-kite state and resolves to get her clean. He learns along the way that Jonah wasn't just some guy; rather, he's a family member in the Mexican cartel that now wants Lydia dead. When a bunch of cartel goons shoot up his trailer, Link takes Lydia on the run, with authorities and the cartel close behind. To survive and keep his daughter safe, Link relies on old connections like the crusty leader of a biker gang (Michael Parks) and revives a long-suppressed part of himself.
With a double-barrel in his hands, Gibson returns to his occasionally over-the-top badass mode that brought characters like Mad Max, Martin Riggs, and Porter from Payback (1999) to life. He doesn't play a complicated character, and the screenplay doesn't give the actor a chance to become schmaltzy and woeful—facilitating what might've been an obligatory moment of parent-child bonding. The story proceeds as a lean, under-90-minute B-movie chase that quickly moves from one tough sequence to the next, barely giving the audience a chance to learn about the character, aside from his singular fatherly protectiveness. What's to learn? He's a former hardened criminal with newfound self-control, not to mention a cause. Many die. And it's all very entertaining.
Blood Father delivers a confident formal package, as Richet composes cohesive action scenes while cinematographer Robert Gantz shoots everything in desert hues. At 22, Moriarty looks too old to be playing a 17-year-old, and her character's damaged goods routine grows old. Fortunately, Gibson commands the screen and elevates the proceedings, proving along the way that he's still a movie star, even if neither the public nor Hollywood is ready to admit that. Watching him play Link, the viewer cannot help but imagine the parallels to his real-life persona, and through the course of Blood Father, recognize that Gibson deserves some measure of redemption. Even if he's resigned to small actioners like this one for the rest of his career, an equally small audience will be treated to a performer who knows how to turn a simple role into a believable, compelling one.