Director

Cast

Johnny Depp

,

Benedict Cumberbatch

,

Dakota Johnson

,

Joel Edgerton

,

Kevin Bacon

,

Peter Sarsgaard

,

Corey Stoll

,

Rory Cochrane

,

Juno Temple

Rated

R

Runtime

122 min.

Release Date

09/18/2015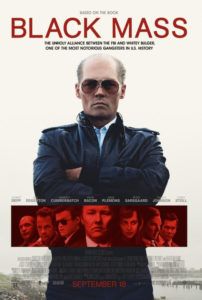 More often than not, Hollywood cinema seems to aggrandize mob criminals rather than openly condemn their behavior as morally reprehensible. From James Cagney in The Public Enemy (1931) to the free lifestyle savored by Ray Liotta in Goodfellas (1990), gangster films carry a thrilling mystique of danger and freedom. They can do the things the worst parts of us wish we could do. And in addition to being psychopaths, the most engaging gangsters are usually very charismatic. In Joe Berlinger's documentary Whitey: United States of America v. James J. Bulger (2014), several of the victims and authorities involved with the Boston criminal James "Whitey" Bulger go on camera to discuss how this racketeer, drug dealer, and murderer ruined their lives or destroyed someone they love. If you saw the doc, it seems inconceivable that anyone would want to make Bulger into a sympathetic, if malicious, character. And yet, Scott Cooper, director of earthy dramas like Crazy Heart (2009) and Out of the Furnace (2013), gives it his best shot with Black Mass, a leisurely-paced gangster biopic about the South Boston kingpin from the early 1970s to 1994, when he fled arrest and disappeared, during which time he was just after Osama Bin Laden on the FBI's Ten Most Wanted list.
Bulger grew up on the streets of Southie, keeping a tight-knit group of friends and acquaintances throughout the neighborhood. After a ten-year stint in federal prisons like Alcatraz, where he agreed to be a test subject on some 50 trials of LCD, he emerged a hardened, slightly mad criminal, played here by Johnny Depp. While his brother William (Benedict Cumberbatch) served as a Massachusetts Senator, Bulger ruled the underworld as the leader of the Irish mob's Winter Hill Gang, in no small part thanks to his union with the local branch of the FBI. Boston Globe journalists Dick Lehr and Gerard O'Neill wrote the book Black Mass: The True Story of an Unholy Alliance Between the FBI and the Irish Mob in 2001, and Mark Mallouk and Jez Butterworth based their script on the material. Cooper's work looks good, with cinematographer Masanobu Takayanagi shooting on 35MM to create a textured, washed-out 1970s look throughout. And his actors are all recognizable faces. But there's a certain phony quality that lingers in the funny wigs and production design, and we're always aware that we're watching a Hollywood movie.
Told in a patchwork of flashbacks that begin after Bulger's release from prison in the 1970s, the film features several of Bulger's colleagues giving recorded testimony to an FBI agent. For example, low-level underling Kevin Weeks (Jesse Plemons) opens with a story about how he started as a bouncer for Bulger's regular bar. But the testimonial flashback device isn't used consistently; in each case, the flashback gives way to scenes the testifying witness could not possibly have seen. And unlike Martin Scorsese's gangster films Goodfellas and Casino (1995), where various narrators guide the picture, the narration in Black Mass is intermittent and leaves this framing device feeling Scorsese-inspired, but poorly executed. (Fun Fact: Scorsese's The Departed was inspired in part by Bulger's story.) With the tough-as-nails Bulger warring against the Italian mob, he accepts a proposal by his old Southie pal, John Connolly (Joel Edgerton), a federal agent who promises Bulger protection if he informs on the Italians. Bulger agrees, but only if their relationship is called an "alliance"—he stresses that he's not informing. He's not a rat. It's a business relationship.
This is the kind of skewed logic that drives Bulger, a reactive monster willing to kill anyone who crosses him. He looks positively vampiric under the layers of makeup and prosthetics the filmmakers used to make Depp look the part. Behind a receding hairline and ever-slicked-back 'do, a dead tooth in the front, and patchy gray skin, Depp resembles any number of wacky characters he's played in various Tim Burton fare (his Bulger looks like the test tube baby of Sweet Todd, Barnabas Collins, and the Mad Hatter). His pale blue color contacts are downright distracting when they're not behind Bulger's large sunglasses. Though the actor has received much acclaim and Oscar buzz for his performance, this critic found his makeup job distracting, as though Cooper resolved to incorporate Nosferatu into an otherwise low-key melodrama. Depp's sharp features cannot help but make it look like he's all made up, as opposed to disappearing into the role. And while the actor isn't donning pirate garb, his performance has more in common with his Burton roles than his more natural, previous gangsterish turns in Donnie Brasco (1997) and Public Enemies (2009).
Still, Depp remains the most interesting character on the screen next to his recessive gaggle of goons (Rory Cochrane, W. Earl Brown, and Scott Anderson), each afraid to stand up to their sadistic boss. Likewise, the FBI characters are mostly straight-arrow types (played by Kevin Bacon, Adam Scott, David Harbour, and Corey Stoll), each relying on the actor's quirks to give them some semblance of personality. The standouts are Edgerton, whose pathetic attempts to cover up his collusion are almost laughable, and an uncharacteristically riled-up Peter Sarsgaard—whose drug-addled character shoots two people in the face in one scene, then curiously shies away from carrying out a hit in the next. On the margins of the story, the actresses give solid performances. Dakota Johnson plays Bulger's girlfriend, the mother of Bulger's son who dies (Bulger's other girlfriend while he's on the lam was played by Sienna Miller, but her scenes were cut from the finished film). Johnson's character disappears from the film without explanation after the two have a falling out. Julianne Nicholson has a couple of excellent scenes as Connolly's wife.
From start to finish, Black Mass seems like another hour or more of the story was shot but left on the cutting room floor, resulting in loose connections and open-ended subplots. The film alternates between scenes of Bulger's personal life (the death of his son, his mother, etc.) and his business life (killings, drugs, etc.). The portrait painted isn't entirely condemning, as Cooper attempts to humanize him into a tragic figure whose emotional rage propels the savagery of his crimes—not unlike Howard Hawks' original Scarface (1932). Even Tom Holkenborg's mostly string score offers emotional chords that would equate Bulger's story to a daytime soap-level melodrama. At times, the performances venture into this territory as well. The entire production affects an air of Oscar bait that is transparent; the mise-en-scène seems artificial and forced, while Depp's central presence feels more like him showboating than an inspired act of casting. Despite the seemingly eternal appeal of gangsters in cinema, and Bulger as a subject of fascination and horror, Black Mass proves to be little more than uninterestingly made based-on-a-true-story fare.