Director

Cast

Rated

PG-13

Runtime

93 min.

Release Date

12/13/2019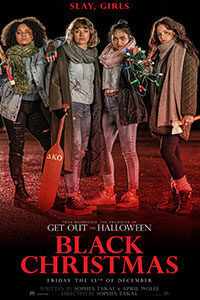 In the new Black Christmas, a remake of the 1974 slasher, Riki Lindhome of the band Garfunkel and Oates contributes revisionist lyrics to the classic holiday song "Up on the Housetop." The altered tune, performed by sorority sisters at a fraternity talent show, calls out college rape culture to an audience of cheering young women and confronted fratboys. The film is bound to have a similar effect, as director Sophia Takal, co-writing alongside April Wolfe, constructs a relevant work of horror about women fighting back against institutional misogyny. In the wake of #MeToo's public conversation about sexual assault and believing women, many can finally talk about patriarchal abuses of power and a culture designed to suppress female voices. Takal fashions a film that openly continues that discussion as part of its surface, calling out the legacy of white male power, and abuses of that power, inherent to higher education. And while its justified political remarks in the dialogue threaten to turn the holiday-themed slasher into a polemic, it does something unique by simply existing outside the exploitative status quo associated with the genre.  
Bob Clark's original Black Christmas camouflaged its feminism with shrewd characterizations and a rich subtext beneath its familiar slasher plot ("The killer is calling from inside the house!"). Though, its female characters were little more than victims of an ambiguous male killer. Takal's film marks the second remake of the original—after the best-left-forgotten 2006 version, released by Bob and Harvey Weinstein's genre offshoot, Dimension Films. The new iteration comes in the wake of Jason Blum's statement last year that "there are not a lot of female directors period, and even less who are inclined to do horror." Coming from the head of Blumhouse Productions, the twenty-first century's premier house of horror, that's a bold mischaracterization. Blum has since apologized for his remarks, though he's also struggled to close deals with women directors. With Takal, he hired a filmmaker whose body of work has confronted aspects of toxic masculinity, female friendships, and male predators in Hollywood. She's an unabashedly political filmmaker at times, but she's also a perfect choice to rethink the usual exploitative shenanigans of the slasher genre. Black Christmas marks the second collaboration between Blum and Takal, after her feature-length episode New Year, New You (2018) on the Blumhouse-produced Hulu anthology Into the Dark.
Imogen Poots stars as Riley, a sorority sister still trying to find her footing after she was drugged and raped three years ago. Her attacker has returned to campus to oversee fraternity initiation rites, and there's a sense of payback in the air—on both sides. Riley's in-your-face activist friend, Kris (Aleyse Shannon), wants to call out the toxic masculine culture at Hawthorne College, a campus with a mysterious history of male scholarship led by its founder, Calvin Hawthorne. Kris even starts a petition to unseat Professor Gelson (Cary Elwes), a seedy instructor who twists a Camille Paglia quote to defend his syllabus of entirely male writers. And once Riley and her fellow sisters perform the aforementioned Christmas tune on stage, and a video of the song appears online courtesy of Kris, Professor Gelson and several fratboys become less than cheery toward our heroines. With that, Riley and her friends, who plan to spend the holidays on campus, begin to receive threatening texts from a mysterious Calvin Hawthorne account.
In the pre-title sequence, Takal has already established what happens after getting Hawthorne's text. Walking home alone at night, Lindsay (Lucy Currey) feels like someone's following her. She uses the self-defense trick of putting keys between her fingers, but that doesn't stop the ghoulish man in a black mask and hooded robe from stabbing her with an icicle. Seeing the killer in action is another change from Clark's original, and there are more changes to come. Takal and Wolfe told Variety that they watched Eyes Wide Shut (1999) for inspiration, drawing from the themes of male cults to inform their remake's killers—that's right, there's more than one. And moreover, the writers add a supernatural element into the mix, suggesting the legacy of Calvin Hawthorne comes out of an Illuminati-esque group of male elitists using black magic to "keep women in their place."
By the time the Hawthorne cult reveals itself as an elaborate scheme against women, you'll know whether you're on board with Black Christmas or unwilling to sit through the film's discussion of #MeToo gender dynamics. Some of that discussion feels too on-the-nose, complete with political taglines embedded into the dialogue. It doesn't help that the PG-13 rating means most of the genre's violence and gore remain off-screen, prompting hope of an unrated cut on home video. Fortunately, Takal's treatment keeps the viewer guessing and doesn't limit itself to female victims running from masked male killers. About half-way through, the initial slasher proceedings escalate into an all-out war, and Black Christmas uses this shift to consider the various gradations in the genders. Some young women resolve to support Hawthorne's male contingent because it's easier; some of the men refuse to submit to Hawthorne and choose to support women. By the finale, it's apparent that Takal has wholly upended the slasher genre in which women are rarely more than another notch on the body count. 
Those jealously devoted to the original may not appreciate Takal's new vision and how it telegraphs its themes, but she follows in the tradition of horror remakes that completely rethink their predecessors. Black Christmas is every bit as divergent a remake as David Cronenberg's version of The Fly (1986) was to the 1958 original, or John Carpenter's The Thing (1982) was to Howard Hawks' 1951 production. Takal takes the brand-name authority of the original, along with a few essential story elements, and forges ahead in a more intricate and subversive way, recalling what Luca Guadagnino did with his feminist Suspiria (2018). Ultimately, Black Christmas plays like a blunt object whose heavy-handedness may mean it goes overlooked or dismissed. But it's refreshing to see a film that actively moves forward, both in terms of genre and gender representation, and turns a traditional slasher into a satisfying tale of women fighting back.