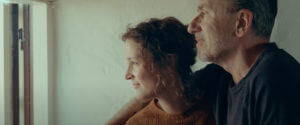 Reader's Choice
Reviews commissioned and selected by Patrons
Director

Cast

Rated

R

Runtime

112 min.

Release Date

07/11/2021
In Bergman Island, French writer-director Mia Hansen-Løve visits Fårö, the idyllic and calming Swedish island that filmmaker Ingmar Bergman called his home during the latter part of his life. He also shot many of his films there, starting with Through a Glass Darkly in 1960. Although it's a vacation spot for some, the island is a destination for cinephiles obsessed with the inward-searching auteur. Enthusiasts can explore Bergman's library and private screening room, watch 35mm prints of his films, buy sunglasses like the ones the director's star Bibi Andersson wore, and even take a "Bergman Safari" tour of the island. Those familiar with Bergman know both Fårö and his films have a close link to the details of his biography. But Hansen-Løve hasn't made a film about Bergman, even if his life and work are often topics of conversation and his influence is unmistakable. Rather, she explores films as a lens through which we understand auteurs, but more reflexively, she considers the filmmaking process as a form of personal observation, expression, and therapy.
Bergman Island is constructed of conversations and nuanced human interactions, and like a Bergman film, the wrong audience will say that nothing happens. The story follows Chris (Vicky Krieps) and Tony (Tim Roth), two filmmakers undertaking a coveted artistic residency at the Bergman Center—Chris is just starting a screenplay, and Tony, the more experienced of the two, has several pages of progress. They have a daughter, who they left with a relative, and so they settle in for the summer, staying in the home and sleeping in the bed where Bergman shot parts of Scenes from a Marriage (1973). They joke about it being "the film that made millions of people divorce," and not altogether lightly. Examining Bergman's life in conversation, Chris raises questions about the auteur's erratic personal life and nine children with six different women. A local expert shares that he was not sentimental, not a family man. Chris wonders how anyone can expect to maintain a healthy family life and still be a filmmaker, even if they're not as prolific as Bergman. She also questions the double standard—had Bergman been a woman, his behavior would have never been acceptable.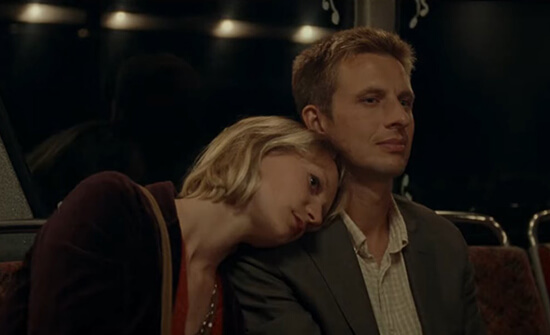 Thinking about her work in the shadow of Bergman's life and filmography, Chris cannot help but consider how her relationship with Tony will overlap with her art. After the couple catches 1972's Cries and Whispers, she remarks on Bergman's affinity for characters wrought with anguish and despair: "I just hope he had more fun in his life than in his movies." But it's evident that her creative impulses have brought into question aspects of her relationship. Chris and Tony work in separate spaces—in a nearby windmill and the main house, respectively. Tony refuses to discuss his progress in any detail, while Chris wants his input. The two seem to be on different wavelengths, captured in subtle performances by Krieps and Roth, who give their characters a richly portrayed inner life. Chris skips taking the bus tour of Fårö with Tony; instead, she drives around with a young student (Hampus Nordenson), and they flirt, visit the beach, and buy sheepskins. Cinematographer Denis Lenoir shoots Fårö in dreamy yet naturalistic colors, conveying a landscape that Chris finds somewhere between "soothing" and "oppressive."
Some elements of what's happened so far emerge when Chris explains her story ideas to Tony, who listens attentively, though he occasionally answers his phone or seems distant. Then Hansen-Løve does something tricky, diverting from the story of Chris and Tony to focus on Chris' developing screenplay. The ensuing film-within-a-film, which Chris shares with Tony, features Chris' voice as narration. Her story takes place on Fårö and involves a young woman, Amy (Mia Wasikowska), who has been in an off-and-on relationship with her first love, Joseph (Anders Danielsen Lie). They reunite briefly during a three-day stay on the island for a friend's wedding. Watched through Chris' mental projection, the film unfolds like the one we've been watching so far, with almost identical aesthetic choices. Chris shoots Amy and Joseph's story in her mind with the same visual sense that Hansen-Løve has presented Chris and Tony's story. All the while, it's apparent that Amy is an extension of Chris; they even share an outfit. Is Joseph somehow representative of Tony, and if so, what does Chris' film have to say about her relationship? Do the connections between Chris' life and art even matter when the result proves singular enough to draw our attention away from the storyteller?
But then there's another layer to consider: Hansen-Løve's brand of semi-autobiographical filmmaking. Like Bergman's filmography, her films have been read mainly as personal expressions accented by biographical influence. Much could be said about her similarities to Chris. Both are in a relationship and have a daughter with a well-established auteur—in Hansen-Løve's case, Olivier Assayas (Personal Shopper, The Clouds of Sils Maria). Krieps, Wasikowska, and Hansen-Løve look alike as well. Eventually, there's a point in Bergman Island when the viewer cannot be sure if we're seeing Chris' projection of her film or the actual production—the leap forward in time creates an inspired fuzziness between fact and fiction. It underscores how speculating about the similarities and linkages between the writer-director and her two characters is less compelling than watching the dramatized process of an artist transforming their life into fiction.
Bergman Island embraces the unresolved tension between the artist and their creative output, using Bergman as a framework. After all, few other filmmakers have had their lives scrutinized so closely alongside their work. Hansen-Løve nurtures those conversations and debates among film fans without requiring that the viewer be versed in Bergman's cinema. Still, she also recognizes how, to some viewers, these layers may be beside the point (one amusing aside in Chris' film-within-a-film centers on a man who dismisses Bergman's angst as self-indulgent). Yet, the relationship between the viewer and the film has another meaning entirely. Picking apart a movie alongside a biography to track the origins of influence proves fascinating, sure, but there's a greater sense of appreciation in knowing that, like Bergman's films, Bergman Island is a work of uncompromised art from a singular voice. In the end, we see that Chris got to make her film in her way, and doubtless, Hansen-Løve did too.
(Note: This review was originally suggested and posted to Patreon on December 23, 2021.)