Director

Cast

Rated

R

Runtime

105 min.

Release Date

06/03/2011
Beginners is a film in which, much like its characters, humorous quirks attempt to disguise the substantial emotions at play just under the surface. Album-cover-graphic-designer-turned-filmmaker Mike Mills' second feature combines joyful whimsy and somber sadness with a flurry of personal touches. His autobiographical story follows a protagonist whose aged father confesses he's gay, and how both he and his father are able to find love only after the passing of someone dear. Along the way, Mills explores the history of sadness, the last forty years of family culture, L.A.'s graffiti underground, the culture of Southern California's gay community, and the notion of a seemingly telepathic dog. For some, it may all seem too cutesy and colorful to work, but it's the most adorable, deeply affecting film this critic has seen since the last Wes Anderson release.
Much like his first title, 2005's Thumbsucker, Mills' second is a coming-of-age tale. What's unique here is that his protagonist, Oliver (Ewan McGregor), is 38-years-old, but still has some substantial growing up to do. He's not arrested like Lou Taylor Pucci in Mills' first, a character in his teens who still sucks his thumb; rather, Oliver has trouble gaining perspective on his life when he considers how his late parents shaped him and how they still influence his relationships. Just six months after Oliver's mother dies, his 75-year-old father, Hal (Christopher Plummer), comes out. Having lived as "theoretically gay" since he married his late wife, Hal embraces a new lifestyle, complete with a kindhearted boyfriend, Andy (Goran Visnjic), and a sudden interest in House music. A short time later, Hal has died from cancer, and Oliver is left to reflect.
Here is where Beginners opens, with Oliver packing away his father's things, lost in a cavernous sadness. He has adopted Hal's dog, a quiet Jack Russell terrier named Arthur, who speaks to Oliver through subtitles. The dog tilts his head inquisitively and asks, "Are we married yet?" They converse as Oliver gives Arthur a tour of his home, explaining the relationship between dogs and humans, with Oliver touchingly sincere and Arthur entirely responsive. One night, Oliver is reluctantly dragged to a costume party dressed as Freud, and Arthur insists on coming along. In a sweet first encounter, Oliver's Freud mock-psychoanalyzes party guests until he meets a French actress, Anna (Mélanie Laurent), who is unable to speak due to laryngitis. She's drawn to Oliver's sadness because she, too, feels lonely and knows it when she sees it. But then Oliver and Anna have the same sense of humor, making their interactions blithe and cheerily romantic. In an awkward moment, Arthur gives Oliver some romantic advice: "Tell her the darkness is about to drown us unless something drastic happens right now."
If this were a different film, Mills' structure might be contemptible, or at the very least, inconsistent. He leaps back and forth from past to present, but not in a way that could be called a flashback or flash forward. At once, he tells multiple stories on different timelines, informing each one with the others as the drama progresses and the characters grow. We follow a young Oliver who spends much time with his mother, Georgia (Mary Page Keller), a woman with a lot of personality, but sullen as her husband is never present; we follow Oliver supporting Hal's gay lifestyle after Georgia is gone; we follow him guiding Hal through his cancer treatments; and we follow the endearing romance blossom between Oliver and Anna. Mills toggles between these periods with an intuitive cutting to show how events from Oliver's past, such as the almost lifelong coldness of his father, have prevented him from having any serious relationships, now culminating in his unfounded resistance to Anna.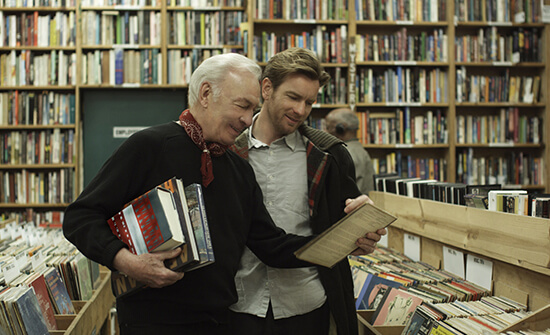 Mills' various periods are introduced by Oliver's photographic montages, a series of photos appearing onscreen with titles announced by Oliver: "This is 2003… This is the Sun… This is the President…" and so forth. Such images become important when Oliver shows us his view of his 1950s families and tells us, "This is happiness…" but displays artificial, disingenuous advertisements. In terms of visual style, Beginners is a richly colored and designed film. Take Oliver's ever-present blue-and-white-striped shirt or his design studio, its walls the brightest yellow; here, Oliver labors through his latest rock band CD cover: The band wants caricature-like portraits drawn of them in Oliver's wobbly marker style, but instead, he delivers a history lesson on the progress of sadness throughout history. Among the drawings, one reads, "My personality was created by someone else and all I got was this stupid T-shirt." Other, similarly comic-glum cartoons appear throughout the film, preceding or punctuating sincere moments.
In casting McGregor and Plummer, Mills not only chose two actors that actually look like they could be father and son but actors who fit into their roles with ease. McGregor is perfect, injecting Oliver with subtlety abound, although his role might be misconstrued as an observer who spends a lot of time watching Hal or internalizing. But it's a deceptively restrained performance about a gradual development. Watch how McGregor's expressive eyes alone communicate what he's feeling, though the character resists interaction initially. Thanks to Hal, Oliver, too, in his own way, comes out of his closet. Plummer merrily falls into his role, capturing all the life apparent in this newly blissful way of living; fortunately, Mills never shows Plummer as the absent father from Oliver's childhood, allowing audiences to see him only as "a new man." The last component is Laurent, from Inglourious Basterds, whose presence has many of the same qualities as McGregor's role, but with a particular charm behind her smile that's infectious.
There's a warmth about Beginners that you don't feel in many films today. These are good characters, good people, and Mills has made it easy to fall in love with them. Though the story involves a lot of highs and lows, going deep into grave material (the death of Hal is painfully felt), the experience induces an instant smile that doesn't fade for the duration—perhaps because Oliver and Anna try to remain outside of the commotion, and therefore prevent the film's mood from becoming too severe. It never becomes too much to bear, but also doesn't let us get away without shedding a tear or having a few hearty laughs. It's a film that, despite its significant drama, just makes you feel good. Mills has delivered a moving film worth celebrating, one whose idiosyncrasies are nothing short of charming, and whose small story is eclipsed by its considerable heart.