Director

Cast

Rated

PG

Runtime

99 min.

Release Date

12/25/2008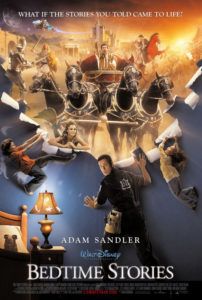 Every Adam Sandler movie contains standard plot elements and characters that seem almost mandated upon by the actor's production company Happy Madison: Sandler always plays the goofy slacker who through the course of the movie must prove himself, despite whatever silly name and voice he's chosen for the role. Through some form of contest or self-avowal, his David-esque character must defeat a Goliath-type evil villain, usually a "cool" person or figure of authority. By the end, Sandler winds up with the too-good-to-be-true girl, who he's impossibly won throughout his ordeal. (Oh, and Rob Schneider routinely makes an appearance, often playing a racially offensive caricature barely worthy of vaudevillian variety acts.)
There are exceptions to these rules, though they're rare. Spanglish and Reign on Me show Sandler in welcomed dramatic opuses, and Punch Drunk Love takes a different tonal approach thanks to director Paul Thomas Anderson (There Will Be Blood), though that film's plot actually aligns with Sandler's set of filmic conventions quite well. Bedtime Stories, however, is no different. It comes from Matt Lopez and Tim Herlihy (the writer of Big Daddy, The Wedding Singer, and many other Sandler favorites), adheres strictly to the Sandler company criteria, and offers few surprises for those familiar with his body of work.
Sandler's crazily-named character Skeeter Bronson is the good-hearted handyman for Nottingham Hotels. Long ago Skeeter's dad owned his employing hotel, but when the current owner (Richard Griffiths) bought out the failing business he promised Skeeter's father that one day Skeeter could take over. Needless to say, the promise hasn't been kept. Now gunning for the Number 1 Spot is slimy hotel manager Kendall (Guy Pearce), who's courting Nottingham's bimbo daughter Violet (Teresa Palmer), but seems smitten with the desk attendant Aspen (Lucy Lawless). Nottingham plans to tear down the current hotel and rebuild, and through a little twist of fate, offers Skeeter the chance to compete against Kendall.
In the meantime, Skeeter is asked to watch over his niece Bobbi (Laura Ann Kesling) and nephew Patrick (Jonathan Morgan Heit) while his sister (Courteney Cox) is away. They have a bulging-eyed guinea pig whose purpose in the movie I'm not entirely sure of. Anyway, Skeeter tells the youngsters stories before bed and the next day finds that the nighttime yarn he's spun has come true in a roundabout way. Gumballs rain from the sky, he's kicked by a dwarf, and so on. Is he making the stories come true? Or are the children making it happen? Maybe it's the hamster? The movie suggests the children, but doesn't really bother explaining how, so perhaps I'm not supposed to ask…
Jumping from Roman epic to Medieval fairy tale, from science-fiction to Western (wherein Schneider fulfills his purpose with a deplorable Native American parody), Skeeter's stories are paralleled in the next day's events. And so, Skeeter unsuccessfully attempts to manipulate the storytelling to his benefit. He tries to earn himself a free car or millions in cash, but no such luck. Comic antics ensue, with jokes misfiring left and right, and bad special effects dominating the production by Hairspray director Adam Shankman. Suffice it to say, eventually the small fry handyman ousts the devilish hotel manager, gets the girl (played by Keri Russell), and saves the day in an insufferably absurd movie moment that will force eye-rolls from everyone in the audience over ten years old.
And so you see, Bedtime Stories accomplishes all the required tasks of an Adam Sandler comedy, plainly and without a moment of originality. The film, released by Walt Disney Pictures, has more "family friendly" vibe than your usual potty-mouthed Sandler fare, sporting a PG-rating and less scatological humor than normal (though expect some guinea pig-based fart jokes). And whereas a film about dreams coming true should be enchanting and whimsical, the product will only mildly entertain in a dull and repetitive way.