Director

Cast

Rated

R

Runtime

119 min.

Release Date

06/19/2020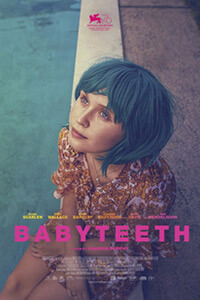 Shannon Murphy's Babyteeth is an earnest tear-jerker that walks a delicate line between schmaltz and brutal reality. As Milla Finlay, Eliza Scanlen (Beth from last year's Little Women) plays another dying teen, although this one isn't so easily described. Milla, a 16-year-old high schooler in Australia, suffers from an unnamed form of cancer. In a random encounter, she meets a drug-dealing yet charismatic stray, the 23-year-old Moses (Toby Wallace). Though her parents, the psychiatrist Henry (Ben Mendelsohn) and the medicated Anna (Essie Davis), see Moses as an opportunist with a facial tattoo and ratty hairstyle at first, Milla sees a lost puppy with love to give. But each of these characters defies their initial classification. Much like Babyteeth itself, they border on clichés, only to reveal themselves in vulnerable and inspired ways. Still, the film wants desperately to avoid becoming commonplace, and its attempts to be unconventional sometimes have the opposite effect.  
On the surface, this weepy, coming-of-age tale suggests another in the recent strain of terminal teen romances like The Fault in Our Stars (2014), Me and Earl and the Dying Girl (2015), Everything, Everything (2017), or Five Feet Apart (2019)—where the first love between two youngsters is undone by some disease that promises to keep them apart. However, such a label does Babyteeth an injustice; the result is far more quirky and somewhat more dangerous than another sloppy hunk of young adult fiction. Instead, Murphy evokes the confrontational energy of Jane Campion's Sweetie (1989) or Holy Smoke! (2000) in her debut feature, a colorful and propulsive experience written by Rita Kalnejais, adapted from her play of the same name. As the music alternates between Mozart and the Lily Allen-esque band Mallrats, Murphy's direction fluctuates too, embracing a tonal dexterity that keeps the viewer at attention, but also at something of a distance. 
The developing romance between Milla and Moses, paired with Henry and Anna's complicated marriage, often penetrates uncomfortable territory. Moses, after all, has inserted himself into the life of a minor, a detail not overlooked by Milla's parents. But Milla's failing health, never fully explained, seems to have opened Henry and Anna to whatever makes their daughter's last months happier ("This is the worst possible parenting I can imagine," Anna reflects at one point). If anything, they understand her desire to distract herself with the oddly alluring young man; they, too, have found unhealthy coping mechanisms. Henry keeps Anna numbed with a prescription to Zoloft, and he has far more destructive methods of his own. Mendelsohn and Davis are the wounded heart of Babyteeth, whereas Murphy's treatment of the scenes between Scanlen and Wallace has a way of keeping the viewer at bay—like we're seeing something potentially volatile, if not criminal, unfold before our eyes. 
To be sure, there's a miraculous transition in the last third where Moses becomes a fixture in their family rather than a potential force of destruction and betrayal. Even so, some confusion emerges with the introduction of underdeveloped supporting characters, including a music instructor (Eugene Gilfedder) who seems to have a loaded past with Anna; a young, unattended music student (Edward Lau); and the pregnant neighbor (Emily Barclay) whom Henry kisses at one point. And then there's the Isaac (Zack Grech), who has been forbidden from seeing Moses, his older brother. When they all appear at a party in the last third, their reasons for being there remain uncertain, but no matter. Babyteeth is more interested in the symbolism of the neighbor's birth that counteracts the downer of Milla's inevitable death. While the small, kooky moments between these characters keep the viewer attentive, they also leave us scrambling to reconcile. 
Murphy is preoccupied with capturing beautiful moments of light and color or impromptu stylistic asides, more so than describing her characters. Her cinematographer Andrew Commis uses a handheld camera that explores every scene with roving close-ups, often so quickly that the image goes out of focus. Her editor Stephen Evans inserts poignant little touches, from a bee fluttering on a pool's surface to a small child munching on a cookie, that the treatment might seem observational if it wasn't so self-conscious. Elsewhere, Milla looks directly into the camera, making a momentary connection when, for instance, she first meets Moses, or later during a crucial moment in the mirror. Milla is the film's very own manic pixie dream girl, and her scenes have been divided into short chapters, each with brightly-colored titles like "When Milla Met Moses on Platform 4" or "Insomnia" or "Romance (Part 1)." These flourishes may be too cutesy for their own good. The approach feels like an American indie by way of Jake Kasdan, except when it's raw and feels delivered by Andrea Arnold.  
By the end, you might begin to question how any of this happens. Who are Milla and Moses? Is their romance genuine? Or is she using him to distract herself from the pain, while he uses her to score drugs? In what world do Henry and Anna allow their underage daughter to sleep in the same room with a drug-addicted criminal? The answers only begin to materialize in the convenient final scene, which, even though we see it tugging at our heartstrings, we let it happen. Improbably, the family that appears onscreen in the final moments has won us over, warts and all. Babyteeth can feel messy and uncertain, if not accented by the haphazardness of life, not to mention some unnecessary stylistic glitter. The result has a discordant rhythm that keeps flowing, despite the occasional missed or off-key note. Through it all, Murphy's confident direction ensures that her film's deviations and imperfections prove endearing, anchored by four excellent performances.