Director

Cast

Ansel Elgort

,

Kevin Spacey

,

Lily James

,

Jon Bernthal

,

Jon Hamm

,

Jamie Foxx

,

Eiza Gonzalez

,

Flea

,

Sky Ferreira

,

Paul Williams

Rated

R

Runtime

113 min.

Release Date

06/28/2017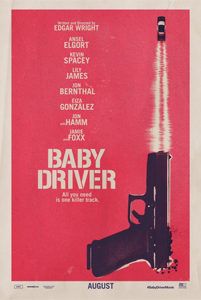 Baby Driver opens with a sequence that brings the career of director Edgar Wright full-circle. Back in 2003, a year before his debut Shaun of the Dead, Wright helmed the music video for Mint Royale's "Blue Song." The video features The Mighty Boosh star Noel Fielding as a getaway driver for three bank robbers; as they carry out their crime, he dances and lip-syncs in the car. Confined space be damned, since Wright somehow imbues the remaining three minutes with electric visual energy, while Fielding plays the steering wheel like drums, pantomimes piano, and waves his head side-to-side in unison with the windshield wipers. In Baby Driver, Ansel Elgort stars as Baby, a wheelman for a trio of armed thieves (Jon Hamm, Jon Bernthal, and Eiza González). While they take down a bank score, Baby rocks out behind a pair of sunglasses to "Bellbottoms" by The Jon Spencer Blues Explosion, dancing by himself in the style of Fielding. And the pre-credits, high-speed pursuit that follows Baby's dance routine finds him weaving between cars, dodging oncoming traffic, and drifting his red Subaru in complete turnarounds for a breathless escape. To be sure, Wright marries music and car chases into amazing cinema.
Wright first had the idea for Baby Driver over two decades ago, though perhaps his skill and confidence as a filmmaker had to grow before he could make it. After leaving his long-in-development Ant-Man film with Marvel in 2014, the director pursued his passion project: a heist film with elaborate car chases set to his favorite music. But unlike, say, Nicolas Winding Refn's comparatively severe Drive, Wright's playful soundtrack throughout sets a specific tone that informs the entire picture. His film becomes more than just another action yarn about a daredevil driver. Wright has carefully selected each song, having planned each choice at the scripting phase (typically, screenwriters do not reference song choices on the page). Wright's foresight and vision result in an ambitious concoction of technical wizardry, sensational stunts, and heist genre thrills set to the tempo of the killer soundtrack—all through which Wright's editing team of Paul Machliss and Jonathan Amos achieve a symphony of rhythm and style. Each of these disparate elements synchronizes in a way that registers Baby Driver as a nearly two-hour music video. Normally, comparing a film to a music video might have negative associations, but here it amounts to high praise.
Elgort, the YA heartthrob from The Fault in Our Stars and the now-defunct Divergent series, shows a livelier side in a physically demanding role. He's required to drive, dance down the street like Gene Kelly in Singin' in the Rain (Elgort trained as a dancer), and sprint-cum-parkour in an impressive on-foot chase. His character must also fall in love with a waitress, Debora (Lily James), from his favorite greasy spoon (but that doesn't seem like much of a challenge). In any case, Wright's non-car-chase scenes are just as exhilarating as those where he commands screeching wheels. Consider the sequence just after the opening's high-speed getaway, where Baby ventures out to get coffees for the criminal crew hired by his boss, Doc (Kevin Spacey). Shot in an extended take with dizzying Steadicam movements, Baby's journey to and from the coffee shop recalls Simon Pegg's pre- and post-apocalyptic sidewalk jaunts for a Cornetto in Shaun of the Dead. Later, the most exciting few minutes of the film involve Baby trying to outrun both cops and crooks on foot. Wright's inventiveness calibrates every scene to eleven, making even the most mundane tasks wildly entertaining.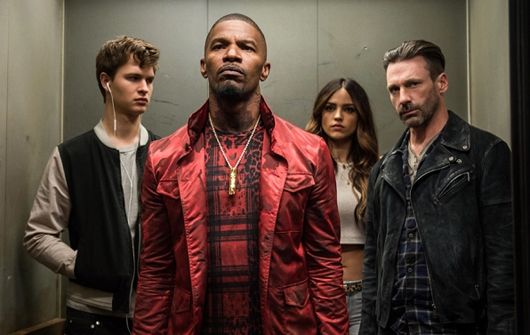 Afflicted with tinnitus (something this critic experiences as well), Baby drowns out the constant ringing in his ears with persistent tunes blaring in his earbuds—drawing from several iPods, each one storing songs for a distinct mood. This leaves him to appear aloof, distracted. Doc's hired thieves—some of whom respect Baby's talents behind the wheel, while others, like Jamie Foxx's ever-aggravated Bats, feel like they're being snubbed—accuse Baby of being "retarded." The soft-spoken driver clearly has some obsessive ticks, from his aspirations to become a DJ to his apparent social isolation. He's an orphan, raised by a deaf-mute foster father (CJ Jones). But, for whatever reason (never adequately explained), he's a wizard behind the wheel. With just one more job before his debt to Doc has been satisfied, Baby hopes to escape with Debora: "To head West on the 20, in a car we can't afford, with a plan we don't have." As Baby's non-plan to break free of Doc comes closer, the criminal underworld seems determined to keep him driving for scores.
Aside from the Simon & Garfunkel tune that gives the title its name, the soundtrack consists of songs that don't appear on your typical movie track list. Wright is a famous musichead, and his choices never disappoint or play to popular tastes. T. Rex's "Debora" and Carla Thomas' "B-A-B-Y" may be obvious choices given the characters' names, but what about "Egyptian Reggae" by Jonathan Richman & The Modern Lovers, "Baby Let Me Take You (in My Arms)" by The Detroit Emeralds, or the beats that Baby himself creates using audio recorded between Doc and his goons (the track "Was He Slow?" is infectious)? Setting this selection of music to Wright's tirelessly storyboarded but breakneck visual style creates a frenetic, yet beautifully orchestrated blend of action and music, enchanting our eyes and ears. This mixture of action, music, and crime forms a mannered pastiche style that shares much in common with Quentin Tarantino or the Coen brothers, except a level of sheer fun dominates Baby Driver's presentation.
Perhaps that's the single downfall of the film: The hero's story has far less substance and virtuosity than the film's aesthetics. Compared to the blithe and almost comic tone of the proceedings, Baby and Debora's one-dimensional romance feels simplistic. Maybe it needs to be, allowing the music and car sequences their place at center stage.  Yet I would be remiss if I didn't mention Debora's nondescript and uncomplicated characterization. She's a singularly sweet and innocent young woman in desperate need of rescuing; and regardless of helping out later in the film, she's a damsel, and hardly a strong female character. Doc's nuances are more compelling, with Spacey delivering equal measures of intimidation and an earned fatherly respect for his top driver. Hamm's professional thief, named Buddy, has a fascinating arc from Baby's best ally to his worst enemy, and the actor conveys each progression by making use of both his comic and dramatic talents.
The complicated friendships between Simon Pegg and Nick Frost's series of characters in Wright's Cornetto Trilogy (Shaun of the Dead, Hot Fuzz, The World's End) may not be fully represented here, but Baby Driver shows its writer-director developing in other ways. Though the film offers a few solid laughs, it's an action comic book more than an action-comedy, and therefore has more in common with Wright's Scott Pilgrim vs the World. And while the romantic elements prove serviceable, the formal approach and actionized bravado, always enhanced or intentionally undermined by the soundtrack, thrills more than any Fast/Furious entry could ever hope to—after all, Wright opts to use real cars and physical stunts, as opposed to CGI. Baby Driver's comparatively small, handmade quality serves it well, making this kinetic piece of entertainment feel less like an anonymous studio tentpole than a personal labor of love.