Director

Cast

Rated

PG

Runtime

97 min.

Release Date

11/23/2011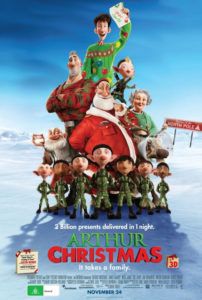 From the UK's Aardman Studios, the company behind the Wallace & Gromit franchise, comes Arthur Christmas, a charming computer-animated feature determined to fill you with the holiday spirit. Recent Christmas movies—Disney's A Christmas Carol or Four Christmases, for example—have failed to become "instant classics" in the way their studios have hoped, whereas others—such as The Polar Express and the live-action Grinch debacle—have given me nightmares. Every new one wants to earn its place in our annual Christmastime must-watch list and eventually become a family tradition. The last movies to achieve this in my household were Elf, that ridiculous and contagiously watchable comedy starring Will Farrell, and Love, Actually, that cute mosaic romance by Richard Curtis. You can now add Arthur Christmas to the list.
Updating the Santa mythos with a modern twist, the cleverly quirky world created by writer-direct Sarah Smith and co-writer Peter Baynham finds the North Pole inhabited by a high-tech, James Bond-esque underground facility housing Santa and his many elves. But rather than St. Nicholas himself, the notion of "Santa" is a tradition passed down from one generation to the next in the Claus monarchy, with each new Santa obligated to 70 years of service before handing over his fluffy red-and-white crown to his male heir. Today, the twentieth Santa (voiced by Jim Broadbent) has become absent-minded and feeble, leaving the bulk of his duties to his tech-obsessed son, Steve (voice of Hugh Laurie). Under Steve, Santa's sleigh and the eight reindeer have been retired and replaced by the S-1, a futuristic city-sized craft that hovers over any metropolis, dropping down acrobatic elves like a SWAT team to deliver toys in a display of bureaucratic efficiency.
The problem is, Steve is a rigid and almost militaristic numbers guy, unlike his gangling and awkward younger brother, Arthur (voice of James McAvoy), a "letters to Santa department" clerk who still relishes the magic of Christmas with a twinkle in his eye. So when Steve's ultramodern approach to toy delivery inadvertently leaves one little girl, Gwen (from Trelew, Cornwall, England, of course), without a bike waiting for her under the tree, Arthur can't believe that his elder sibling refuses to fire up the S-1's engines for one last drop on Christmas Eve before the sun rises and wee Gwen wakes up to find herself present-less. Desperate to make sure every child experiences the magic of Christmas, Arthur sets off with the cantankerous and zany Grandfather Christmas (voice of Bill Nighy) and the elf Bryony (Ashley Jensen), with the old-school sleigh and reindeer propelling them, to deliver the last toy.
What I like best about this movie is its lack of cynicism, in spite of its modern approach. There's no debate about the existence of Santa Claus here, no "But don't parents actually deliver toys?" argument. It's merely a stated fact that Santa exists and delivers presents on Christmas, making the entire experience a no-apologies embrace of the Santa myth, and a pleasure for kids and the child in every adult. Modern gadgets and hip devices are on display, so youngsters with iPhones can relate, but the movie leaves the "fresh" attitude aside. As I can recall, there are almost no direct pop-culture references (thank goodness), and yet the setting is decidedly contemporary. Also, there's no villain to speak of; even if Steve represents a stubborn pseudo-antagonist, he's never evil or wicked, just misguided. The story's simplicity is its joy, leaving the delightful array of good-hearted characters to take over.
Although best known for their claymation under Nick Park (Chicken Run), Aardman's production doesn't use Park's visual style and characterizations to guide this film, as they did with the CG-animated Flushed Away. The characters look like versions of someone you'd find in a Dreamworks or Fox animated movie, except polished; but they could also pass as revamped characters from a Rankin/Bass Christmas Special. If Rudolph the Red-Nosed Reindeer had been made using computers, it might look like this. And like those TV specials of yore, part of the appeal is this movie's ability to tap into our nostalgic love of Christmas, reaching far back to a simpler time when the holiday was magical instead of an excuse to go shopping.
Before seeing Arthur Christmas, I was dreading the holidays. Christmas is a busy time in my household, with too many family functions, too much traveling, and too many whirlwind days to allow "Christmas spirit" to penetrate my (admittedly sour) outlook this year. Indeed, I had considered watching A Christmas Tale to best identify my mood. After Arthur Christmas, though, seeing Christmas lights on my neighbors' homes a day after Thanksgiving wasn't so annoying. I began asking my wife when we're going to put up the tree, and I was plotting sneaky Christmas surprises for loved ones. This is a happy film that made me smile a lot, and what's more, it transported me into the Christmas spirit. It softens your heart, makes you laugh, and provides a lighthearted time at the movies. You're just asking for a lump of coal if you don't like it.