Director

Cast

Rated

PG-13

Runtime

110 min.

Release Date

04/08/2011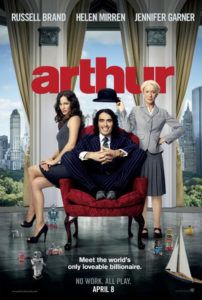 Hollywood's latest in an effort to remake every hit from the 1980s, Arthur has as much in common with Adam Sandler's Billy Madison as it does the 1981 version. British funnyman Russell Brand plays the title character, but not as you might remember him from Dudley Moore's rendition (a nonstop drunkard with a long list of bad jokes). The new Arthur's buffoonery stems from childish antics brought about by a life of luxury and personal tragedy, everything from driving around New York City in a Batmobile to booze-guzzling parties with prostitutes. Brand leads an impressive cast for director Jason Winer and writer Peter Baynham, who reinvent the original Arthur by making their central character decidedly less obnoxious, depending on your point of view.
Brand's presence alone will leave some indifferent. Aside from his movie-stealing supporting role in Forgetting Sarah Marshall, his other U.S. efforts have failed to garner him the celebrity he retains in Britain. Stateside, he's thought to be annoying in many circles, whereas this critic believes he can be quite funny in the right doses. The spinoff Get Him to the Greek force-fed a Brand overdose, whereas Arthur demonstrates the comedian is capable of much more than his usual vulgarities. Brand lends the character of spoiled heir Arthur Bach his stereotypical party animal persona, but along with Baynham's thoughtful script, allows the drunken buffoonery to subside so that the audience might learn why Arthur in essence acts out. This is a detail the original film never addressed, and it's the main reason this remake works so well.
The plot of the new version and the original follow the same course until the final ten minutes or so. These differences will be discussed in detail below, so consider yourself alert. Because of his reckless drunken playboy lifestyle, Arthur's mother informs him he must marry Susan (Jennifer Garner), an heiress whom he doesn't love, in order to keep his inheritance. Meanwhile, Arthur meets a working-class girl from Queens, Naomi (Greta Gerwig), and instantly falls for her sense of humor and imagination. But Arthur doesn't want to lose his money, so he doesn't tell Naomi about his arranged marriage; when she finds out, Naomi breaks up with him. Only after some encouraging words from his lifelong nanny, Hobson (Helen Mirren), does Arthur realize he doesn't need the money if he has Naomi.
The remake stands apart by giving each character weightier motivations. Take Susan, who in the original was little more than just a face with a domineering father (here played by a rigid Nick Nolte). Garner's authoritarian version of Susan has plans of her own to overtake the Bach empire and establish herself as a hard-nosed businesswoman, and no lollygagging drunkard will stand in her way. But the most significant addition to the story is the last coda where Arthur and Naomi do not wistfully get together after he leaves Susan standing at the altar. There's a period where Arthur joins Alcoholics Anonymous, and establishes himself in the Real World without the benefit of a vast fortune, and only then is he good enough to rekindle his love with Naomi.
This ending was far preferable to the original, wherein Moore's Arthur leaves his Susan at the altar and instantly joins Liza Minelli's leading lady, only to be given his fortune anyway. The original never addressed that Arthur's drinking was a problem, and Minelli's character didn't seem to mind either—she ultimately fell in love with an alcoholic personality (a rather pathetic notion upon reflection). All of Arthur's very apparent "issues" never acknowledged by the original are brought into the open here, including a sad story about Arthur's late father dying young, which prompted him to live every moment to its fullest in wild abandon.
Every character in the remake has more depth than the one-note characterizations of the original. The story makes sense. The romance between Arthur and Naomi is believable. The drinking problem is provoked and ultimately solved. And most importantly, Arthur forces himself into recovery, and it actually proves to be meaningful. What doesn't work are side characters like Arthur's chauffeur Bitterman, here played by an unfunny Luis Guzmán, or some of the jokes. For example, the whole Batmobile fiasco falls flat. Yet there's more tenderness in Baynham's script than could ever be found in the overrated, transparent fluff piece that was the original. Now aside from everything that works so well about this comedy, you still have to ask yourself if you can tolerate nearly two hours of Russell Brand onscreen. No matter how superior this remake may be to the original in terms of emotional motivations, the answer to the Brand question determines whether or not you'll enjoy Arthur.