Director

Cast

Kurt Russell

,

Jay Baruchel

,

Matt Dillon

,

Terence Stamp

,

Chris Diamantopoulos

,

Stephen McHattie

,

Jason Jones

,

Katheryn Winnick

Rated

PG-13

Runtime

90 min.

Release Date

03/14/2014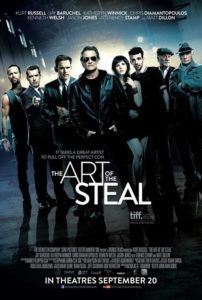 Maybe it's my background in art history. Maybe it's my affinity for tales of art thievery. Maybe it's my fondness for elaborate con games and heist movies. Or maybe it's my unabashed love of Kurt Russell. But everything that doesn't work about The Art of the Steal doesn't really matter, because, in the end, the audience spends more time wrapped up in the film's delights than the few moments near the finale where its momentum fizzles out. Although not to be confused with the same-name documentary from 2009—about a shameful conspiracy by the city of Philadelphia to "obtain" The Barnes Foundation, the largest single private collection of Post-Impressionist art—this film contains no shortage of stolen artworks but in a style reminiscent of Ocean's 11 or Snatch, where a band of likable crooks join together and outline their deftly executed scheme through brisk montages and unexpected switcheroos.
In a breathless prologue filled with double-dealings and a motorcycle chase, Crunch Calhoun (Russell) narrates how he wound up in a Polish prison after his brother Nicky (Matt Dillon) sold him out when they failed to secure a Paul Gauguin painting in Warsaw. Years later, Crunch is broke and out of jail, done with crime, and estranged from his brother. He now serves as a lowbrow daredevil, "apprenticed" by his loyal mechanic Francie (Jay Baruchel), and takes intentional wipeouts for a few hundred extra bucks. When Nicky shows up with a new scheme to lift a priceless Johannes Gutenberg print of the Book of James from a Canadian customs house, he needs to get the old gang back together and needs Crunch's help. Joining them is Crunch's underdeveloped wife character Lola (Katheryn Winnick), who seems overly fond of Nicky. Meanwhile, incessant titles appear onscreen whenever characters are introduced, identifying Crunch's Irish comrade Paddy (Kenneth Welsh) as their "Rolodex" or the Frenchman Guy (Chris Diamantopoulos) as their "Forger". Everyone in the film has a title like this, but fortunately the gimmick is easy enough to dismiss after it overstays its welcome.
"The Heat" comes from high-energy, dim-witted Interpol agent Bick (Jason Jones), who's hot on Nicky's trail for stealing an original Seurat. Joined by former art-thief-turned-informant Samuel (Terrence Stamp), who's coerced into helping his investigation, Bick is especially ignorant of all things art. (In one scene, Bick remarks on Seurat's pointelist style: "I like all the little dots," he says.) As the developing caper trots the globe from Montreal to France, from Detroit to Niagara Falls, the chemistry between these largely pleasant characters becomes the film's best feature. Meanwhile, Francie tries to convince Crunch not to trust his shady brother again. To be sure, history seems to repeat itself again and again in The Art of the Steal, as illustrated to entertaining effect when Guy relates the story of when the Mona Lisa was stolen from the Louvre in 1911 through an elaborate con. This flashback, rendered in stylized black-and-white and featuring Dillion and Russell as their characters' counterparts, steals the entire movie.
The humor plays a major part in the film keeping our interest. Baruchel, whose presence is resigned to comic relief, has a few amusing moments when his awkward character is asked to perform under pressure, resulting in a discussion of the merits of Predator 2 with a border patrol officer. There's also a funny bit about a pink vagina sculpture, both as a physical gag and one of the many dry slights Samuel delivers against a frustrated Bick. We barely notice how the film's head games are somewhat obvious and the scheme itself isn't as elaborate as it seems, because the banter between these performers never loses its entertainment value. (The outtakes during the end credits are also a riot.) Russell, who's had far too few acting gigs as of late, is back in the saddle here and reminds us why his charming-yet-badass-yet-everyman quality was so effective in Big Trouble in Little China, Death Proof, and Escape from New York.
Writer-director Jonathan Sobol injects a lot of derivative style into his film, using snappy editing and sharp humor to enliven the planning stages of this "crime of the century" and its eventual execution. The Art of the Steal wouldn't be possible without the films of Quentin Tarantino, Guy Richie, and Steven Soderbergh, but Sobol is an efficient borrower. In his film's brisk 90-minute runtime, he uses the affable nature of his actors and his economic story construction to keep us guessing and questioning the loyalties of all parties. In the climax, which utilizes far too many The Usual Suspects-like flashbacks to earlier footage to explain what happened, Sobol's approach wavers, though not enough to sour the overall experience. The journey's the thing, and The Art of the Steal is a fun, entertaining ride that puts more emphasis on the beauty of priceless art than its price tag—a refreshing notion for the heist genre.