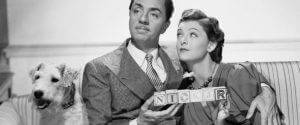 Another Thin Man
3.5 Stars
Director

Cast

William Powell

,

Myrna Loy

,

Virginia Grey

,

Otto Kruger

,

C. Aubrey Smith

,

Nat Pendleton

,

Ruth Hussey

,

Asta

Rated

Unrated

Runtime

103 min.

Release Date

11/17/1939
Just five years after the release of The Thin Man in 1934, a second sequel would reach screens with Another Thin Man in 1939, bringing back cinema's favorite wise-cracking detective Nick Charles and his "imperturbable" wife Nora, played by suave comedian William Powell and effortless charmer Myrna Loy, respectively. The first sequel, After the Thin Man from 1936, proved another huge success for MGM, and the studio resolved to release a new Thin Man picture every two years, much like their Tarzan series starring Johnny Weissmüller and Maureen O'Sullivan. With Another Thin Man, the franchise started by Dashiell Hammett's novel would become a regular fixture in cinemas, perpetuating the Thin Man formula with an exciting blend of murder mystery, hilarious dialogue delivery, and a fascinating juxtaposition of underworld dealings and sophisticated society airs. Although the comedic antics take a backseat to the dangers of the plot, this third go-round once again reminds us that marriage doesn't necessarily have to be devoid of love and good humor, even with an infant in tow.
Indeed, the plan conceived by the husband-and-wife screenwriting team of Albert Hackett and Frances Goodrich had backfired. After the Thin Man ended with Nora revealing she was pregnant, and rather than suggest this to mean the Charleses would have no choice but to settle down and give up their adventures, it caused further clamor among audiences and critics to meet the happy couple's new addition. Story talks for Another Thin Man began as early as 1936. Hammett, in typical fashion, designed the murder mystery blueprint and the Hacketts wrote their screenplay around it. Having fallen deep into alcoholism, Hammett's input on the story became less and less, and by 1937 the author signed away the rights to his Thin Man characters to MGM for a quick payday of $40,000, which meant the studio wouldn't have to consult the unreliable author for future sequels. Meanwhile, both Hammett and the Hacketts debated the story details with series producer Hunt Stromberg, who complained that the script for Another Thin Man was far too different than the previous two entries.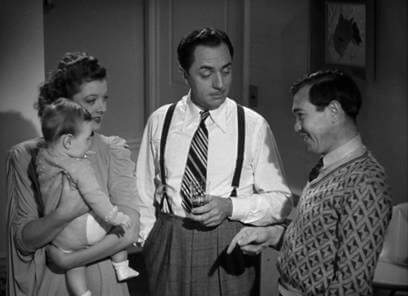 Certainly, this sequel feels more entrenched in the mystery than The Thin Man or After the Thin Man, and the amount of danger and implied violence onscreen is heightened as well. The film opens with Nick and Nora returning from their vacation abroad to New York, with both Asta and their 1-year-old baby Nick Jr., played by eight-month-old William Anthony Poulson (who was selected from several hundred candidates, but playing Nick Jr. would be the performer's only acting gig). As they're unpacking and desperate to unwind, they're summoned by Colonel MacFay (C. Aubrey Smith) on urgent business to his Long Island estate, much to Nick's chagrin—the retired detective doesn't want to be dragged into another case. The Charleses also get a new nurse for Nick Jr., the shifty-eyed Dorothy (Ruth Hussey). When they arrive at the Colonel's estate, they discover an atmosphere of paranoia, complete with armed guards. One of them asks Nick, "What's the idea of the kid?" Nick says dryly, "Well, you see, we had a dog and he was lonesome." Nick's humor is as dry and quick as ever. Over dinner, the Colonel confesses he's been threatened by a former associate, Phil Church (Sheldon Leonard). Of course, this whodunit is packed with suspects: the Colonel's adopted daughter Lois (Virginia Grey), her fiancé Dudley (Patric Knowles), the Colonel's secretary, and struggling playwright Freddie (Tom Neal), and the nervous housekeeper Mrs. Bellam (Phyllis Gordon).
The perils of Another Thin Man are especially felt here, with someone setting the Colonel's pool on fire, slitting the throat of the Colonel's dog, much knife tossing, and threats issued to the members of the Charles family. Nick isn't amused, but he has help investigating this case from bungling Assistant District Attorney Van Slack (Otto Kruger) and, returning to the series from the first film, Lt. Guild (Nat Pendleton). Powell's bewildered expressions as the ineffectual detectives try to unravel the knots of this mystery are hilarious since these other men are so obviously wrong in every deduction they make. But just because the dangers assert themselves more doesn't mean the film is devoid of laughs. There's a hilarious, if odd, subplot about one of Nick's shady connections insisting on a "baby party" for little Nick Jr., where hoods show up at the Charleses' home, each with a crying infant in their arms, each singing "Happy Birthday" for Nick Jr. One hood asks another where he got the kid, and the other replies that he paid the baby's mother a buck to rent him for the afternoon. Nora, called "Mommy" by her husband and imbibing less booze than usual (she's a mother now, after all), still remains sexy in a scene in the West Indies Club, surrounded by male admirers. When Nick approaches, he says, "Now, Mommy, you know better than to come to a place like this your first day out of bed. What if the health officers find out, they'll put you right back in quarantine." Nora picks up on the gag and plays along, replying, "I won't stay in quarantine, I don't care who catches it!" Her male suitors quickly scatter.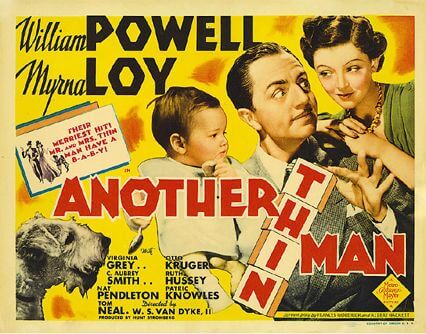 Powell, too, may get fewer laughs from cocktail-imbibing, but the actor's determination to protect his family turns Nick into more than just the casual, jesting hero of the earlier films. But before shooting on Another Thin Man ever began, there was some concern about whether or not William Powell would return to his iconic role at all. While discussions for another Thin Man picture had begun, Powell was holding out for more money, a $200,000 payday for a third picture. The studio negotiated him down to $8,000 per week on the job, knowing their efficient director "One Take" Woody Van Dyke (credited with the slightly longer title W.S. Van Dyke II) would have the film in the can within a few short weeks (filming wrapped after a speedy 36-day schedule). But there was more going on with Powell than just his payday; he was undergoing a private battle with rectal cancer. For nearly two years, Powell didn't appear onscreen as he submitted to a number of surgeries that would leave him weak and unable to commit to Van Dyke's demanding schedule. The studio had briefly considered recasting Powell's role with Melvyn Douglas or Reginald Gardiner, but no one could substitute Powell's gentlemanly mannerisms and comic timing. When he finally returned before the camera in the summer of 1939 for Another Thin Man, the cast and crew greeted him with applause to which Powell was speechless. Van Dyke allowed Powell a six-hour workday, as the suave star was now stricken with a colostomy bag. Nevertheless, you'd never know the actor's discomfort or frailty based on his lively performance.
Upon the film's release, critics met Another Thin Man with positive reviews, acknowledging its somewhat forced joviality, but clearly taken by the return of William Powell after his absence. By welcoming back the silver screen's perfect married couple in all their domestic bliss, the reception ensured MGM would develop future Nick and Nora adventures. And, aside from a few quibbles about the engineered nature of the proceedings and the film's arguable lack of spontaneity, it's difficult to find much fault in Another Thin Man and the pleasures offered therein. Powell and Loy radiate their usual effortless charm and good humor, while the mystery itself is entrenched and downright puzzling. It's a satisfying continuation of the Thin Man series, and the inclusion of a baby into the mix only strengthens the bond we feel with these characters. Nick and Nora's enduring elegance and romantic chemistry are even more impressive and desirable in the face of parenthood and remind us why we admire the Charleses so.