Director

Cast

Rated

R

Runtime

104 min.

Release Date

04/09/2010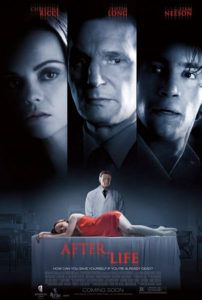 After.Life doesn't want to make your work as a viewer easy. It wants you to endlessly discuss its meaning, and those debates will go on and on without end because the movie doesn't offer any solutions. Your task becomes to determine its genre for yourself through the act of watching and deciphering clues. First-time filmmaker Agnieszka Wojtowicz-Vosloo adopts horror movie imagery and creepy situations, with a hint of melodrama, to create a somber, brooding mood for her maybe-psychological, maybe-supernatural chiller. Whether or not it should be described as "psychological" or "supernatural" is up to you.
Admittedly, the premise is intriguing. The film's guessing game revolves around young schoolteacher Anna, played by Christina Ricci, who supposedly died in a car accident. She wakes up in a mortuary as she's being prepped for her underground internment by a funeral director named Deacon, played by Liam Neeson. Deacon explains that she has died. "I'm not dead," she argues. "You all say the same thing," he rebuts, having apparently had this conversation with many before her. There are two options: Deacon is as he claims, a mortician with the ability to speak to the dead, and he ushers lost souls into the next world. Or, Deacon is a twisted serial killer attempting to convince his latest victim that she's a corpse.
Small, often contradictory clues present themselves as the mystery unfolds. Deacon has all the mannerisms of a serial killer; he keeps a collection of photos of former "clients" on his bedroom wall as tokens. Though the audience sees Anna as only pale, when she looks into Deacon's full body mirror, she sees herself as a rotting corpse. Deacon goes on rants about seeing corpses walking about, and how he is the only one that can truly put them to rest. Then again, when Anna calls her mourning boyfriend Paul (Justin Long), her voice is muddled Poltergeist-style. Paul insists she's alive; but is he just having trouble letting go? And what about Anna's young student, Jack (Chandler Canterbury, from Knowing)? He claims to have seen Anna through the funeral home's window, but when he speaks to Deacon, it appears that Jack also has the ability to see dead people. Or is it that Jack has the same killer instincts as Deacon?
Such hints are coupled with lots of random, unexplained moments of horror mood-making: A nosebleed. The creepily hygienic stainless steel atmosphere of the morgue. Lights flickering and then shutting off in sequence down an eerily secluded hallway. Long, dwelling shots on other corpses in the mortuary. A blood-spattered bobblehead. Cutaways to a hand (but who's?) turning the mortuary thermostat down to forty degrees. The curious presence of "hydronium bromide", an ersatz chemical said to cause a zombie-like state of unconsciousness and Deacon's insistence on shooting her up with it every few hours.
Neeson's ominous presence allows the viewer to shift back and forth between the possibilities as the movie progresses. Whether his character is a psycho killer or has a sixth sense, Neeson projects it well. He's an actor that has an immediacy onscreen, and it's probably because he was cast that we buy any of Deacon's behavior. Ricci, on the other hand, spends most of the movie prancing about naked in a cold mortuary looking very much like a cadaver, or at the very least a strung-out drug addict. Her character questions what's happening to her, but at almost every turn, she does nothing to drive the plot forward. And Ricci, who has more misses than hits, hardly has the presence to make up for her passive character.
Sometimes films that leave their answers up to the audience, such as Inception, are so well made that they implant themselves into the viewer's head and simply never let go. There may be no solution evident onscreen, but the experience proves worth any uncertainty that remains, primarily for the conversation that ensues. After.Life is not one of those films, as the hokey horror undercurrents propelling the story never allow the audience to care about the characters. Because the answers behind the central mystery are veiled, so too are the characters. There's not enough happening to call it a horror movie, not enough drama to feel emotionally engaged, and as a result, there's little reason to care about how uninvolving the mystery proves to be.